Backend
alpha.s crazy sounds special - DarkAmTag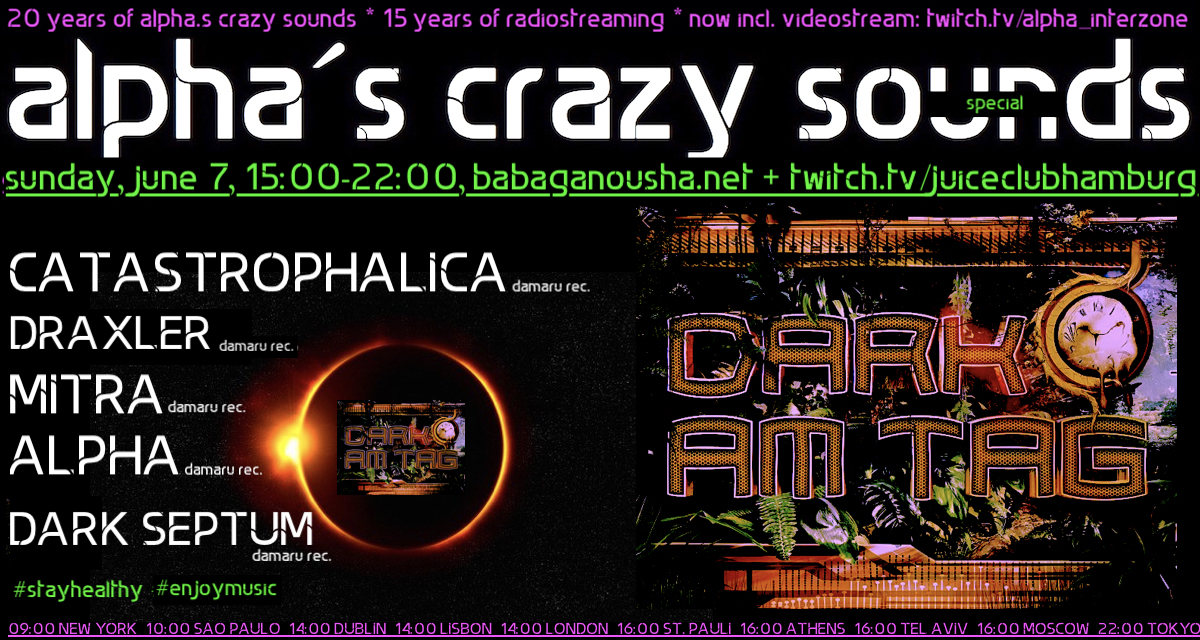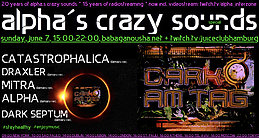 Info
Diesen Sonntag hätten wir zum dritten Mal in Folge mit Euch unser Herzensprojekt den "DarkAmTag" gefeiert.
Aufgrund der aktuellen Lage ist es uns, wie ihr wiss,t nicht möglich, die Veranstaltung durchzuführen. Dennoch wollen wir diesen besonderen Tag nicht einfach so verstreichen lassen und haben zusammen mit ov-silence Events & Damaru Records einen Stream auf die Beine gestellt um die DarkAmTag in eure Wohnzimmer zu bringen... 👽👁🙏
**powered by babaganousha.net + alpha.s crazy sounds**

Wir streamen Sonntag live aus dem Garten des alten Psyonara Hauptquartiers von 15:00 - 22:00 Uhr mit den Top of the Pops der schnellen Tanzmusik und natürlich euch...

radiostream: babaganousha.net
videoatream: twitch.zv/juiceclubhamburg

🥁Alle Infos findet ihr in der Veranstaltung ! 🥁

Unterstützt uns gerne, indem ihr die VA teilt und Freunde und Familie einladet.
Location
Location
babaganousha.net
twitch.tv/juiceclubhambzrg
Organizer
Organizer
alpha, babaganousha