alpha.s crazy sounds: K-FREQ ep, ARHITECH ep, va TANNGRISNIER & TANNGNJOSTR III
twitch.tv/alpha_interzone ·
Germany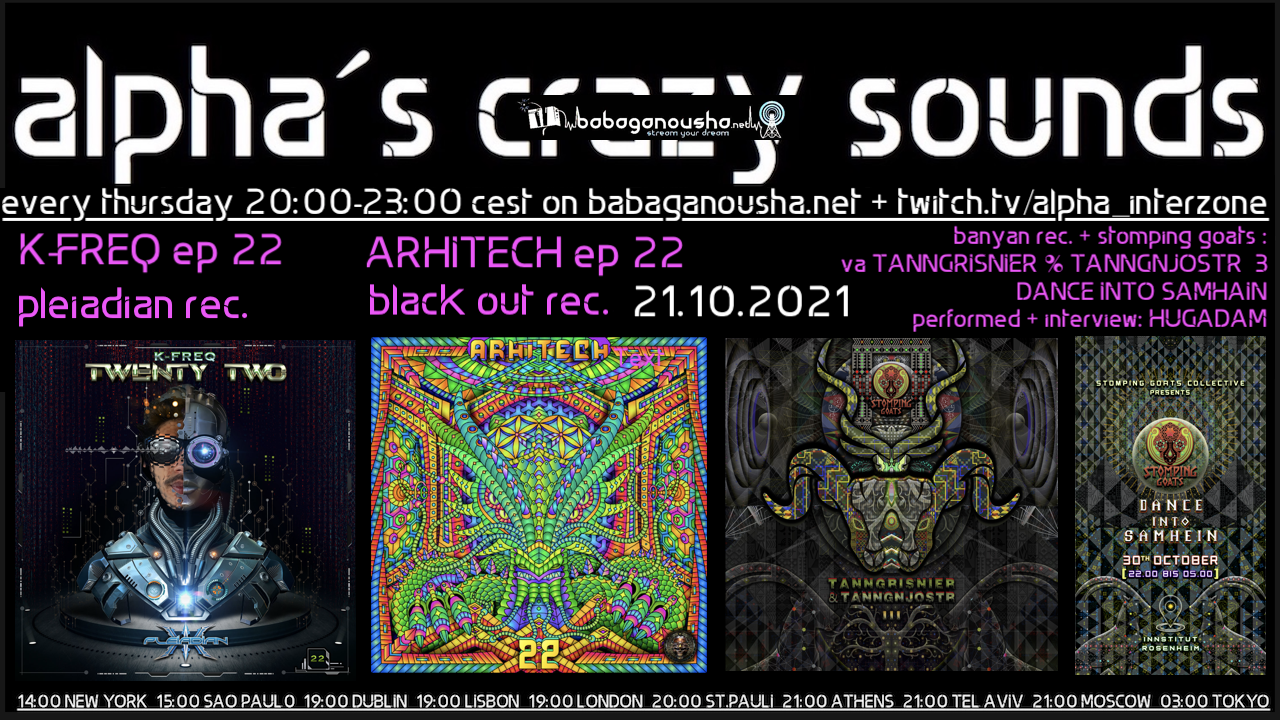 Line Up
GIVE THE PEOPLE, WHAT THEY NEED - GOOD MUSIC !
********************************************************************
program

20:05 hightech:
K-FREQ
ep 22
pleiadian records
in-the-mix

20:35 hightech:
ARHITECH
ep 22
black out records
faded presentation

21:00 word:
* Alpha infos, party tips, streams etc.

21:05 forest/darkpsy/hightech:
va TANNGRISNIER & TANNGNJOSTR III performed by HUGADAM
incl. interview + preview
DANCE INTO SAMHAIN
30.10.2021 in rosenheim/ger

22:30 the BUFFER ZONE:
...spontaneous
...for a weird end of the show this time at 23:00.
in general the BUFFER ZONE will be used for overlapping sets or presentations, to chill + relax + for some flyers, banners + announcements.

23:00 end
****************************************************************
have fun & enjoy 🙂

attention:
the babaganousha page opens the twitch window during the whole show 🙂
Info
alpha.s crazy sounds - october 21 - 20:00-23:00 cest - K-FREQ ep 22 pleiadian rec., ARHITECH ep 22 black ut rec., va TANNGRISNIER & TANNGNJOSTR III performed by HUGUDAM - babaganousha.net + interzone-pa.com + twitch.tv/alpha_interzone
+++this show contains dark prog, forest, darkpsy, hightech+++
+++this show is live from st. pauli/hamburg+++
21 years of alpha.s crazy sounds * 16 years of radiostreaming * now incl. videostream: twitch.tv/alpha_interzone * 13 years on babaganousha.net
FREE download:
*2 hours after the live show:
interzone.pa bit.ly/2Obw6cC (1 week)
**every friday the recent show will be added to the archive of "alpha.s crazy sounds on #babaganousha.net (forever) 🙂
send your webflyer/sounds etc. to
alpha@interzone-pa.com
all psytrance styles (no techhouse/electrohouse/minimal) are presented in the show.
since 11 years on
[babaganousha.net]
, 3 years on evosonic.de
after over 3 years on chromanova.fm
+ in general over 20 years of existence 🙂
mainly focussed on psytrance like twilight / forest / dark psychedelic trance / hightech , but everything is possible like psydub, progressive trance to psycore, but it has to be psychedelic trance = alpha's crazy sounds 🙂
live-sets in alpha´s flat studios, sent mixes + sometimes live from events like Boom Festival, Ozora Festival, Spirit Base Festival, parades as well as from indoor parties like Dark Moons - Devil's Rejects, 6am eternal, Mystic Rose / Mystic Friday... etc.
livestreaming (audio) since ages, videostreaming started in april 2020, but will stay longer after the official pandemic has fucked off!
specials like interviews with artists/labels/organizer, introductions to new productions + background infos.
get in touch to promote your sounds/events.
attention:
the babaganousha page opens the twitch window during the whole show 🙂
Organizer
Organizer
babaganousha + alpha
Added

1y 5m

· Update

1y 5m

·

/ 265