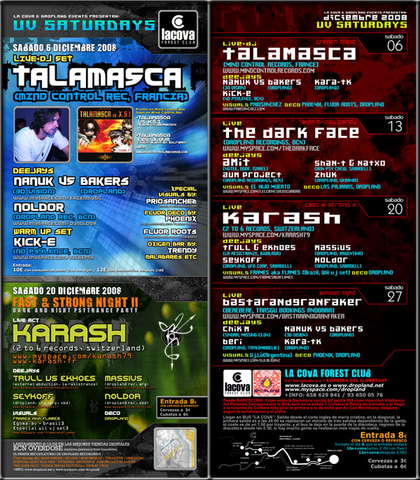 Live
Line Up
Bastarandgranfaker ( Berebere, Trasgu Rec, Andorra )
DJs
Chik'm ( Sindar, Spain)
Beri ( Trykomadelik, Dropland, Spain)
Nanuk vs Bakers ( Dropland Rec, Spain)
Kara-TK ( Dropland Rec, Spain)
Deco
Deco
Phoenix and Dropland
Info
Info
Drink fee:

Beer 3€
Combinated (Cubata) 6€
Location
Location
Av. Fontpineda s/n

Check the google map link to arrive by car from Barcelona.

If you don't have car, you can come also by using La Cova Bus service:

+ The bus leaves at 00:00h from Maria Cristina, in front of El Corte Inglés Diagonal, in Diagonal Avenue. There are a minimum of 3 bus, depending of the people. The fee is 1,50€ per travel. The bus goes back to Barcelona at 5:30h.
Hotline
(+34) 658 629 841 or (+34) 93 650 05 76