Backend
ALIEN CONNECTION (PSYCHEDELIC ADVENTURE)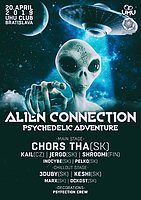 Line Up
🌕 MAIN STAGE (DARK/FOREST/HI-TECH...) 🌕

►CHORS THA (SK) / Time flux rec.
►KAIL KARLITO (CZ) / Psyfection
►JERGO (SK) / Psyfection
►SHROOMI (FIN) / Psyfection
►INOCYBE (SK)
►PELKO (SK)

☄BAR STAGE (AMBIENT,PSYDUB, DUB, DOWNTEMPO...)☄

►3DUBY (SK) / Tiptop Underground Records
►KESHI (SK) / Tiptop Underground Records
►MARX (SK) / BASS Factory
►DCKDST (SK) / Jump up in 2 Jungle, BASS Factory
Info
/SK/
ALIEN CONNECTION (PSYCHEDELIC ADVENTURE)
"Vstúp do nášho sveta, kde sa spoločne prepojíme vesmírnou silou a stretneme sa s mimozemskou civilizáciou."
V našom časopriestore si nájdeš miesto na oddych, ale aj na poriadný úlet. Na chillout stage sa povenujeme najmä Psydubu, Dubu, Downtempu a rôzným chill žánrom, ktoré ťa dostanú do pohodového tranzu. Na main stage bude toto dobrodrúžstvo o čosi šialenejšie. Spoločne sa dostaneme do inej dimenzie v rytmoch DARK/FOREST/HI-TECH Psytrance.
Bude to dobrodrúžstvo na ktoré len tak nezabudnete! 👊👊👊


/ENG/
ALIEN CONNECTION (PSYCHEDELIC ADVENTURE)
"Enter our world, where we will be connected together by cosmic power and where we meet an outer world civilization."
In our time zone we find space for relaxation, but also for hell of a night.
At the chillout stage will be especially Psydub, Dub, Downtempo and other chill genres,
which will get you into chilled trance. At the main stage, this adventure will be a bit more crazy.
Together, we get into another dimension in the rhythms of DARK / FOREST / HI-TECH Psytrance. It will be an adventure that you will never forget!
Location
Location
UHUclub Bratislava
Entry
Entry
Vstup:
5€ do 23:00
7€ po 23:00

Entry:
5€ till 23:00
after 23:00 7€
Organizer
Organizer
UHUCLUB, Psyfection crew