Alessandra Roncone x Red Moon | Festa di Radio Onda d'Urto - Stand Fiaska
via serenissima brescia ·
Italy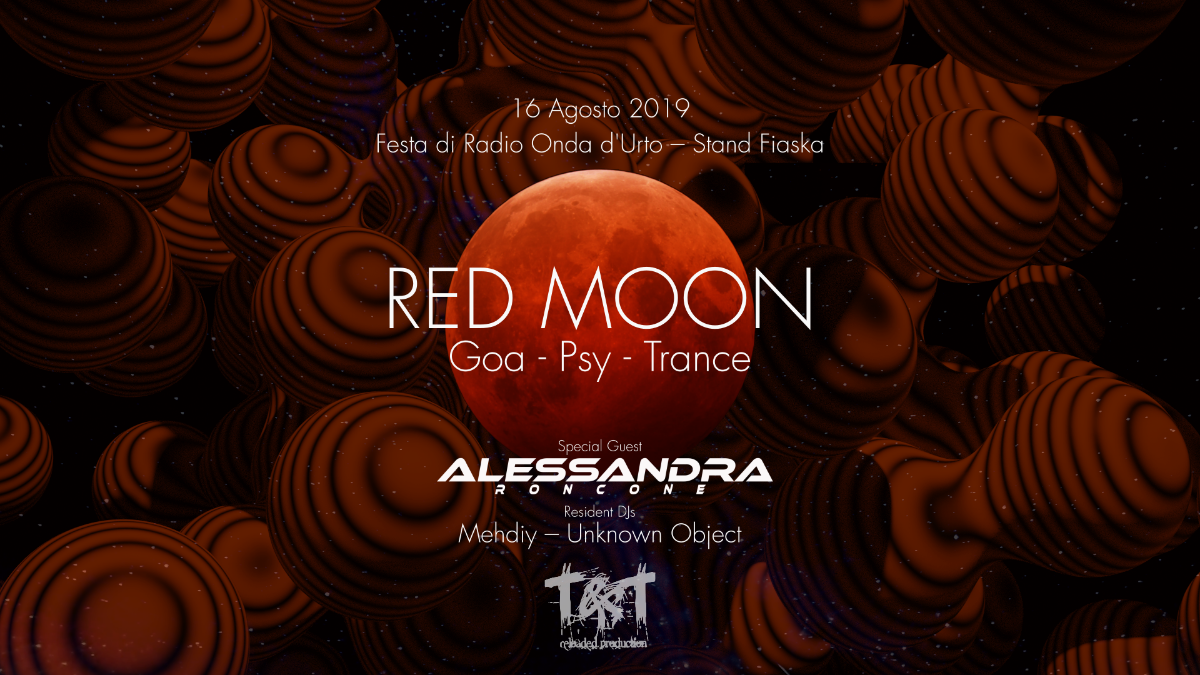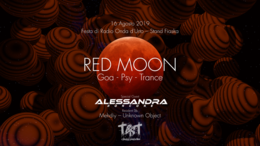 Line Up
Anche quest'anno l'appuntamento fisso dell'estate firmato Red Moon-Goa Psy Trance Night è allo stand Fiaska della Festa di Radio Onda d'Urto e si arricchisce di nuove presenze.
In collaborazione con Reloaded OldSchool Event e con la partecipazione di un'artista affermata in tutto il mondo come Alessandra Roncone
Red Moon è il portale made in Brescia che vi condurrà verso dimensioni tutte da scoprire, come un tuffo di testa nella tana del Bianconiglio.
Lasciatevi trasportare nel labirinto della nostra musica guidati dalle luci e dalle ombre della Luna Rossa!
- Ingresso gratuito dopo i concerti - 23.30 circa -
Alessandra Roncone
Her skills behind the decks, her energy while preforming and presence on stage have been gaining her a reputation as the number 1 female Dj in the Trance industry.
• Voted as n.1 Best Upcomer 2018 producer on Trance Podium 2019
• Voted n.4 as best upcomer 2017 producer on Dj Mag Chart 2018
• Voted in the top 50 Best Dj on Trance Podium 2018 chart after a jump of almost 100 from the previous year.
• Her Remix of Darren Porter – Whiplash reached the place n. 2 on Beatport Trance Chart
• Her Track "Infinito" has been voted as Wonder Of The Year 2018 as n.9
• Preformed at the Future Sound of Egypt stage at Tomorrowland and the FSOE weekend in Amsterdam.
• Steady flow of 10 releases on Future Sound Of Egypt, 2 tracks on Grotesque and 1 in Armada WAO138
• 4 Transmission branded shows in Asia, 3 Asian tours including cities such as Bangkok, Surabaya, Kular Lumpur and a Transmission Tour in China.
• Her track "Sogno" has been voted as Wonder Of The Year 2017 as n.22
• 5 top 10 tracks on beatport including a number 1. Collaborations
with Talla 2XLC,Darren Porter & Allen Watts.
• ASOT support.
• Recent Europe tour with her current agency "Symbols"
• Resident DJ for Darren Porters Trancegression in Italy, Germany, Thailand,Indonesia, UK and Czech Republic.
• Her Forza Radio show has gained steady growth with her live recordings.
🎧🎧https://soundcloud.com/alessandraroncone
🎧🎧https://www.youtube.com/AlessandraRoncone_Official
🔺🔻 Mehdiy - [PSY TRANCE]
[click here]
🔶🔷UNKNOWN OBJECT - [Goa-Goatek]
[bandcamp.com]
[bandcamp.com]
youtube
VART: Frash Pikass
Ogni sera allo stand #Fiaska & Chiringuito D'Urto
🍷 Sangria
🍺Birra alla spina
🥤Long Drinks
🥪Piadine
🎷Concerti
🎧dj set
♫ ♫ Musica & Socialità
Palco Principale:
Immanuel Casto Romina Falconi The André -16.08- Festa Radio
#aliceinwonderland #whiterabbit #plur 💜💜
Info
Info
INGRESSO GRATUITO DOPO I CONCERTI, DALLE 23.30
Location
Location
Festa di Radio Onda d'Urto
Via Serenissima
Brescia, Italy
Organizer
Organizer
Via Serenissima, Brescia presso la Festa di Radio Onda d'Urto