Backend
ageHa Summer 2021 Opening Party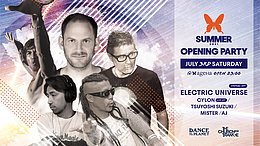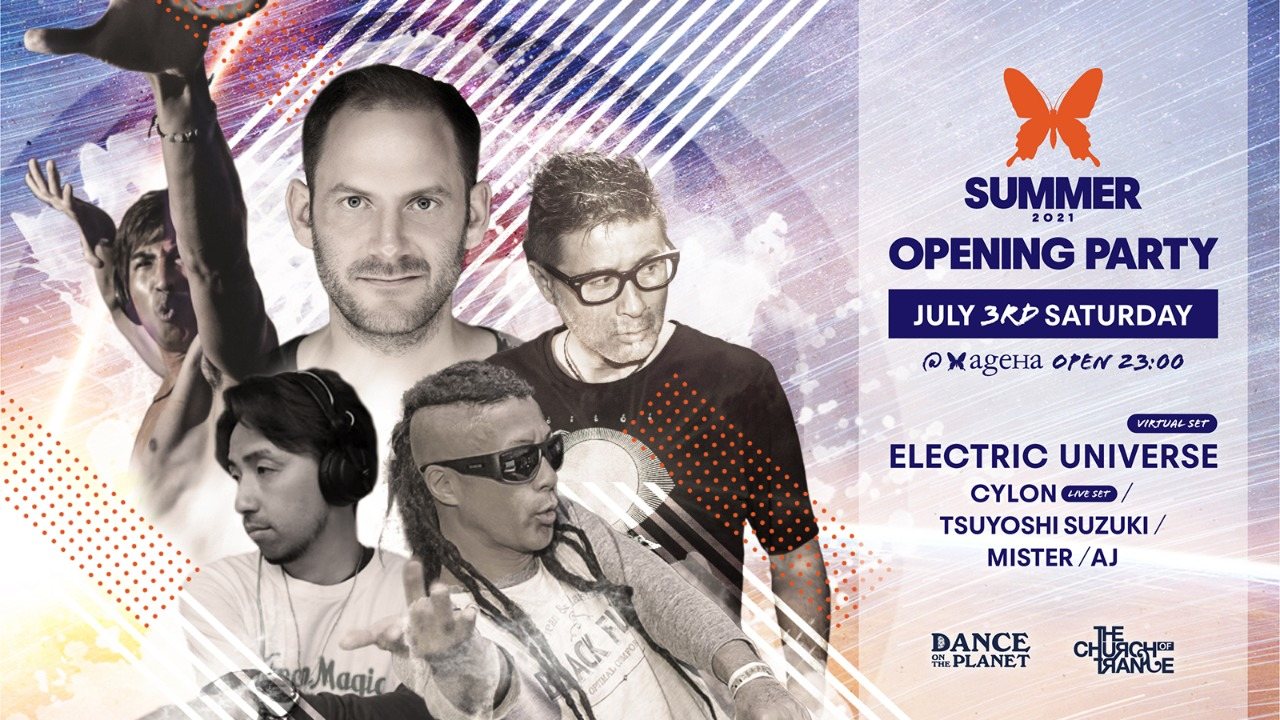 Line Up
【ARENA】
□VIRTUAL SET
ELECTRIC UNIVERSE (GER / Sacred Technology)

□LIVE SET
CYLON (BlackFlys)

□LINE UP
Tsuyoshi Suzuki (Matsuri Digital)
MISTER (Green Magic)
AJ (Ligaya, The Church of Trance)

□VJ
Takayuki Tominaga
HATOTO

【ISLAND】
□LIVE SET
Eki-Oneir-0

□LINEUP
IRY (Grasshopper Records)
KO-HEI (Sahman Rec, HI-LITE)
MISAKI (Candyflip)
RYOOKY (0=zero Production)
TOMAS (reflex)

□VJ
SPIKE-BLOOM

□Live Paint
Yu Okita

【WATER】
"CASINO" Presented by UPPER BROTHERS x Black Ship

□Resident
UPPER BROTHERS
Black Ship

□Guest DJ Special B2B set
KATIMI AI x KATIE SE7EN
HIROAKI WADA x LAMB

□Space Art
大島エレク

□Live Paint
RUSOW

【PARK】
"COT Friends"

□LINE UP
YODA (HORIZON)
Conures (DJ Tokunaga, Analog Journey)
Kulage (Caeruleum, Porculus)
BEPPU (R Trance)
Nono THING
VINO B2B SULO

□BOX
"BUZZ"

□GENRE
EDM, BASS MUSIC, HARD

□LINE UP
YOSHIMASA
SENNA
ふもっふ
G-NAILS×8MATE
cochaMe
ITZ
O-FUNE
and more...

□VJ
TBA
Info
2021年夏のパーティー・シーズンは7月3日(土) ageHaから始まる!ドイツの超ヘビー級アーティストELECTRIC UNIVERSEによるバーチャルセットを筆頭に、全5フロアで全力全開のサマー・ラインナップを炸裂させる「ageHa Summer 2021 Opening Party」が開催決定!!激しくも圧倒的な夜から、登りゆくエモーショナルな朝日へと、ageHaが描くグラーデーションが、忘れられない夏の一夜をあなたに約束する。
It's the highlight party of summer 2021, with all five floors of Japan's biggest club ready to kick the season off in style on Saturday, July 3rd!
The ARENA will be headlined by German heavyweight ELECTRIC UNIVERSE, who will be delivering an exclusive virtual set on massive triple LED screens! World-renowned Japanese DJ/producer icons Tsuyoshi Suzuki and Cylon are also set to thrill!
On the ISLAND floor, expect an intense sonic and visual spectacle unleashed by a bevy of psy trance all-stars. "Casino," an entirely new party by the Upper Brothers and Black Ship, is set to hit the WATER stage, while TCPT's "BUZZ" will be smashing the BOX floor with the best in high-energy sounds. As for the outdoor PARK floor—a focal point of the ageHa Summer series—"COT Friends" will be taking over to deliver a night of deep euphoric grooves!
So join us on a journey of vibrant gradation, sound, and summer sights, as the intense energy of the night gives way to an ageHa sunrise you'll remember forever!
====================
【新型コロナウイルス感染予防対策】
・密閉空間を避けるため、換気を最大限に行い屋外エリアも利用したイベントを行います。
・密集を緩和するために人数制限を行います。(消防法2402人に対する要請に沿った人数制限)
・密接とならない様、全ての方にフィジカルディスタンス(1-1.5m)の確保をお願いします。
また、全てのお客様(スタッフ、アーティスト共通)に、
・検温(37.5度以上の方は入場禁止)
・マスクの着用
・小まめな消毒
・政府または都からの要請による連絡先情報(氏名、連絡先)の登録
をお願いしております。
■ 店内でのルールに関しては、アゲハガイドラインをご確認の上ご参加ください。
[ageha.com]
Location
ageHa Tokyo
2-2-10 Shinkiba Koto-ku Tokyo 1360082 Japan
[ageha.com]
TEL : +81-3-5534-2525
Organizer
Organizer
ageHa
Dance on The Planet
Church of Trance