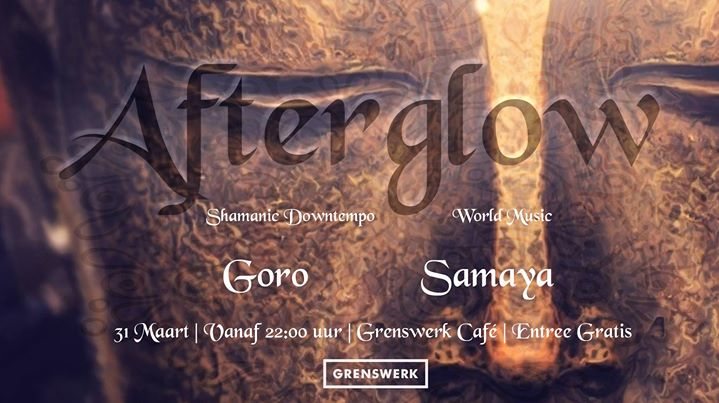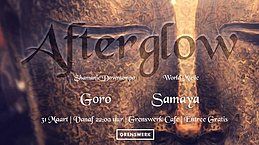 Line Up
ॐ Afterglow ॐ
Tijdens Afterglow nemen wij je mee op een muzikale reis met een psychedelisch tintje. Verken samen met ons de wereld van Shamanic Downtempo gemixt met wereldmuziek.
Dromerige elektronische muziek met Oosterse en Zuid-amerikaanse invloeden. Perfect om je helemaal in te verliezen op de dansvloer of om lekker onderuitgezakt te genieten van een verfrissende cocktail.
Voor deze tweede editie hebben we twee heren uitgenodigd die als geen ander weten hoe je de dansvloer subtiel doch effectief in beweging krijgt.
ॐ Samaya ॐ
soundcloud
ॐ Goro ॐ
soundcloud
We zien jullie graag op 31 maart tijdens de tweede editie van Afterglow. Tot dan!
Entree gratis
-------
ॐ Afterglow ॐ
During Afterglow we take you on a musical journey with a psychedelic touch. Explore with us the world of Shamanic Downtempo mixed with world music.
Dreamy electronic music with Oriental and South American influences. Perfect to completely lose yourself on the dance floor or to sit down and enjoy a refreshing cocktail.
For this second edition, we invited two men who, like no-other, know how to get the dance floor moving in a subtle but effective way.
ॐ Samaya ॐ
[click here]
ॐ Goro ॐ
[click here]
We would be pleased to see you on March 31th during the second edition of Afterglow. Until then!
Entrance free
Location
Location
Grenswerk Café
Peperstraat 10
5911 HA Venlo