Adventure Thru Inner Space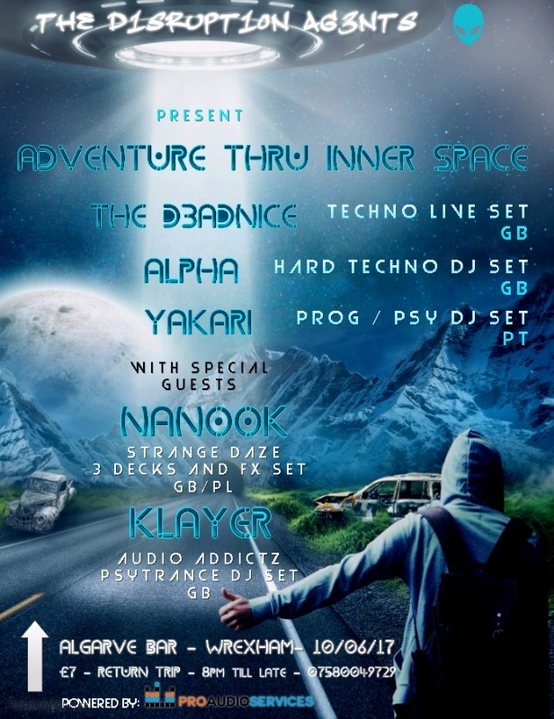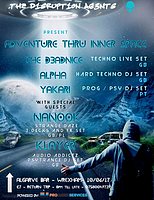 Line Up
The D1srupt1on Ag3nts Residents:
The D3adNice - Techno Live Act
soundcloud
IMO, one of the all time best Techno acts to come out of Wales, the only way is up for our Ian! Dont miss his live act / DJ set, its gonna be nothing short of amazing!!
ALPHA - Hard Techno DJ Set
The ex-MASH Hard Techno Wizzard will keep you dancing till your feet drop!! Legend in the scene, super excited to have him on board as a resident for The D1srupt1on Ag3nts events!
Yakari - Progressive Psy DJ Set
Recently got back behind the decks after a few years off the scene! Some passions die hard!
Bringing you the best selection of classic and latest progressive psy sound, don't miss it!
soundcloud
[click here]
Special Guests
KLAYER - AudioAddictz - Full on Psy DJ Set
soundcloud
NANOOK - Strange Daze - 3 Deck & FX Set
[click here]
Deco
Deco
Decor, Lighting and Visuals by The D1srupt1on Ag3nts
Sound System provided by the mighty Pro Audio Services - Fully set up and monitored throughout the night by a qualified sound engineer.
Info
Another journey brought to you by The D1srupt1on Ag3nts!
The first event open to anyone who wants to join in! Previous events were run on a private function basis, but this one will be open doors (subject to ticket availability).
Get ready for another night of top quality Techno, Psytrance, and progressive! UV Immersive Decor, great atmosphere and crowd, powered by the best of the best Pro Audio Services!
For those of you who attended our last event, you know what to expect! For those of you who didn't, allow me to invite you to come and experience it for yourself! Check out our facebook group to see videos and pictures of past events, they were a blast!
Tickets are now available on the below link, or alternatively contact the team if you wish to pay with cash.
[fatso.ma]
Event will be held on the 10th of June, at the Algarve Bar.
Fully stocked bar, very affordable, and selection of hot and cold foods on the night!
Happy Stomping - TDA
Organizer
Organizer
The D1srupt1on Ag3nts