Backend
A Trip To Darkness 4 - New Year Gathering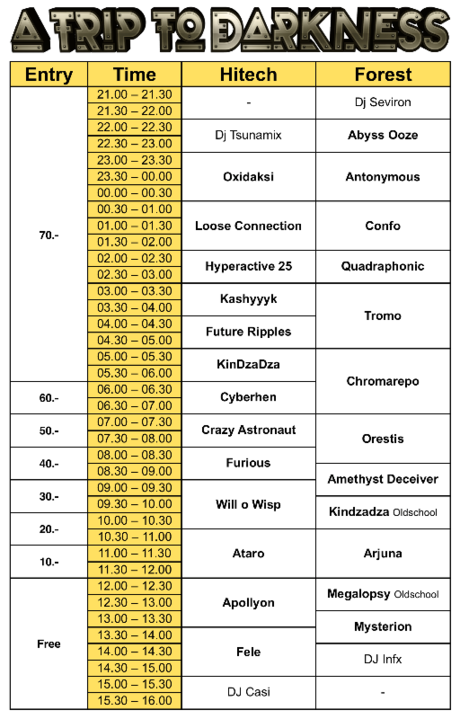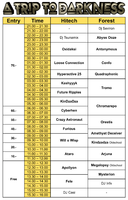 Line Up
New Year is the end of the past and the beginning of the future. In addition, well-known actors and labels have joined together and offer you a spectacular New Year Gathering. As usual with a Trip To Darkness line up, which makes the heart of HiTech, Darkpsy and Forest fans beat fast and faster.
✦ In order to ensure that you have enough space for free development, we have looked for a suitable location and we finally have found a really impressive location with a theoretical space of 4000 freaks. Please have a look at the venues virtual tour:
[bbcarena.ch]
✦ We would like to declare that there is NO ENTRY for under 18 year olds people, not even with a presale ticket. Please respect this rule and do not bother us with inquiries.
✦ We want to prevent your spiritual journey from ending at the entrance. Therefore, we advice you to use the presale. This is the only way to guarentee you an entrance for sure. Tickets are limmited (1600x) and available on every SBB- and POST- Presale Station and this Web-Links:
-
[zoragoa.ch]
-
[ticketino.com]
✦ Early-Bird = CHF 50.00 --> 200x **SOLD OUT**
✦ Phase # 1 = CHF 60.00 --> 500x **SOLD OUT**
✦ Phase # 2 = CHF 70.00 --> 900x
We have 500 Tickets reserved for the Gate
▆ HITECH - STAGE ▆ ▆ ▆ ▆ ▆ ▆ ▆ ▆ ▆ ▆ ▆ ▆ ▆
(by Enrico Kälin - Freak Records)
Sound-System:
✦ 2x 60° QX3 Cluster + 8x DH18 - by Lambda Labs
✦ Mobile Bass-Traps and Absorbers
✦
[qx3.ch]
Art / Deco:
✦ Leandro Aleixo - Vision of Ghost (Swiss)
✦ Isac Casi - Vision of Ghost (Swiss)
LIVE:
✦ Cyberhen Russia
(Kindzadza and Crazy Astronaut)
(Osom Music)
soundcloud
✦ Crazy Astronaut Russia
(how2make music)
soundcloud
✦ KinDzaDza Russia
(Osom Music)
soundcloud
✦ Furious Russia
(Osom Music)
[click here]
✦ Future Ripples (Russia & Mexico)
(KinDzaDza and Kashyyyk) - First time in Switzerland
✦ Oxidaksi Israel
(Freak Records)
soundcloud
✦ Kashyyyk Mexico
(Kamino Records)
soundcloud
✦ Hyperactive 25 swiss
(Freak Records)
soundcloud
✦ Fele Austria
(Freak Records)
soundcloud
✦ Apollyon UK
(Freak Records)
soundcloud
✦ Will o Wisp Argentinba
(Dark Prisma)
soundcloud
✦ Loose Connection UK
(Catawampus Rec / Free Radical Rec)
soundcloud
✦ Ataro UK
(Freak Rec / Damaru)
soundcloud
DJs :
✦ Isac Casi Swiss
(Freak Records / Galactic Tree Tribe)
✦ Tsunamix Swiss
(Freak Records / NTFS)
▆ FOREST - STAGE ▆ ▆ ▆ ▆ ▆ ▆ ▆ ▆ ▆ ▆ ▆ ▆ ▆
(by Marco Zora - ZORA)
Sound-System:
✦ 2x 60° QX3 Cluster + 8x DH18 - by Lambda Labs
✦ Mobile Bass-Traps and Absorbers
✦
[qx3.ch]
Art / Deco / Mapping:
✦ Sebastian Nebokad - Nebokad's Dream Forest (Germany)
✦ Daniel Fuchs - Andromeda Mapping (Germany)
LIVE:
✦ Kindzadza (Rus) -> special Forest remember Set
(Osom Music)
[click here]
✦ Tromo (GR)
(Sonic Loom Music)
soundcloud
✦ Confo (Greece)
(Parvati Records)
soundcloud
✦ Kabayun (USA)
(Sangoma Records)
soundcloud
✦ Arjuna
(Parvati Records)
soundcloud
✦ Antonymous (Greece)
(Sonic Loom Music)
soundcloud
✦ Quadraphonic (Tromo and Antonymous) (Greece)
(Sonic Loom Music)
soundcloud
✦ Orestis (Greece)
(Sonic Loom Music)
soundcloud
✦ Megalopsy (Argentina)
(Forest Set Dark Prisma)
soundcloud
✦ Mysterion (Willo Wisp forest Project - First time in swiss)
(Dark Prisma Music)
soundcloud
✦ Abyss Ooze (Argentina)
(Dark Prisma)
soundcloud
✦ Chromatec (Germany)
(Deviant Force Records)
soundcloud
✦ Chromarepo (Germany)
(Chromatec & Sator Arepo)
(Deviant Force Records)
✦ Sator Arepo (Germany)
(Deviant Force Records)
soundcloud
DJs :
✦ Infx Madhupatra (Swiss)
(Aphonix Records)
✦ Seviron (Swiss)
(Unalome Records)
Location
BBC-Arena
Schweizersbildstrasse 10
8207 Schaffhausen