a Psychedelic Easter Legacy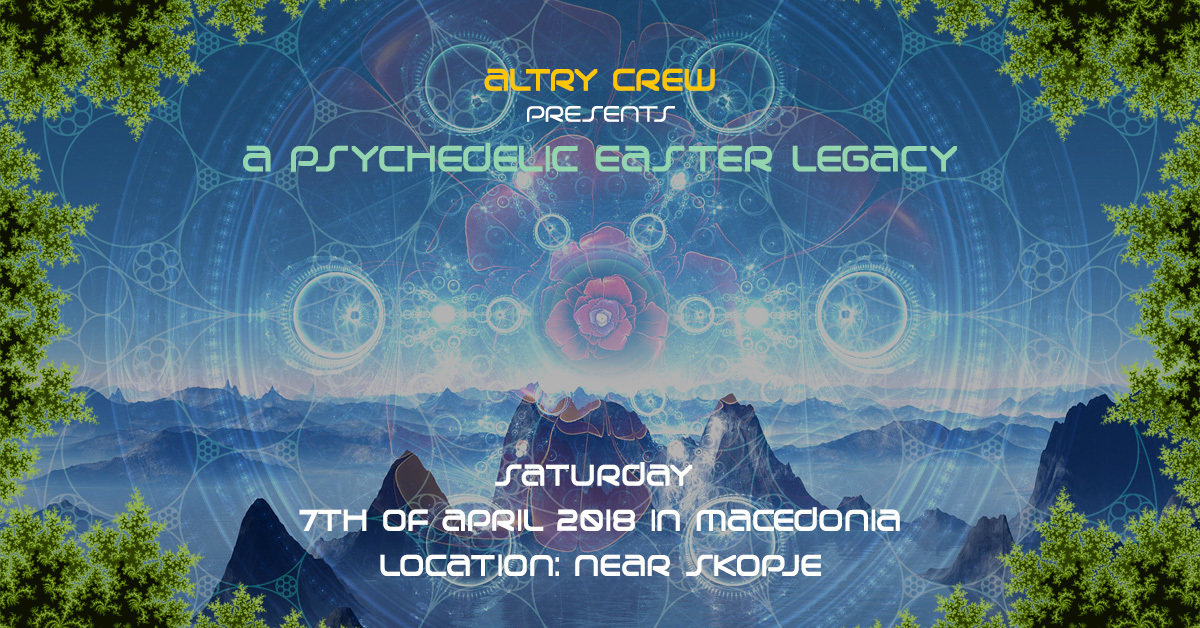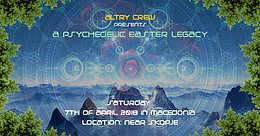 Line Up
Altry Crew Presents
Saturday 7th of April,
A Psychedelic Easter Legacy
On a very special night by the local tradition, we decided to make this night even greater and have a Psychedelic Trance event.
At this occasion we are bringing guests from France, Serbia, Bulgaria and Greece. We also have the local heroes in place, with whom this event cannot go by.
We are very glad for first time ever to host Meerkut from Funky Freaks Records.
Monsieur Tom or Meerkut started this journey with group of likeminded freaks who all shared the same passion and pursue identical lifestyles. Tom in 2011 sensed strong desire to produce music and also to share his own vison of dance and freedom, he then created the project Meerkut.
Meerkut has his music released on labels such as, Purple Hexagone, Hadra records, Modem Festival CD, Psynon records, Gloom Music and his home label Funky Freaks Records where he released his ep Physikoi.
Meerkut the natural philosopher at this event will broadcast groovy forest music, well bonded with storm of night tales, which he is most recognisable for.
[bandcamp.com]
soundcloud
A local veteran in the Psychedelic Trance scene will open this event with unique style of ambient psychedelic music. Ben is a Dj, producer and also a label manager at Axios Records. After many years of preparation and total dedication to the label he recently released the Ancient Sacret Knowledge album. This album has carefully selected artist from around the world brought to us a very pleasant and sacret music.
soundcloud
[bandcamp.com]
DNAprocess is a project from Sofija, Bulgaria.
DNAprocess is a rapidly rising artist and promoter. She draws her inspiration from the limitless love of the people itself and is focusing to activate greater potential in people's minds through music. DNAprocess is part of the DMT (Divine magic Theory) crew and works on a festival in Bulgaria, Aymon festival, Intergalactic gathering which this year is scheduled for 21-24 of June.
soundcloud
[facebook.com]
In the summer of 1985 a male baby was born in Serbia, named Dushan.
Being lucky, this wee boy was growing up on the shores of the river Sava. Since young age, his passion was spending time outside listening to the sounds of the nature. As years went by this boy developed a passion for electronic music, most specifically Goa Trance. In 2003 this wee boy from around the corner created a project, called Pura. He was steadily developing himself in many fields, such as event promotion, ecologist, bio-constructions, music production, graphic design, event decoration and tourism and nevertheless but this gentleman is a pure optimizer. He is part of Save the Rave Org and Zen.It. Creative society – NGO. Pura (we heard) is currently working in the studio and preparing his own music new music. He still enthusiastically follows his passion and keeps to the chosen musical path or the "path of no return",
soundcloud
[zenit-galaxy.com]
Sotols_Art is the project of Sotiris Plikas from Greece.
His psychedelic journey is dating long back when Plato and Socrates where just young kids and had no clue what Psytrance is. Sotols_art build his powerful foundation in Ireland, where he was very active in the scene with promoting, djinn, organising events, and decorating events. Sotiris is exploring the boundaries of psychedelic visuals and creates geometrical shapes on which he then projects his artwork.
soundcloud
[facebook.com]
Lunar Deco is a well-known artist in the psychedelic trance scene. He has been decorating events for many years around Europe. His idea and vision is to create and empower people to feel consciously trippy. His creations are expression of what is hidden from the ordinary human eye, through his art he is opening different perspectives that cannot be touched or explained.
[facebook.com]
Goalisher - Altry Crew ( Macedonia )
soundcloud
Indian Lnd -Altry Crew (Macedonia/UK)
soundcloud
You are invited to join and rejoice with us for this unique night.
Event to commence at 00:30