Backend
A fairy`s dream "Spielplatz der Psychonauten" VI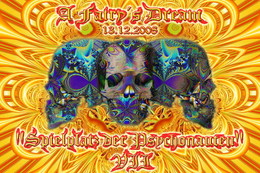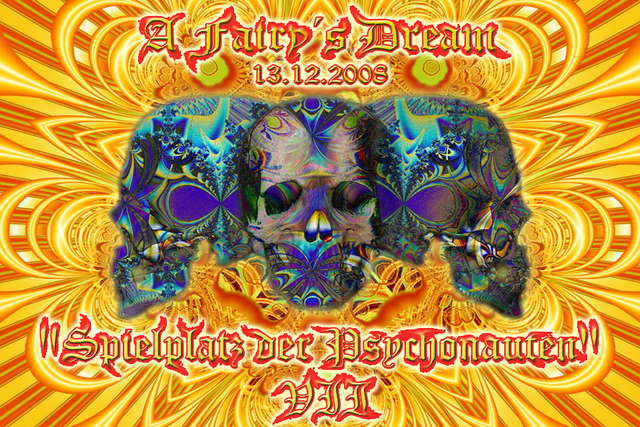 Line Up
OIL (Trishula records) SWE FIRST TIME IN AUSTRIA
[trishula-records.com]
[trishula-records.com]
[myspace.com]
OIL is Stefan Anderson from the deep fried forests of Ludvika, Sweden. Stefan likes to experiment and combine influences of different music styles in his production. Since 2007 his musical direction was turning more and more into a straight psycho-forest project with an open mind to all kinds of underground genres.
Its hard categorise his style. But, supposedly, u could call it psychedelic and funky, leaning against a dark mood.
He likes to juggle around with a thick range of elements of the track, over a wide spectrum of frequencies and panorama, in all 4 dimensions of sound. OIL will bash and wiggle on your third eye. 149 to 165 Times Per Minute. With a bassline that is mossy, sticky and dripping.
OIL is really fond of artists such as; Derango, Procs, Alex Adrenal-Matutero-Zik-Glands, Scorb, NRS, Naked Tourist, Ghreg On Earth, Penta, Lemurians, Electrypnose, Airi, Karash, Squarepusher, Aphex Twin, just to name a few.
OIL feels happy to be part of the lively and often nutty swedish nightmusic scene where he feels very comfortable and which inspired him a lot. He digs sounds that makes you think of scratching, beat-juggling and other turntable-tricks. His own BPM ranges from 149-165. OIL had his debut release on Shiva Space Technology in the very end of 2006, and Sonic Tantra in 2007, and a lot is comming up 2008. Among others: Trishula Records, Hypnotica Records, Geomagnetic Records, Rudraksh Records and Anomalistic Records Stay Spooned!
PSYPIX
[myspace.com]
A
Ketterlstand by Indigo Kali (Irene)
CHAI BY BERGFEX (Geggi ;-) )
Visual Arts by:
Live VJ Timewave2012 (DE) ( Psy-Film.de)
[myspace.com]
:::DAS WIRD EINE FANTASTISCHE KOMBINATION UND EINE ANDERE WELT::::
Info
FÜR DIE ANREISE

BHF SCHWAZ, TAXI GAMPER 0676/6167962 - 05442/61111
BHF JENBACH, TAXI ROFAN - 05243/5209

FÜR DIE HEIMREISE

BHF SCHWAZ, TAXI GAMPER 0676/6167962 - 05442/61111
BHF JENBACH, TAXI ROFAN - 05243/5209

ZUG

Abfahrtszeiten Innsbruck - Schwaz

20.42
22.30
23.42


Abfahrtszeiten SCHWAZ - Richtung INNSBRUCK
5.57
6.29
7.05

Abfahrtszeiten SCHWAZ- Richtung WÖRGEL
6.42
7.09
8.09

Abfahrtszeiten Jenbach - Richtung INNSBRUCK
4.29
5.51
6.22
6.59
7.23

Abfahrtszeiten Jenbach - Richtung WÖRGEL
6.48
7.16
7.50

Teil VII

Nach längerer geimeinsamer Schaffenspause habe ich mich mit michel (HTN) wieder kurzgeschlossen und so werde ich künftig, zusätzlich zu seinen freitäglichen Club parties meine parties einmal im monat (samstags) im Mad club feiern und ihr könnt euch auf qualitativ hochwertige parties freuen.
Und auch werden lärmbelestigungen kein problem mehr sein und somit ist ein sicheres durchfeiern gesichert.
Freu mich schon auf euer zahlreiches kommen (wie immer) und ein gute zusammen arbeit mit dem Mad Club.

TIMETABLE:::::

22.00-24.00 COSMIC TUNE & MAHTAR
24.00-02.00 LYSERGIC MIND
02.00-03.00 OIL
03.00-05.00 DAKSINAMURTI
05.00-07.00 PHILOSO



Boom
Location
MAD CLUB
Gewerbepark Ost
Hermine-Berghoferstr. 50-52
A-6130 Schwaz
Added

14y 10m

· Update

13y 8m

·

/ 82