Backend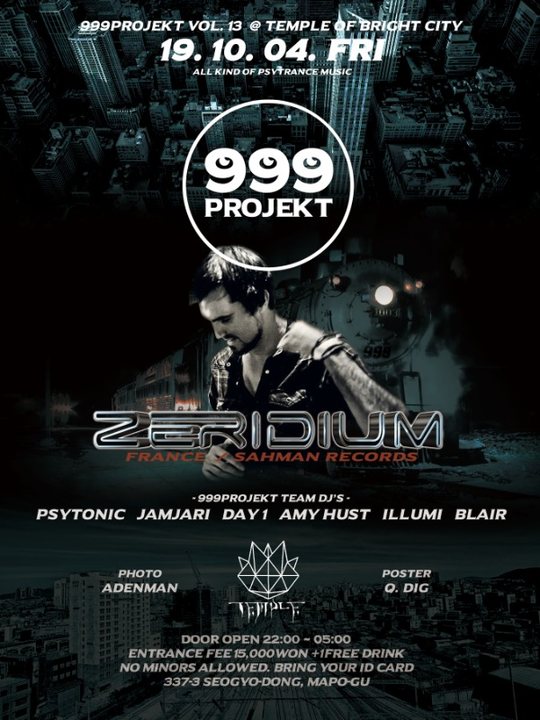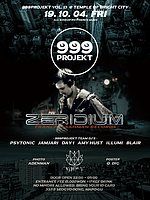 Line Up
Line Up
ZERIDIUM, PSYTONIC, JAMJARI, DAY1, AMY HUST, BLAIR, ILLUMI
Info
[2019. 10. 04. FRI]
🎼999 Projekt Psytrance Vol.13 @ TEMPLE
💫TEMPLE OF BRIGHT CITY💫
🔊🔊🔊🔊🔊
999프로젝트의 13번째 싸이트랜스 파티!
10월 4일 금요일은 홍대 템플에서 프랑스 출신의 풀온 아티스트 'ZERIDIRUM'과 함께합니다!
------------------------------------------------
싸이키델릭 트랜스 프로젝트 'ZERIDIUM'은 프랑스 툴루즈 출신의 싸이트랜스 아티스트 이다.
제리디움은 2009년 고아 안주나 해변에서 첫 싸이트랜스 파티를 접했으며. 4년동안 전 세계를 여행하고 지구를 둘러싼 모든 아름다운 것들에서 영감을 얻은 후 프랑스에 정착하여 싸이키델릭 음악을 제작하기 시작 하였다.
제일 처음 발표한 앨범은 브라질의 싸이트랜스 레이블 'Sharp Noise Records'에서 발매하였으며, 2017 년부터 프랑스의 주요 Fullon 레이블중 하나 인 'Sahman Records'에 소속되게 되었다.
트랙 중 일부는 Beatport에서 상위 20 차트에 들어 갔으며 145 ~ 147bpm의 속도로 더 크게 요동치는 Fullon Psytrance 트랙을 지속적으로 작업하며 발매를 진행하고 있다
그는 아날로그에서 디지털까지의 사운드와 트라이벌한 타악기, 메탈릭 FM 및 아름다운 멜로디를 결합하여 영적인 여행의 다음 단계로 안내 할 것이다.
------------------------------------------
The Psychedelic Trance project ZERIDIUM was created by the young French man Joan Boucheteil from Toulouse. He did his first Psytrance party in 2009 in Goa, Anjuna Beach. After travelling the whole world for 4 years and getting inspired by all the beauties surrounding him, he finally settled in France where he started to produce his own psychedelic music.
He first released an EP with the Brazilian Psytrance label "Sharp Noise Records". He then signed up in 2017 with Sahman Records, one of the major Fullon music label in France.
Some of his remarkable tracks went into the top 20 charts on Beatport and he is constantely producing and releasing greater cutting'edge Fullon Psytrance track travelling at the speed of 145 to 147bpm.
He combines the sound from Analog to Digital together with tribal percussion, metalic FM and electrifying melodies which will take you to the next level of the journey.
LINKS:
soundcloud
[facebook.com]
[instagram.com]
📍Line up
💾 Special Guest 💾
🇫🇷 ZERIDIUM (FRANCE / SAHMAN RECORDS)
🌕🚅🚈🚈🚈🚈🚈🚈
🚀999 Projekt DJs🚀
⚡PSYTONIC
⚡JAMJARI
⚡MADPURE
⚡DAY1
⚡AMY HUST
⚡BLAIR
⚡ILLUMI
📷 Photo 📷
🌊ADENMAN
🔎 Art Work 🔍
🔥Q.dig
* Entrance Fee 15,000Won +1Free Drink
* No Minors Allowed. Bring Your ID Card
* 337-3 Seogyo-dong, Mapo-gu, Seoul
* VIP Reservation 01026731847
Location
TEMPLE, b1, 337-3, Seogyo-dong, Mapo-gu, Seoul