999projekt Psytrance Vol.21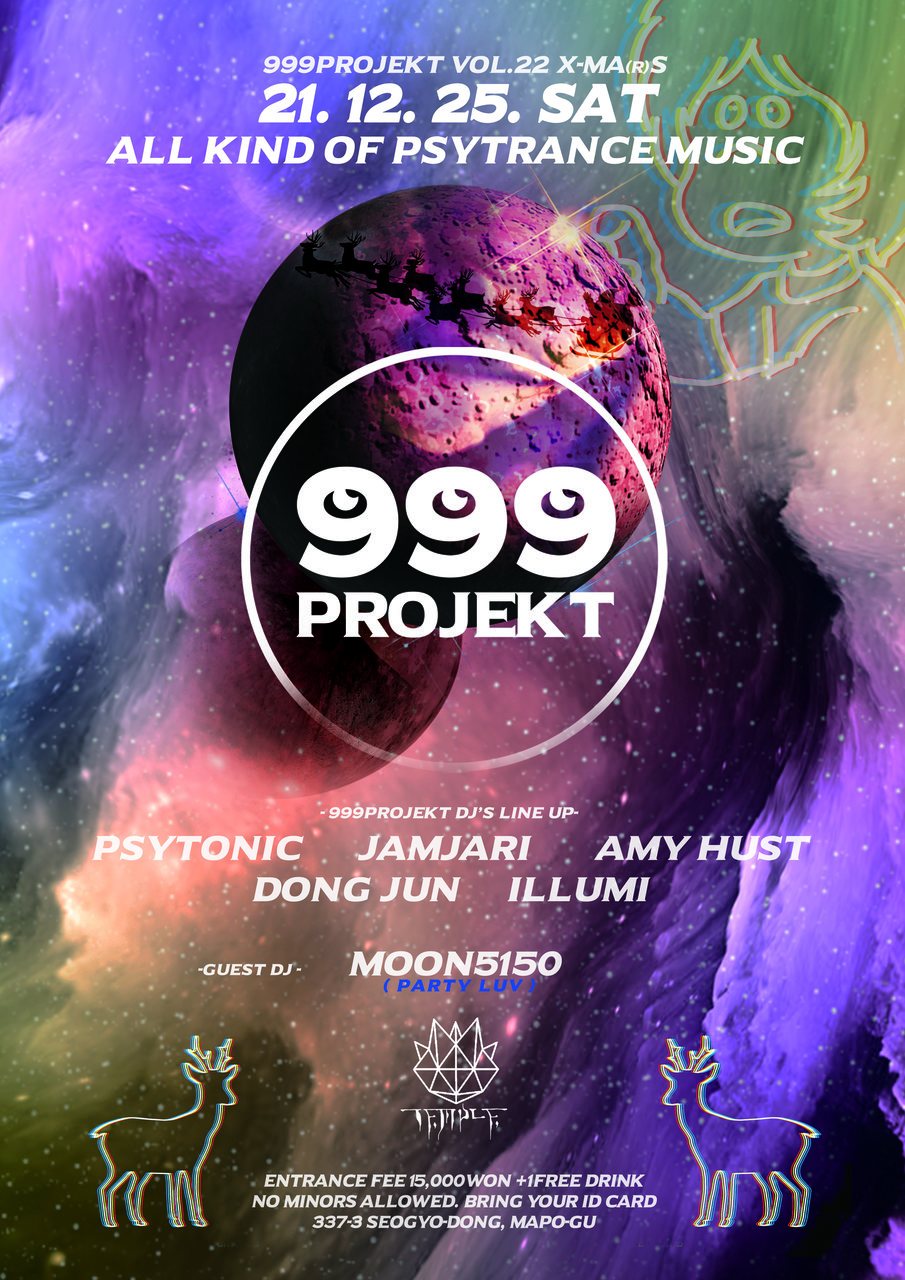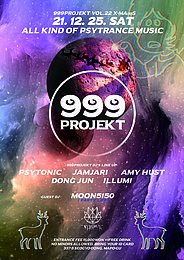 Line Up
𝗚𝗨𝗘𝗦𝗧 𝗗𝗝
𝗠𝗢𝗢𝗡𝟱𝟭𝟱𝟬 (𝗣𝗔𝗥𝗧𝗬𝗟𝗨𝗩)
⠀
𝟵𝟵𝟵𝗣𝗥𝗢𝗝𝗘𝗞𝗧 𝗗𝗝𝘀
𝗔𝗠𝗬 𝗛𝗨𝗦𝗧
𝗗𝗢𝗡𝗚 𝗝𝗨𝗡
𝗜𝗟𝗟𝗨𝗠𝗜
𝗝𝗔𝗠𝗝𝗔𝗥𝗜
𝗣𝗦𝗬𝗧𝗢𝗡𝗜𝗖

𝗔𝗥𝗧𝗪𝗢𝗥𝗞
𝗤.𝗗𝗜𝗚
Info
𝗗𝗘𝗖𝗘𝗠𝗕𝗘𝗥 𝟮𝟱 𝟮𝟬𝟮𝟏
⠀
[𝟵𝟵𝟵𝗣𝗥𝗢𝗝𝗘𝗞𝗧 𝗣𝗦𝗬𝗧𝗥𝗔𝗖𝗘 𝗩𝗢𝗟.𝟮𝟭]
@ 𝗖𝗟𝗨𝗕 𝗧𝗘𝗠𝗣𝗟𝗘
𝟭𝟲:𝟬𝟬~𝟮𝟮:𝟬𝟬

🙏𝗔𝗟𝗟𝗞𝗜𝗡𝗗 𝗢𝗙 𝗣𝗦𝗬𝗧𝗥𝗔𝗡𝗖𝗘 𝗠𝗨𝗦𝗜𝗖🙏

𝗚𝗨𝗘𝗦𝗧 𝗗𝗝
𝗠𝗢𝗢𝗡𝟱𝟭𝟱𝟬 (𝗣𝗔𝗥𝗧𝗬𝗟𝗨𝗩)
⠀
𝟵𝟵𝟵𝗣𝗥𝗢𝗝𝗘𝗞𝗧 𝗗𝗝𝘀
𝗔𝗠𝗬 𝗛𝗨𝗦𝗧
𝗗𝗢𝗡𝗚 𝗝𝗨𝗡
𝗜𝗟𝗟𝗨𝗠𝗜
𝗝𝗔𝗠𝗝𝗔𝗥𝗜
𝗣𝗦𝗬𝗧𝗢𝗡𝗜𝗖

𝗔𝗥𝗧𝗪𝗢𝗥𝗞
𝗤.𝗗𝗜𝗚
⠀
* 𝗘𝗻𝘁𝗿𝗮𝗻𝗰𝗲 𝗙𝗲𝗲 𝟭𝟱,𝟬𝟬𝟬𝗪𝗼𝗻 +𝟭𝗙𝗿𝗲𝗲 𝗗𝗿𝗶𝗻𝗸
* 𝗡𝗼 𝗠𝗶𝗻𝗼𝗿𝘀 𝗔𝗹𝗹𝗼𝘄𝗲𝗱. 𝗕𝗿𝗶𝗻𝗴 𝗬𝗼𝘂𝗿 𝗜𝗗 𝗖𝗮𝗿𝗱
* 𝟯𝟯𝟳-𝟯 𝗦𝗲𝗼𝗴𝘆𝗼-𝗱𝗼𝗻𝗴, 𝗠𝗮𝗽𝗼-𝗴𝘂, 𝗦𝗲𝗼𝘂𝗹
⠀
----------------------
⠀
방문고객 준수사항:
*코로나 백신 접종 완료 후 14일 경과자(15일차부터)만 출입 가능합니다.
*입장 시 역학조사 협조용 출입대장을 작성 합니다.
*출입구에서 발열, 호흡기 증상여무 확인.
*마스크 미착용시 입장금지, 내부에서 음식물 취식 외 마스크 착용 유지.
*기본방역수칙 준수.
-
'Temple' visitor guidelines:
- Only those who have passed 14 days after completing the corona vaccination are allowed to enter.
- You must write your personal details upon entry for possible epidemiological survey
- Denial of entry:
-- Anyone that has respiratory symptom(s) and fever
-- Anyone at high risk from contracting respiratory issues
- Check temperature and respiratory symptoms at the entrance
- Must wear a mask. Entry to the premises will be denied if you do not wear a mask. A mask must be worn all time, exception to the policy at the moment of eating and drinking.
Location
Location
Seoul



TEMPLE, b1, 337-3, Seogyo-dong, Mapo-gu, Seoul