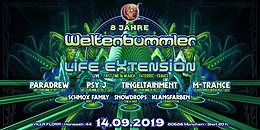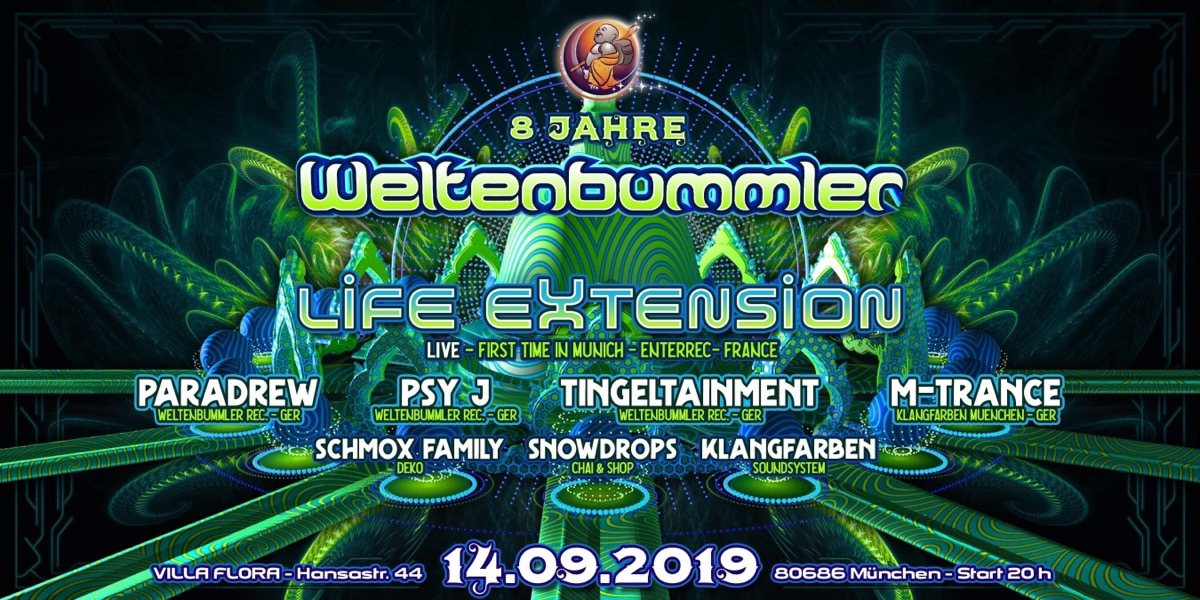 Line Up
ॐ ॐ ॐ 8 Jahre Weltenbummler ॐ ॐ ॐ
Zum Anlass unseres 8-jährigen Bestehen haben wir uns wieder in der wunderschönen Villa Flora eingemietet und holen für Euch das Pariser Duo LIFE EXTENSION das erste Mal nach München. Mit ihrem energiegeladenem und melodischem Fullon werden sie Euch ordentlich einheizen und Euch das nagelneue (release 12.07.2019 ) Album "Digital Reflection" präsentieren. Lokale Unterstüzung gibt es natürlich von unseren allseits bekannten Weltenbummler DJ-Acts. Die SchmoXfamily, unsere Münchner Urgesteine der Szene werden Euch, wie man es von ihnen kennt, optisch in eine andere Dimension zaubern. Somit freuen wir uns auf ein unvergessliches Fest mit Euch!!!
ॐ Line Up:
☞ LIFE EXTENSION (live) // 🇫🇷
+++ first time in Munich +++
( Enterrec )
[youtube.com]
In 2002 French Duo Dj Stenman and Dj Olive combined forces to create Life Extension and a new era was formed. One and a half decades later and a string of successful releases and albums. Life Extension now reside for the newly formed label Enterrec. The duo have not only released on every major psy trance label going but have also been performing all over the world for many festivals, parties and events. Dj's and dancers are supplied with massive bass lines and uplifting melodic ideas drenched in showers of tasty psychedelic layers creating happy moments of audio awesomeness.
☞ PARADREW // DE
( Weltenbummler Rec. )
soundcloud
☞ PSYJ // DE
( Weltenbummler Records )
soundcloud
☞ TINGELTAINMENT // DE
( Weltenbummler Rec. )
soundcloud
☞ M-TRANCE // DE
( Klangfarben München )
soundcloud
ॐDeko:
☞ SCHMOXFAMILY
[facebook.com]
ॐChai:
☞ SNOWDROPS
[facebook.com]
ॐ Shops:
☞ SNOWDROPS
[facebook.com]
more tba.
ॐ Soundsystem:
☞ KLANGFARBEN MÜNCHEN (new Soundsystem)
[facebook.com]
Eintritt:
+ Abendkasse 15,- inkl. Stoffbändchen und Welcome-Shot
+ Geburtstagskinder vom 13.09. - 15.09. haben freien Eintritt
+ Einlass ausschließlich ab 18 Jahren
+ Ausweis bitte nicht vergessen!
Location
Villa Flora
Hansastr. 44
80337 München