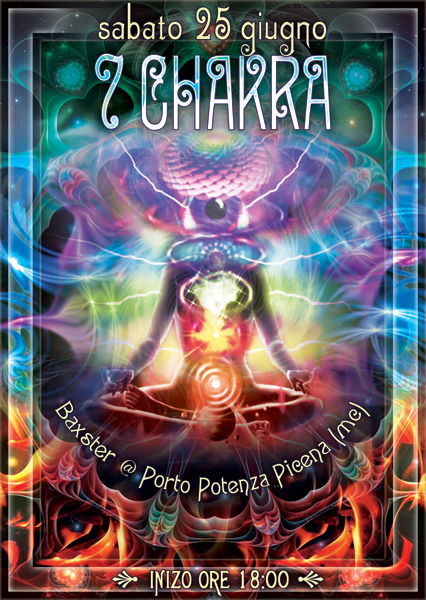 Line Up
AJJA (Peak records Switzerland)
[myspace.com]
Nato a Londra nel 1975 da una famiglia di viaggiatori, Ajja comincia la sua passione per la musica fin da molto giovane suonando la chitarra e vari strumenti acustici nell'ambiente rock. Alla fine degli anni novanta esplora la musica elettronica e nel 2002 insieme ai suoi amici Master Margherita, Dymons e Flooting Grooves comincia il progetto "The Peaking Goddess Collective", band di musica trance e chill out.
Nel 2003 fonda la Peak records, label che fino ad oggi ha lanciato artisti di fama internazionale come Parasense, Rev, Aphid Moon e tanti altri.
Nello stesso anno Ajja e dj Gaspard formano il progetto trance "YabYum".
Nel 2006 rilasciano il loro primo album "Nocturnal Emission" che grazie allo stupore suscitato in ambito internazionale li porta a suonare dal Giappone fino agli Stati Uniti.
Nel 2005 Ajja comincia il suo progetto da solista e nel 2007 produce il suo primo album "Psycogenica" con la Syncronize records. Questo album ritenuto la rivelazione dell'anno, ha aquisito voti altissimi dalle critiche internazionali e grandi apprezzamenti dal pubblico di ogni dance floor. (Isratrance.com 2007)
Ormai veterano dei più grandi festivals psytrance come "Boom", "Universo parallelo", "Aurora", "Sonica" e tanti altri, Ajja ha fatto ballare ogni essere umano in tutte le città del mondo da San Francisco a Parigi e da Berlino fino a Tokio.
Non esiste luogo dove piace la psytrance che non abbia ancora sentito la vibra della sua musica, l'energia scoppitettante dei suoi bassi e la magia che può creare in un dance floor.
Ajja finalmente torna in Italia dopo la fantastica performance nel 2010 al "Believe Fest" e il suo nuovo Live sarà un qualcosa di ancora più innovativo e di altissima qualità.
La sua psichedelia non è "dark" e non è "fluffy" ma un ritmo incalzante che ti prende e ti porta in uno spazio colorato, un luogo che invitiamo tutti voi ad esplorare.
------------------------------------------------------------------------
ARJUNA (Parvati records, Goa/Italy)
[myspace.com]
The musical experience of Arjuna began when he was just a kid and used to listen trance in the background while playng football in Goa beaches. He started to collect music from friends with d.a.t. and mini disc, getting his firs musical shivers with Logic Bomb & Hux Flux and later with Gms & Lotus Omega. When the old giants took the commercial way and started to make 'fluff' , Arjuna met the dark side of Goa through the music proposed by people like Giuseppe, Teo, Byzught and finally realized which was his direction in the psychedelic music path. His productions got influenced from the Danish, Russian and Macedonian waves, from some of the older Parvati artists and then in 2005 after completing his musical electronic education at SAE in Milano got signed by the Label. Arjuna's tracks are released mainly on Parvati records, but he has collaborated also with other labels like Digital Shiva Power rec (Japan) and Real Vision rec. (Germany). He has being Djing and lately playing his Live Set in several countrys around the globe: India, Italy, Japan, Russia, U.S.A, England, France, Germany, Denmark, Switzerland, Makedonia, Norway, Spain, Indonesia, Nepal...
RITHMIC CALL FRICE (Evolution - Italy)
------------------------------------------------------------------------
GOVINDA (Peak records, Goa/Italy)
Presentazione nuova compilation Peak records: Peakological
YAB YUM (Sincronize records)
FOG (LooneyMoon records, Italy)
GINO SONICA (Sonica Festival, Italy)
[sonica-dance-festival.eu]
MIKEL (Digitalshivapower, Italy)
DODO (Nuovo Circolo Alchemico Italy)
ANKH (Tua Italy)
NICO (Bioma tribe Italy)
MATASSA (Nuovo Circolo Alchemico Italy)
PSYSARI (Intelligent Monkey records)
LOVA (Nutria dance records)
DJANE GHEDA (Boundless records)
Chill
FOG (LooneyMoon records)
ANK (T.u.a)
AMBIOGEN
LOVA Nutria dance corporation
n more tba....
Deco
Visionary Art Installation by Space Babylon_Lebanon
Decorazioni di altissima qualitä, controllare il link:
[facebook.com]
Orangehead
Visual by PsyKiRy (Q.f.&D.d.) [myspace.com]
cultural visual (indoor) by CIAD
Info
road indication:
Autostrada A14 uscita Loreto-Porto Recanati 1a a destra direzione Pescara proseguire sulla ss 16 per circa 7 km e girare a dx per Montecanepino (cartello x Collina dei sapori). 1.5 km girare a dx.

from Bologna: Highway A14 Bologna-Pescara: direction pescara 2 hrs south from Bologna exit Porto recanati-loreto ( next exit after Ancona) take direction Pescara n after 7 km (nearly) turn right for montecanepino. after 1 km turn right again. arive!

...*NAVETTE DISPONIBILI DALLA STAZIONE FERROVIARIA DI CIVITANOVA MARCHE DALLE ORE 17 fALLE ORE 24 (controllare orari treni)


Sound system: Main stage: MEYER
Alternative stage: MACKIE

E' RICHIESTA L'ISCRIZIONE QUALE MEMBRO DELL'ASSOCIAZIONE CULTURALE "BELIEVE"

DALLE ORE 17 ALLE ORE 24 NAVETTA DISPONIBILE DALLA STAZIONE DI CIVITANOVA MARCHE. PER INFO CHIAMARE IL NUM. 3333128065

CENA PREPARATA DAL TEMPIO INDUISTA DI PORTO SANT ELPIDIO
"Il tipico piatto indiano è il Thali cioè un piatto grande con 2 Sabji (sughetti) riso bianco e chapati (tipo focaccia).

THE CONCEPT:

La musica è un mezzo di unione e condivisione che ognuno può usufruire nel modo preferito e per lo scopo ritenuto più opportuno ma se ogni essere cerca l'armonia e la gioia distribuendo gli stessi, si potrà ottenere un incontro dove l'energia individuale e quella collettiva diventano una cosa sola, dove ogni individuo proverà un senso di collaborazione e si sorprenderà davanti all'energia di questa connessione. Questi ideali sono le basi fondate dalla comunità di viaggiatori a Goa negli anni '70 e che fino ad oggi continua a mantenere nonostante le influenze dei perpetui cambiamenti. Noi vogliamo ricreare questa atmosfera al "7CHAKRA" e crediamo in una collaborazione di tutti i partecipanti in modo da poter vivere delle esperienze uniche e indimenticabili anche in Italia.
Il luogo che ci ospiterà è una villa divenuta club situato nelle colline marchigiane con un grande dancefloor e area culturale immersi in ampi spazi verdi.
A 500 metri dalla villa uno chalet al mare ci ospiterà per la continuazione della festa che si terrà su una spiaggia totalmente libera.
La festa in spiaggia comincerà dal mattino e continuerà per tutta la domenica, un modo ideale per passare una giornata al mare accompagnati dalla musica.
Nella strada tra la villa e la spiaggia c'è un campeggio per chi volesse fermarsi in tenda.
Entry fee
Entry fee
20 euro con tessera associazione, consumazione, cena, navette e beach-after party inclusi nel prezzo.
Hotline
3423556981 - 3333128065
From
Govinda Nightrainbow ·
7,839
Added

7y 28d

· Update

6y 11m

· 5 Parties ·

/ 20