Backend
7 Chakras Warm Up Toscana ✾ Hypnoise + Dsompa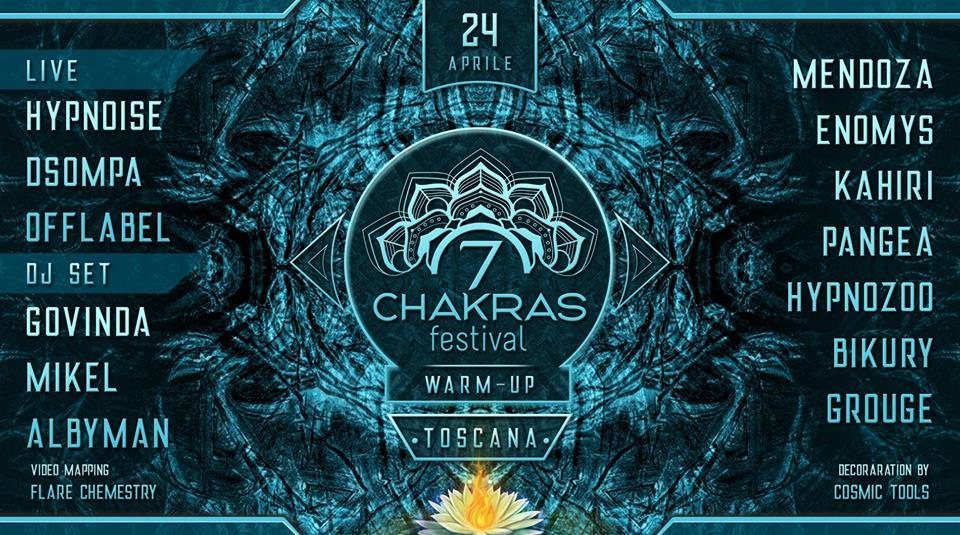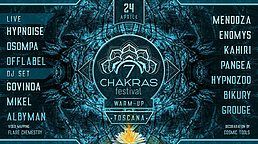 Line Up
Offlabel Crew in collaborazione con Believe Lab e 7 Chakras festival presentano : 7 Chakras Warm Up Toscana.
Per la speciale occasione saliranno alla nostra console il Live set di Hypnoise dalla Spagna ed il Live set di Dsompa dalla Germania.
Restate sintonizzati sulle nostre frequenze e non perdedevi la seratona dell'anno.
Vi aspettiamo!!
.......::::::: Live Act :::::::.......
∆∆ Hypnoise (Sacred Technology // Maharetta Records, ES)
soundcloud
[facebook.com]
Signed to Antu Records and Maharetta Records in 2010, Hypnoise started as a duo and nowadays is run solo by Juan Fontoira.
First release L.S.D. (Logical Structures Database) was a total success, reaching tops in charts and played all around turning Hypnoise into a reference in the scene. After a few tracks on different labels they released their 2nd Ep Organic Machinery on their brand new label Maharetta Records, follow by their Remixed Ep Retrospective with the collaboration from well-knowns Sonic Species, Ital and Tron, and again it was a total blast on the dancefloors and charts, reaching the Top 5 on worldwide releases for a few weeks.
His Debut Album Dimensional Shifting, released in 2014 by Antu Records, was a total success hitting Top 1 on various international charts around the globe, Since then, he has being riding the wave travelling and rocking at the most prestigious festivals and parties around the globe, Including Boom Festival (Portugal), Freqs of Nature (Germany) , Shankra (Swiss) , The Experience (Thailand), Sunburn (India), Ritual (Mexico), Rezonance (South Africa), Origin (South Africa) and the list goes on ...
In 2018 he signed with the well known Sacred Technology Records and release his second studio album ´Dance Among the Spirits´.
In the meantime had been releasing many tracks in different labels as Nano Records, Free Spirit, 24/7 recs, Antu Records,.... and worked in different collaborations with top notch artist.
Always researching and developing his sound, Hypnoise continues stomping the psychedelic trance scene with his higher dimensional productions.
∆∆ Dsompa (Believe Lab, DE)
soundcloud
[facebook.com]
Dsompa is the Tibetan meaning for "flowing together", and is the project of Philipp based in Hamburg, Germany, a passionate Dj and producer.
Dsompa discovered electronic music in the late 90′s, and was bewitched with the culture, art and the sound of the psychedelic subculture. Encouraged by friends of the Ruigoord Community in Amsterdam, he played his first DJ set in the squatted church turned dance-temple, of Ruigoord early 2007.
In 2014, he released his Shipibo – Conibo inspired debut EP "Shinan" on Sangoma Records in 2014. By the end of 2017 you'll get some new music, 3 collaboration tracks, with Animalien, Nektar, Ingrained Instinct, Fungus Funk, Drip Drop and Kabayun. Next thing on the list is a new EP for Believe Lab.
∆∆ Offlabel (Blacklite Records, IT)
soundcloud
[facebook.com]
OffLabel is a psytrance project by Tony Vallini, born and grown up in Italy.
He started as techno DJ when he was 16, and from 1995 he rose as a producer taking always care of keeping his own style. After the Techno Experience he moved into the psytrance world already as an expert artist and party organizer.
His music is characterized by an underground and an evocative cut with melodies, chants and tribal contamination. He played in many Italian clubs and shared the consolle with loads of important psytrance djs and producers.
In 2018 he joined the well known Blacklite Records family, after a radical change of his style. More psychedelic sounds, deeper basslines, acid synths and of course a strong BPMs increase, in agreement with the new trend of the label.
On stage OffLabel provides a Live Set together with many atmos fx and sounds that he is creating on the spot: a very involving show with a powerful music vibration.
.......::::::: DJ Set :::::::.......
∆∆ Govinda (Believe Lab)
soundcloud
[facebook.com]
Govinda is a Dj grown up in Goa, roaming around this freaky contest since a very young age. His musical selection is the reflex of a lifetime spent on the floors, (making him) experience that made him highly receptive towards the publics needs.
The tracks he chooses are sustained by driving rhythms & evolving stories, always transforming and surprising the dancefloor with fresh psychedelics.
His central spirit is the great connection between him and the dancers. It's a bond that starts from the first row and gradually reaches the whole crowd, creating a transcendental bubble where everyone feels part of the One.
Top 10 Gigs: 2011 Sonica Festival (It) | 2012 Boom Festival (Pt) | 2013 Ozora Festival (Hu) | 2014 | Antaris Festival (De) | 2015 Modem Festival (Hr) | 2016 Hill Top Festival (Goa) | 2017 Jungle Calling (Goa) | 2017 Oregon Eclipse (USA) | 2018 Boom Festival
∆∆ Mikel (Parvati Records // Believe Lab)
soundcloud
[facebook.com]
Dj Mikel can turn his uniform audience into a single continous flow where everybody converge from the material lost during his mesmerising dj-sets.
It all began in 2000, when he started playing music at techno-trance parties. Here he discovered his passion for mystical Indian atmosphere and for psychedelic world.
After 4 years spent in psytrance music ambient he found his musical way, discovering and sharing with his public his abstract and ethereal vision translated into sound.
From that moment he decided not only to play music, but even to create events and new artistic ideas.
In that year, he also known Arjuna and Govinda. Together they decided to start the same way on the built of Belive tribe: a cultural association that uses music as an instrument of communication, not only related to fun.
In 2005 he took part of the Sun Explosion Festival(), in 2008 and 2009 played at Shiva Moon and in 2011 2012 at Tangra festival()in 2013 at Blackmoon festival(IT).
Meanwhile In the last years Believe tribe organized some events sponsored from their hometown, the first ones which use cultural-artistic performance in a musical contest different from the common one. They also created a two days party called 7Chakras which grow year after year. The last adventure they lived was in September 2013 when, with a collaboration within Goaproject, another tribe of central Italy, gave life at the biggest Italian psytrance festival: Blackmoon, 5 days of international arts, musics and shows.
Mikel has a very particular sound, transcendental and hypnotic. A deep music research that end in hours of pure musical delirium, showing a unique personal choice in order to create a place out of time and space. A perfect duo between mind and body. Don't wait for him to come, follow him on the next show!
∆∆ Albyman (Pixan Recordings)
[click here]
[facebook.com]
Dj alby man project was born the 20th of July of 1984 in a village in the province of Milan.
After years spent listening to this music he decided to start playing. He bought Cds and a mixer and he began to organize small parties.
In 2009 Alby with Alex and Luki funded the "Psytronic Crew Project" after a summer beach party in Ferrara. "Psytronic Crew" in collaboration with "Moonlight Project" and "Ayahuasca Crew" began to organize many parties in Milan, Bergamo and Brescia areas.
Over the years Alby improved his mixer techniques and began to be invited to perform in important Italian parties organized by "Looney Moon Records" and by "Creative Jungle Merkaba Crew".
Alby loves to make people dance in a full on undergrounds style, and also he's able to play morning full-on and progressive styles.
In 2012 Alby, with other 10 people, funded the Cultural Association "Soundplatters", active from many years as a Parties Organization in "Leoncavallo" of Milan.
This Association wants to give a better future to young people and organizes Audio Editing classes, others initiatives and much more in 2013!
In the meantime Alby man project works on his full on tracks and goes on with the organization of many parties.
∆∆ Mendoza (Offlabel Crew)
soundcloud
[facebook.com]
∆∆ Enomys (Offlabel Crew)
soundcloud
[facebook.com]
∆∆ Djane Kahiri (Eudaimonia Psy Milano)
soundcloud
[facebook.com]
∆∆ Pangea (Offlabel Crew)
soundcloud
[facebook.com]
∆∆ Hypnozoo (Offlabel Crew)
soundcloud
∆∆ Bykuri (Offlabel Crew)
soundcloud
∆∆ Grouge (Talismat records // Offlabel Crew)
soundcloud
Deco
.......::::::: Deco Team :::::::.......
∆∆ Cosmic Tools TM
[facebook.com]
.......::::::: Video Mapping :::::::.......
∆∆ Flare Chemestry (Offlabel Crew)
[facebook.com]
Info
Info
L'associazione Culturale Offlabel Crew, in collaborazione con Believe Lab e 7 Chakras Festival presenta: 7 Chakras Warm Up Toscana.
Questa serata si propone di far conoscere e dare supporto a questo magico evento Italiano giunto alla sua ottava edizione.
Per la speciale occasione saliranno alla nostra console Hypnoise dalla Spagna e Dsompa dalla Germania con il loro Live Set!!!
Restate sintonizzati sulle nostre frequenze e non perdedevi la seratona dell'anno.
Qui siamo carichi, Vi aspettiamo!!
Location
La location che ospita il nostro evento è alle porte di Pisa ed è nuovissima e molto accogliente.
C'è una bella Dancefloor interna ed un grande spazio all'aperto nel giardino esterno.
Dall'uscita FI-PI-LI Cascina si raggiunge agilmente in 5 Minuti
Ampio Parcheggio e Pizzeria interna aperta tutta la notte.
Sound System 17 KW D.A.S By Offlabel Crew.
Dalle 5 del mattino in poi ci spostiamo in un altra location dove si terrà l' After fino alle ore 13, che sarà strettamente riservato ai partecipanti del Party; serviremo la colazione e ci saluteremo con tutta la dovuta calma!!
Le info verranno date a fine serata.
Entry
Entry
Party 15 euro
After 5 euro