6 Years of Psychedelic Happiness Festival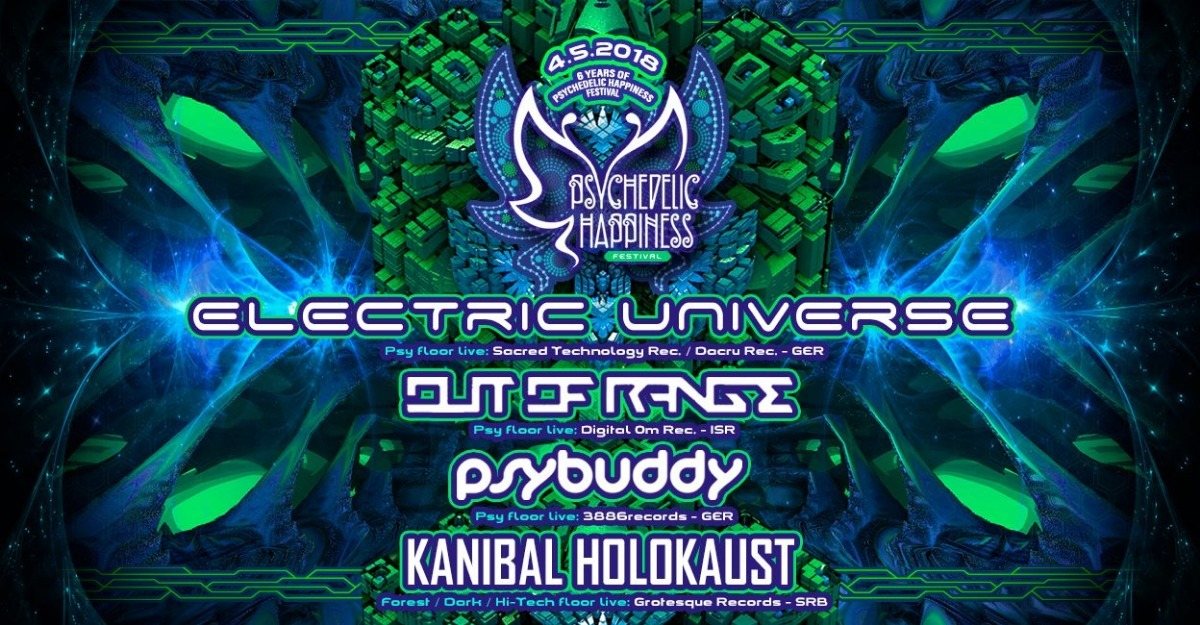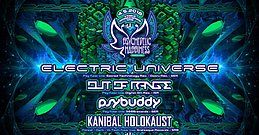 Line Up
◉ ----------------- ◉ ◉ ◉ ---------------- ◉
◉ ॐॐॐॐॐॐॐॐॐॐॐॐॐॐॐ ◉
◉ PSYCHEDELIC HAPPINESS ◉
◉ ॐॐॐॐॐॐॐॐॐॐॐॐॐॐॐ ◉
◉ ----------------- ◉ ◉ ◉ ---------------- ◉
~ 6 Years of Psychedelic Happiness Festival - 6 Years of Psychedelic Music & Art ~
Wir feiern unser 6-jähriges Bestehen und 6 wundervolle Jahre mit vielen tollen Erinnungen an wunderschöne Parties mit euch!
Gemeinsam sind wir gewachsen, dabei haben wir stets an unsere Konzept festgehalten.
Freude und Glückseeligkeit, Nächstenliebe und Warmherzigkeit.
Stets haben wir diese Punkte vor allen anderen gestellt - und wir haben sehr viel positive Energie durch euch zurück bekommen.
Das gab und gibt uns Kraft, den Weg weiter zu gehen und Mut, unseren Geist zu erweitern und zu entfalten.
Wir sagen Danke Danke Danke und nochmals Danke!
Zum 6-jährigen haben wir einen ganz besonderen Künstler eingeladen:
Electric Universe!
Boris Blenn und Michael Dressler sind Pioniere der Goa- und Psy-Szene und bespielen die größten Bühnen und Festivals dieser Welt.
Seit über 25 Jahren produzieren Sie erstklassige Tracks, die die Charts anführen.
Mit quasi allen Künstlern die Rang und Namen haben, haben Sie bereits schon zusammengearbeitet.
Wir freuen uns auf einen ganz besonderen Abend mit Boris Blenn, der uns mit seinem Projekt Electric Universe ein Ständchen spielt.
Neben Boris haben wir einen wahren Schmuckstück der israelischen Psy-Szene dazugewinnen können.
Mark Avramov aka Out Of Range ist einer der aktuell besten Neulingen der israelischen Goa-Community.
Seine Tracks zeichnen sich als Power-Geladener, hoch elektrisierender Fullon-Psytrance aus.
Nicht umsonst ist er in kürzester Zeit bei einem der Top-5 Labels, Digital Om, gelandet!
Seine Releases finden sich in den Playlists der namhaftesten Künstler wieder.
Schon jetzt wird er global auf großen Festivals gebucht.
Es ist nur noch eine Frage der Zeit bis Mark in allermunde ist.
An dem Abend zeigt er uns mit einem Live-Set sein Können!
Support gibt es von:
Psybuddy Live!
Mellow Monks
HaZe
Tingeltainment
Der Dark-Floor kommt diesmal richtig zum Beben.
Mit Nino Zlatic aka KanibaL HolokausT beehrt uns ein herausragender Live-Act der Dark-Psy-Szene.
Seinen Sound beschreibt man als experimentellen Dark-Psy mit hang zum Horror-Sound und tief dunkler Atmosphäre.
Mit seinen wechslungsreichen Baselines, zaubert er euch ins Reich des Bizarren.
Seine Musik ist unverkennbar und ein Genuss für jeden Gast der schaurig-dunklen Seite.
Wir freuen uns sehr auf seine Live-Performance!
Support gibt es von:
Djane Tollkirsche
Samnu
KINGO
Wir freuen uns auf euch und auf eine grandiose Geburtstagssause!
Das Psychedelic Happiness Festival Team
◉ ----------------- ◉ ◉ ◉ ----------------- ◉
ॐॐॐॐॐॐॐॐॐॐॐॐॐॐॐॐॐॐ
◉ ----------------- ◉ ◉ ◉ ----------------- ◉
ॐॐॐ LINEUP PSYFLOOR / BACKYARD STAGE ॐॐॐ
ELECTRIC UNIVERSE Live
// Sacred Technology Rec. / Dacru Rec. - GER
soundcloud
OUT OF RANGE Live
// Digital Om Rec. - ISR
soundcloud
PSYBUDDY Live
// 3886 Rec. - GER
soundcloud
Mellow Monks
// SpaceTrax Rec. / Psychedelic Happiness Festival - GER
soundcloud
Haze
// Monkey Buisness Entertainment - Germany
soundcloud
Tingeltainment
// Decoordination Rec. - GER
soundcloud
ॐॐॐ LINEUP FOREST / DARK / HI-TECH FLOOR ॐॐॐ
KANIBAL HOLOKAUST Live!
// Grotesque Records - SRB
soundcloud
Tollkirsche
// Brain Massacre Project - GER
soundcloud
Samnu
// Plutonium Club / C³ - Crispy Chaos Crew Vienna - AUT
soundcloud
K!ngo
// Klammheimlich Prod. - GER
soundcloud
◉ ----------------- ◉ ◉ ◉ ----------------- ◉
ॐॐॐॐॐॐॐॐॐॐॐॐॐॐॐॐॐॐ
◉ ----------------- ◉ ◉ ◉ ----------------- ◉
ॐ Deko:
LunoSol - USA
BMSS Rec.
[facebook.com]
Elefantasie - AUT
[facebook.com]
Deko Supported by:
WirWollenMehr - GER
Psychedelic Happiness Festival Art & Decorations - GER
ॐ Chai & Fresh Fruits & Food:
By Chai Mike
ॐ Schmuck:
LaOra Design
[facebook.com]
ॐ Cloths & Accessories:
Ritschy
[facebook.com]
Snowdrops
[facebook.com]
ॐ Blacklight Make-Up & Bodyart by:
Sylvaine
ॐ Education:
Projekt Mindzone
[facebook.com]
[mindzone.info]
ॐ Soundsystem:
PSY-Floor:
5-Punkt Soundsystem by:
Funktion-One
DARK-Floor:
4-Punkt Soundsystem by:
TurboSound
CHILL-AREA:
2-Punkt TurboSound
Eintritt: 15€
inkl. Welcome-Shot (Jägermeister / Pfeffi)
inkl. UV-Stoffbändchen (solange der Vorrat reicht)
Geburtstagskinder der Woche 30.4. - 05.4. haben freien Eintritt.
Bitte Ausweis mitbringen!
NO DRUGS, NO VIOLENCE, NO ANIMALS!
Bitte achtet auf euch, die Umwelt und eure Mitmenschen.
ACHTUNG:
KEIN LICHTBILD-AUSWEIS = KEIN ALTERSNACHWEIS = KEIN EINTRITT - Auch bei Vorverkaufstickets!
Unsere Parties sind ohne Ausnahme ab 18 Jahren!
Eintritt mit Vorbehalt (z.B. für zu stark alkoholisierte und / oder aggressive Personen)
◉ ----------------- ◉ ◉ ◉ ----------------- ◉
ॐॐॐॐॐॐॐॐॐॐॐॐॐॐॐॐॐॐ
◉ ----------------- ◉ ◉ ◉ ----------------- ◉
+++ TICKETS: +++
Vorverkauf / Preorder online!
Bestellt eure Tickets im Vorverkauf und erhaltet einen garantierten Einlass inkl. limitiertem UV-Stoffbändchen!
Hier gehts zum Ticket-Shop:
[ticketpay.de]
// Blind Ticket: SOLD OUT!
// Early Bird: SOLD OUT!
// Regular: Open to buy
Info
◉ ----------------- ◉ ◉ ◉ ----------------- ◉
ॐॐॐॐॐॐॐॐॐॐॐॐॐॐॐॐॐॐ
◉ ----------------- ◉ ◉ ◉ ----------------- ◉
Video-Flyer:
[facebook.com]
Teaser-Video:
[facebook.com]
◉ ----------------- ◉ ◉ ◉ ----------------- ◉
ॐॐॐॐॐॐॐॐॐॐॐॐॐॐॐॐॐॐ
◉ ----------------- ◉ ◉ ◉ ----------------- ◉
Location
Location
Kulturprojekt München

Ludwigsfelder Straße 15, 80997 München