Backend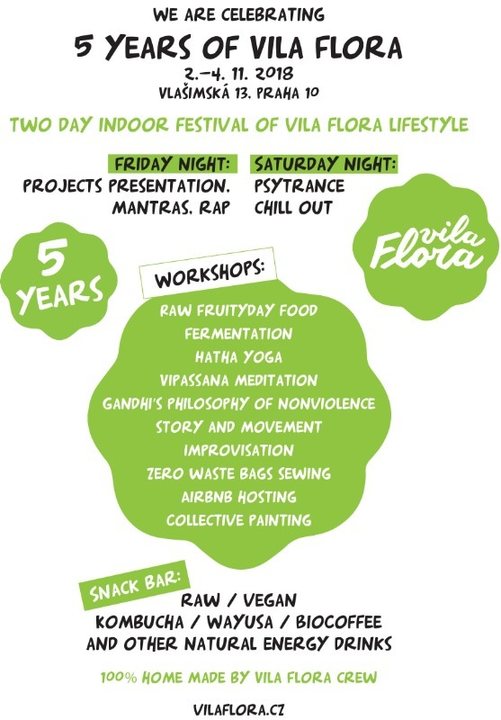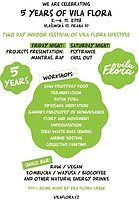 Line Up
Psytrance Liveact:
Gondar (Gondaria.com) liveact & set

Psytrance DJ's:
Mr.Gorby ( WizArts / Fenix Festival)
Lov3sonic (Deep Planet Music)
Calave Soundz (Zero Point)
Jenda Legenda (WizArts / Fenix Festival)

Chillout DJ's & Liveacts:
Mantramos (intro ceremony)
Jenda Legenda (WizArts / Fenix Festival)
Leave the mistakes
Kashmir (Mimo-TV / Fenix Festival)
Maara-víc (WizArts)
Vašek (CyPeace)
PeeterAngelo liveact
Vetta liveact
Deco
Zuzanka - complete transformation of the house ;]
Info
Vila Flora is celebrating 5 years of existence in a present dimension 😁
Weekend festival: psytrance/chillout party@saturday, workshops, presentations, shops, etc. You are invited to celebrate with us 🤗
Photos from one of our previous psytrance parties at Vila Flora:
[facebook.com]
Sorry - because we are lazy with translation and busy with preparations, following detailed info is in czech language only ;] But all of us speak english.
Most workshops will be held in czech language (except Yoga and optionally Airbnb living). There is only one catch: there are exactly 150 tickets available so that we can fit in the house comfortably ;]
Therefore buy your tickets soon, if you want to ensure your spot. Especially for the party.
When all the tickets will be sold, the info will be posted on the Facebook event, and IT WILL NOT BE POSSIBLE TO BUY TICKETS ON THE SPOT. Thank for understanding ;] For more tickets info call Hynek +420732235683 or write to
info@vilaflora.cz
.
For everyone to fully enjoy the party,
please respect the shared rules:
- We are dancing without shoes on the carpets.
- No smoking inside.
- There is no alcohol served at the party - our parties are alcohol and drugs-free (or at least we hope so;]).
- Please don't bring any of your goodies either. There will be lots of "legal" boosts available.
We will serve matcha, green tea, kombucha, natural energy drinks, organic coffee etc.
This way we can all keep around the same "wavelines" and Spirit of Vila Flora will thank you dearly.
- When chilling outside the house please respect the quite hours and keep your (chatting) volume low. This way we can keep the interdimensional peace ;]
Buy your tickets here:
[vilaflora.cz]
It is also possible to buy your tickets "manualy" via paypal: you will send us $10-15 (recommended range) and you will be added to the guestlist.
For more (payment) info, mail us at "info@vilaflora.cz" and we will be happy to assist.
=================================================
Minulost i budoucnost Vily Flora je ve hvězdách.
Hvězdy jsou ti, kteří souzní s vizí vytváření otevřených prostorů poblíž našich domovů.
První víkend v listopadu zasvětíme tvorbě, sdílení a hudbě.
Konkrétní projekty a detaily najdete níže v sekci zabývající se doposud objevenými fakty o dimenzi Flora. Vše se bude v průběhu konvergence času před oslavou ještě adjustovat, triangulovat a dobublávat. Pro materializaci novinek tedy průběžně sledujte tento FB event ;)
V pátek odpoledne nastartujeme workshopy. Večer proběhne prezentace projektů, které nám dávají smysl. Vnímání proloží písně, společné mantrování a improvizace.
V sobotu přes den se budeme na workshopech učit všelijaké vychytávky a budeme kout ony společné vize.
Mikrokosmos v nás, makrokosmos, ve kterém setrvává část našeho aktuálního vědomí. Jak nahoře, tak dole: na sobotní večerní/noční párty bude znít hudba jak v podkroví (chillout), tak v suterénu (psytrance). Vila se promění v rejdiště elementů: V horních částech budou mít strukturu uspořádanější, cestou dolů se elementy budou rozpadat na své jednotlivé složky.
Vše zastřeší většinou velké množství molekul jídla a pití považovaného v aktuálně prožívané realitě za zdravé.
Na tomto výletu se neprodávají alkoholické boostery. Zároveň (ele)Mentál Vily Flora (a my) prosí, abyste si nebrali vlastní.
Intronauti jsou zváni k tomu, aby Vilu Flora prozkoumávali za použití legálních substancí, dostupných v občerstvovacích stanicích v dolním patře a v chilloutu (tedy zeleného čaje, matchy, kombuchy, atd.)
Zároveň budeme pokračovat v dalších již probíhajících experimentech z předešlých společných výprav- tedy nebudeme uvnitř dimenze Flora kouřit, sundáme si boty a budeme dupat na kobercích na boso. Na zahradě nebudeme vysokou intenzitou zvuku našich dorozumívacích agregátů obtěžovat okolní formy života, aby byl zachován interdimenzionální mír.
Z důvodu již fyzicky otestované kapacity dimenze Flora bude opět probíhat předplatné tamního životního prostoru formou místenek. Pokud tedy bude posádka intronautů do doby startu kompletní, místenky na místě již nebude možné pořídit. Pro pořízení místenky navštivte následující hyperlink, kde si vyberte požadovaný typ výletu a jeho prvky, případně výhodný balíček. Až se stav již aktivní posádky přiblíží limitu, dáme zde vědět.
[vilaflora.cz]
Po přijetí platby obdržíte potvrzovací email a unikátní číselný/QR kód, kterým se prokážete u vstupu do dimenze. Platba je možná do čtyř dnů před začátkem akce a je proveditelná i přímo ve Vile Flora. Kód je přenosný, tedy pokud byste nakonec na výlet nenastoupili, můžete ho prodat jinému intronautovi. Pokud nakoupíte až v době naplnění dimenze Flora, příspěvek nebude asimilován, ale vrácen.
Fotoreport z jednoho z minulých psytrance (Kosmo)letů ve Vile:
[facebook.com]
DOSUD OBJEVENÁ FAKTA O DIMENZI FLORA:
Elementálově interdimenzionální dekorační transformace Vily, grafika letáků: Zuzanka & skřítci supportíci
Psytrance stage sobota:
Gondar (Gondaria. com) set & liveact
Jenda Legenda (WizArts / Fenix Festival)
Mr.Gorby (WizArts / Fenix Festival)
Lov3sonic (Deep Planet Music)
Calave Soundz (Zero Point)
Chillout stage sobota:
Mantramos (intro ceremony)
Jenda Legenda (WizArts / Fenix Festival)
Leave the mistakes
Kashmir (Mimo-TV / Fenix Festival)
Maara-víc (WizArts)
Vašek (CyPeace)
PeeterAngelo
Vatta
Bližší představení účinkujících se vyjeví v průběhu letu času před festivalem.
Hardware zvukových penetrátorů: Štěpán Gondar Kotouč & Jenda Legenda
Michaela Ahimsa - koordinace
Hynek Opolecký - idea text, produkce
Štěpán Kotouč - pohádky z textu a kapradí, produkce, fotograf, copywriting některých medailonů a z nich vznikajícího atlasu živočišných druhů, psytrance stage manager
Arisha Kotoučová - překlad letáku
Jenda Legenda - chillout stage manager
Zuzana Hegedüšová - leták
David Pohan - rezervační systém
Ilona Podlahová - rezervační systém, stránka atlasu živočišných druhů
Páteční večírek, prezentace projektů a komunit:
SoMA, FeelTrees, Free&Real, Earthuman, Vila Flora, Gondarika. Medailonky lidí, kteří ve Vile pobývali. O kulturní intermezzo a společné naladění se postarají Mantramos a CityShamans.
Workshopy (pátek a sobota):
Obalátka - bezobalová domácnost DIY
Fermentace - prakticky i teoreticky
Raw - high carb low fat
Improvizace - workshop svébytnosti
Airbnb - jak na to
Gandhi - filosofie nenásilí v praxi
Vipassana - meditace v sedě a v chůzi
Naše - společná velkoformátová malba
Jídlo a pití: Vegan, Raw, Kombucha, Wayusa, BioKáva a další přírodní energy drinky. V horních i dolních sférách záplavy čajů.
V meziprostoru mezipatra prosákne dimenze nového obchůdku Gondarika.com: thangky, ručně vyřezávané sošky, tašky, náramky a další zmaterializované kreace tvůrců z Nepálu, Indie, Číny a Ruska.
Společně vytvoříme bezpečný prostor pro všechny věkové levely.
Otevřené ceny vstupného a balíčků:
Vstup je v pátek odpoledne a v sobotu přes den dobrovolný, za jednotlivé workshopy se bude platit jednotlivě. Výtěžek ze vstupného jde po odečtení nákladů jako vždy do společného prasátka pro fungování Vily Flora. Ceny jsou otevřené - tzn. můžete za váš let přispět částkou odpovídající vašemu pocitu hojnosti a chuti ho sdílet.
[vilaflora.cz]
Páteční večírek 19.00-22.30: 100-200 Kč (celkový počet: 70)
Sobotní párty 19.00-06.00: 200-300 Kč (celkový počet: 150-170, bude upřesněno)
Balíček: Vila je mým domovem: 700-1200 Kč (páteční večírek, pohodlné páteční přespání, 2 sobotní workshopy, sobotní párty a welcome drink)
Balíček: Blahobyt ve Vile: 1500-2500 Kč (páteční večírek, pohodlné páteční přespání, všechny workshopy, sobotní párty, plná penze a plné džbány)
Balíček: Pro éterické bytosti: 500-800 Kč (páteční večírek, 4 workshopy dle výběru, sobotní párty)
Balíček: Pro nenasytné sousedy: 1200-2000 Kč (páteční večírek, všechny workshopy, sobotní párty, plná penze a plné džbány)
To bude (ú)LET ! ;)
Děkujeme.
Location
about 5min walking from metro station Flora. Complete trip from Muzeum central metro station: around 20min.
Entry
Entry
$10-15 (range is voluntary)
Organizer
VilaFlora.cz Crew:

Michaela Ahimsa - koordinace
Hynek Opolecký - idea text, produkce
Štěpán Kotouč - pohádky z textu a kapradí, produkce, fotograf, copywriting některých medailonů a z nich vznikajícího atlasu živočišných druhů, psytrance stage manager
Arisha Kotoučová - překlad letáku
Jenda Legenda - chillout stage manager
Zuzana Hegedüšová - leták
David Pohan - rezervační systém
Ilona Podlahová - rezervační systém, stránka atlasu živočišných druhů