Backend
2ND ROUND MANAWA TEASER PARTY BCN (Psytotix B-day)
Sant Quirze del Vallès ·
Spain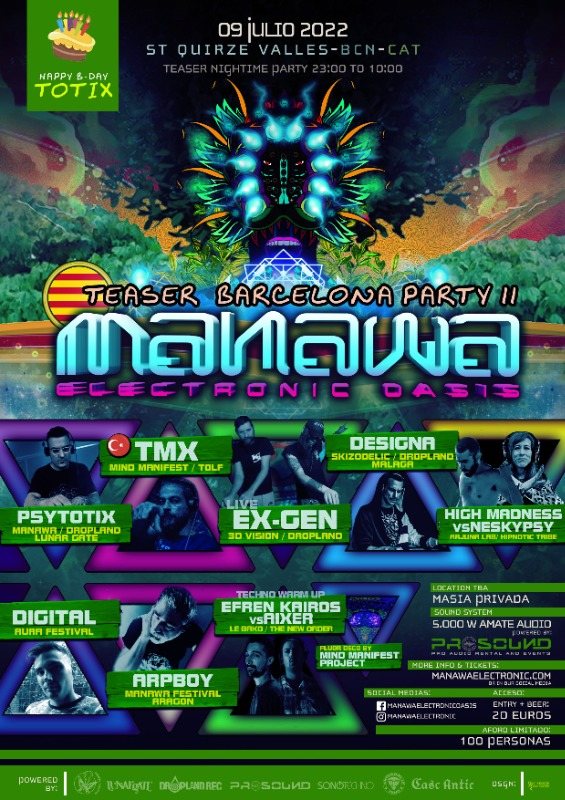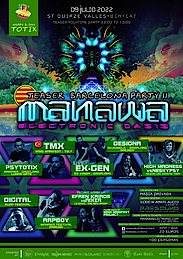 Info
MANAWA 2022 BARCELONA TEASER
Eng/ Welcome to the 2nd round of the teaser party that will take part in valles/bcn area, with a sample of some of the finest and most skilled artists who will take part in our future festival in September, this time we join to celebrate the b-day of one of the main heads behind the manawa project Psytotix, come let´s party together on this hot and wild summer, Event with limited attendance to 100 souls, get yours now!!!
Spa/ Bienvenidos a la 2a fiesta de presentacion de Manawa Festival 2022 en Barcelona area.
Nos rencontraremos el proximo sabado 9 de Julio y bailaremos en entorno privilagiado, sera nuestro 3er evento en una Masia privada (Sant Quirze del Valles) situada en medio de la naturaleza donde tan solo 100 almas libres podran disfrutar de una noche inolvidable llena de fluor, espectaculo y mucha calidad musical.
Despues de una 1a edicion adaptada por la pandemia, nació Manawa Electronic Oasis y disfrutamos de una pool party en el parque de la Gabarda, este magico lugar en medio del desierto de Los Monegros, Huesca.
Para esta edición que se celebrará los dias 3 y 4 de Septiembre de 2022, tenemos preparadas muchas sorpresas. Ampliamos a 2 stage, Pool Stage + Main Stage, 2 equipos de decoración, visuales, mas artistas internacionales de Psytrance y tambien de Techno, grandes actuaciones, mercadillo y mucho espectaculo !
Es para nosotros un placer ofreceros en esta teaser a un equipazo de artistas que tambien podreis escuchar en Manawa Electronic Oasis: Dj Internacional con otra representacion de artistas nacionales presentes en Manawa Elecctronic Oasis.
Compra tu entrada antes de que se agoten !!
Manawa Team
DECO BY MIND MANIFEST PROJECT 🇹🇷
[facebook.com]
SOUND SYSTEM
5000w Amate Audio - Powered by Prosound
[facebook.com]
LIMITED / LIMITADO A 100 PERSONAS 👈🏼
SCHEDULE / HORARIOS:
Desde las 23:00 hasta las 10:00h
TICKETS/VENTA DE ENTRADAS
Compra tu entrada a traves de nuestras redes sociales
o contactando con:
Totix /
[facebook.com]
Sara/
[facebook.com]
Nanuk/
[facebook.com]
Location
Sant Quirze del Vallès

MASIA PRIVADA ( Sant Quirze del Valles)
Informaremos de la localización exacta unos días antes del evento.
Organizer
Organizer
Manawa Electronic Oasis.
More events from Dropland