2nd Anniversary KREAM Roots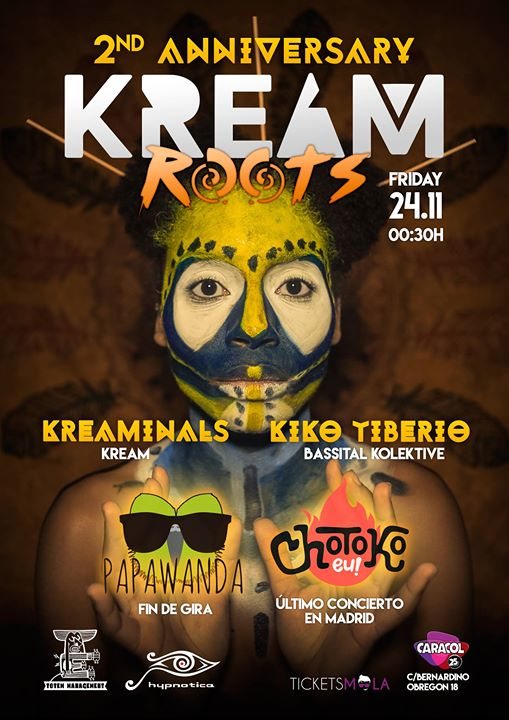 Line Up
¡Vuelve KREAM Roots! Regresamos a nuestros orígenes una vez más para celebrar nuestro 2º ANIVERSARIO!!! Y con ello os traemos una KREAM especial, una fusión de música en vivo y electrónica en una perfecta progresión musical. Todo rodeado de nuestra característica atmósfera psicodélica y tribal.
Para ello tenemos el placer de contar con dos grandes bandas nacionales, ¡Papawanda y Chotokoeu! Ambas nos llenarán de energía el escenario y nos harán bailar desde el principio de la noche. Además vendrán más fuertes que nunca por el FIN DE GIRA de PAPAWANDA y el ÚLTIMO CONCIERTO EN MADRID de Chotokoeu!
Completamos la noche con #Kreaminals, la nueva formación de nuestros DJs residentes Alviker y P.T Raw. Esta vez con más fuerza, más sorpresas que dar y mucho que celebrar, ¡y siempre con su sonido característico que engloba #psytrance, #goa, #progressive y #fullon!
Y como guinda del pastel tenemos el gustazo de cerrar la noche con el enérgico Kiko Tiberio, DJ nacional de psytrance y miembro del colectivo Bassital Kolekive (Bássital Sound System) que va a reventar la pista con su increíble #fullon.
Y para celebrar esta KREAM tan especial vamos a convertir por esta vez en nuestro Templo a SALA CARACOL MADRID, de manera que podamos ofrecer por nuestro 2º ANIVERSARIO la mejor calidad para la música en directo que os traemos además de la electrónica, y donde seguiremos con nuestro espíritu psicodélico decorando el espacio y creando una atmósfera mágica, reventando los graves a base de sonidos electroorgánicos, música #tribal y sobre todo MUCHO #PSYTRANCE!!!
٠٠•● LINE UP ●•٠٠
00:30 ✺ -opening-
00:45 ✺ PAPAWANDA
01:45 ✺ Chotokoeu
02:45 ✺ Kreaminals
04:30 ✺ Kiko Tiberio
٠٠•● MAPPING & MAIN VISUALS ●•٠٠
Hypnotica visuales "El Arte de lo Efímero".
٠٠•● UV DECO, SIDE VISUALS & PERFORMANCES ●•٠٠
KREAM Tribe
✺✺✺ ENTRADAS ANTICIPADAS (¡sólo 300!) / PRESALE TICKETS (only 300!) ✺✺✺
- 12€ with 1 DRINK or 2 BEERS/refreshments
- 15€ with 2 DRINKS
CONSEGUIR ENTRADAS / GET TICKETS -->
[ticketsmola.com]
✺✺✺ PUERTA / DOOR TICKETS - Precios CON LISTA*/Prices with GUEST LIST* ✺✺✺
>> FROM 00:30h TO 02:30h
• 13€ with 1 DRINK or 2 BEERS/refreshments
>> FROM 02:30h UNTIL CLOSING
• 15€ with 1 DRINK or 2 BEERS/refreshments
✺✺✺ LISTAS / GUEST LIST ✺✺✺
*PIDE YA TU LISTA (nombre + nº de acompañantes) EN EL EVENTO O POR MENSAJE PRIVADO.
LAS LISTAS CIERRAN A LAS 22:30H
Precio SIN LISTA 15€ con 1 copa o 2 cervezas/refrescos.
*GET NOW ON THE GUEST LIST (name + no. in accompanying party) BY POSTING ON THIS EVENT OR BY PRIVATE MESSAGE TO KREAM.
GUEST LIST CLOSES AT 22:30H.
Price OUT OF GUEST LIST is 15€ with 1 drink or 2 beers/refreshments.
Location
Location
SALA CARACOL MADRID
C/ Bernardino Obregón, 18
28012 Madrid