Backend
24km party people -Fullmoon Rave Party-
Kawauchi-mura, FUKUSHIMA ·
Japan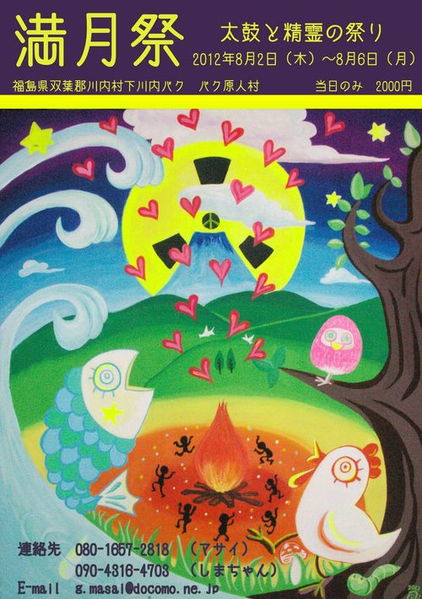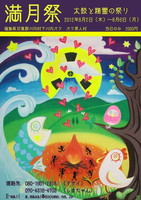 DJs
11 a.k.a KEI WATANABE(FOREVER GREEN/LebeN/ELF-MUSIC)
WADAKE(PALLADIUM)
Seiji Animaminimal (Global Dat Mafia/Dance of Shiva/蟲の響)
燃やし(HaTTi VaTTi/RESEPTI/日球ドーム)
TAKAAKI ITOH(WOLS/WARSAW/caico music)
FU-JIN a.k.a DJ KAWORU(ten/Chaostorm/ten Records/NYA-N RECORDS)
sinX(6D SOUNDZ/Ten-RIng)
and more...
Info
Info
Baku Genjinmura, a hippie village in Fukushima is going to plan a Fullmoon music, art, lifestyle festival in this August. We join them and organize the first day of this festival with DJs and Electronic musicians. Goa, Suomi, and all kind of Psytrance,

Fullmoon Festival itself will be going on till 5th of August. Yes, 5nights Festival!!

!!!!ATTENTION!!!!
After the first night, this festival is going on at JAPANESE OLD HIPPIE STYLE with jam bands, reggae, African drumming, chillout and folk, means NO TRANCE matter happens!!


Baku Genjinmura is located just 24km away from Fukushima Daiichi nuclear plants still ongoing meltdown. Every attendance should be responsible of their own health and risk management about aftershock and radioactivity. Fullmoon Festival organizer will announce the information of the amount of radioactivity, and attendances should judge it is safe or not themselves. Now, radiation dose there is about 0.3 micro Sv/h.
Location
Baku-Genjinmura, a hippie village in Fukushima, 24km away from world famous accidental Fukushima Daiichi Nuke Plant.