23 Sound of the Sun / das vorletzte mal im Butan / Rinkadink uvm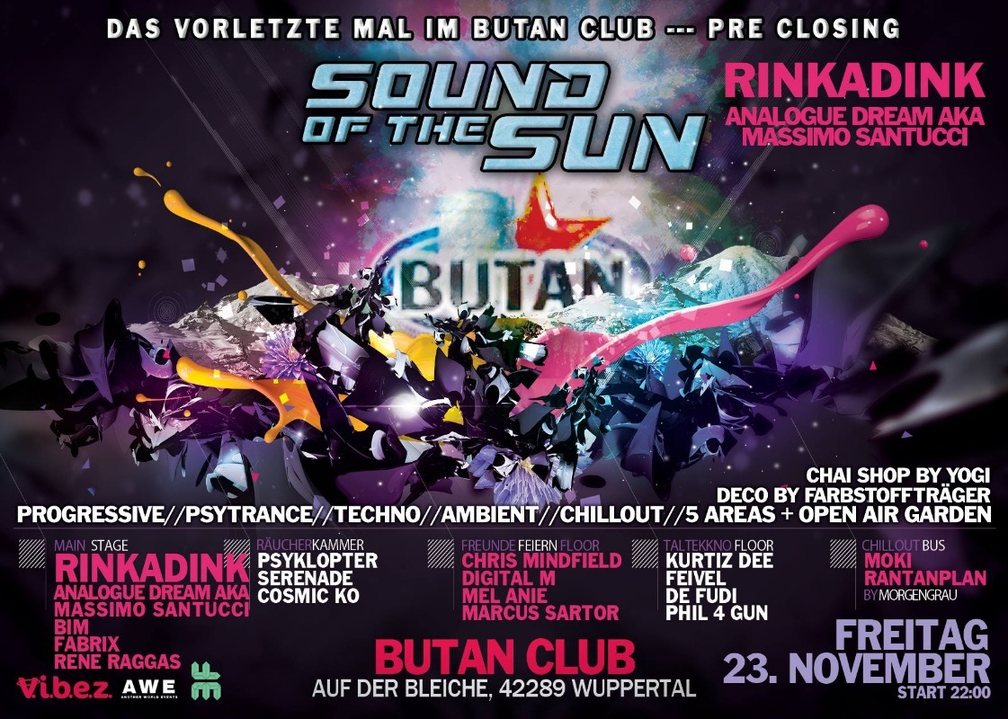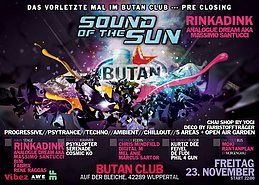 Line Up
Main Hall:
RINKADINK
(Future Music Records / Spain)
[facebook.com]
soundcloud
ANALOGUE DREAM aka MASSIMO SANTUCCI Live
( Shiva Space Technology )
[facebook.com]
[facebook.com]
youtube
BIM
( Y.S.E. Rec.)
[facebook.com]
soundcloud
FABRIX
( Circle of Sound )
[facebook.com]
soundcloud
RENE RAGGAS
(Millennium Rec./Yellow Sunshine Rec.)
[facebook.com]
[discogs.com]
DIGITAL MINDS
(Creative Entertainment / Nature One)
[facebook.com]
----------RÄUCHERKAMMER:----------
PSYKLOPTER
(CosmicVibes)
[facebook.com]
SERENADE
( eXtravagant Events / V.I.B.E.Z )
[facebook.com]
soundcloud
COSMIC KO
(V.I.B.E.Z.Prod.)
facebook.com/DjCosmicKo/
soundcloud
----------FREUNDE FEIERN FLOOR (Brauherr) : ----------
CHRIS MINDFIELD
(Freunde Feiern)
DIGITAL M
(Creative Entertainment/Freunde Feiern)
MEL ANIE
(Traumland)
MARCUS SARTOR
(Freunde Feiern)
----------TALTEKKNO FLOOR (Keller) : ----------
KURTIZ DEE
(Taltekkno / Minimale Druckbelastung)
FEIVEL
(Taltekkno / Minimale Druckbelastung)
DE FUDI
(Rheinpiraten / Ruhr in Love)
PHIL 4 GUN
(Taltekkno)
----------MORGENGRAU CHILL OUT BUS :----------
MOKI & RANTANPLAN
(Morgengrau)
Deco
Deco
★ Decoration: ★

◢ FARBSTOFFTRÄGER
( eXtravagant Events / V.I.B.E.Z.)
)https://www.facebook.com/pages/Farbstoffträger
Info
Das vorletzte Mal im Butan for ever!!!!!
Progressive / Psy Trance / Techno / Ambient / Chill Out /
Open Air Garden / 6 Areas
Rinkadink is music producer and DJ Werner van Jaarsveld. Active in the dance music scene since his mid teens and a veteran of many years of electronic music production, He has been releasing music and performing in clubs and many festivals around the world since 2002, playing in more than 38 countries.
The music he makes encompasses a variety of styles within the genre and consequently no one style defines him.
A strong believer in the true worth of psychedelic music and culture, he uses his performances as an opportunity for the expansion of human consciousness through rhythm and harmony.
While he was known in the past for his abstract and somewhat slapstick approach, recently he has redefined his music into a new and uncompromising style post full-on psychedelic progressive.
◢ Chai Shop by Yogi
🕉 Chaistand 🕉
Yogi Chai & food
[facebook.com]
Patrick wird uns eine bunte Auswahl an Tees frische marokkanische Minze mit grünem Tee ,kaffee,sowie Chai nach hauseigenem Cocosmilchrezept anbieten. Außerdem wird er euch verschiedenes Obst , Süßigkeiten ,Donuts,seine sehr leckeren Fittnessbrote vegan / normal sowie diverse snacks zu fairen Preisen anbieten.
So könnt ihr eure Energiereserven auffüllen um die Tanzfläche wieder zum beben zu bringen.
Location
Location
Butan Club
Auf der Bleiche, 42289 Wuppertal
Entry
Entry
Vorverkauf Partytickets: 13,50 Euro
Abendkasse 15,00 Euro
More events from V.I.B.E.Z.