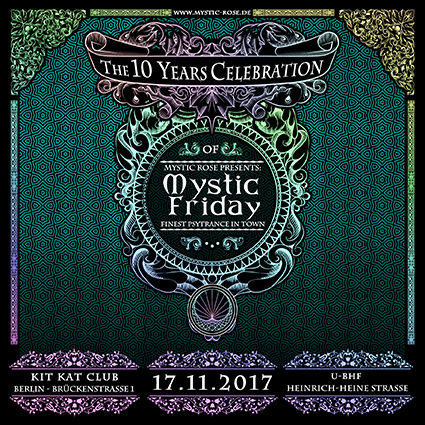 Line Up
LIVE:
Tune Up Sound Collective - Berlin
Johann Bley - Hamburg / Goa


Mainfloor:
23:00 LIVE: Tune Up Sound Collective - Berlin
01:00 Possebility - Interference / Warp - Berlin
04:00 LIVE: Johann Bley - Hamburg / Goa
05:15 G.M.S. aka Riktam & Bansi - fm Music / Iboga - Ibiza
09:00 Joanna - Waldfrieden OA - Berlin

Dragon Floor:
01:00 Nayati Sun - Berlin
04:00 Lars Lee - Magic Phangan Rec - Berlin

Underground: Tech-House
02:00 Jens Rawolle aka Jensson - Millenium Rec - Berlin
Deco
Deco
Visuals & Arts:
Flourooptics - Brandenburg
Body Painting by B-Painted - Berlin
Mapping by Resorb
Lights & Laser by Basti

Specials:
Spacebar by Ganesh
Chaishop by Djamoon
Info
Als ich vor 23 Jahren die ersten Mystic Rose Parties im alten KitKat organisierte, ahnte ich nicht, dass diese Partyreihe so lange überleben wird.

Als ich vor 10 Jahren die Mystic Rose als monatlichen Club unter dem Namen MYSTIC FRIDAY begann, WOLLTE ich, dass die Psytrance Szene weitergeht....

Damals machte kaum noch jemand Tranceparties, und ich dachte, wir sind eine aussterbende Spezies....:-)
Drum freue ich mich heute um so mehr, dass der Funke vor allem auf die jüngere Generation übergesprungen ist...
Das sieht man an den Besucherzahlen und der zahlreichen Partyprojecten, die es heute wieder gibt.

Drum lade ich euch alle ein zur 10 Jahre Mystic Friday Zelebration...und freue mich besonders auf Rictam und Bansi, besser bekannt als G.M.S. aus Ibiza, die schon lange nicht mehr in Berlin gespielt haben und die bei dieser Party ihr Debüt haben werden bei meinen Events.

Auch auf alle anderen Künstler und Liveacts freu ich mich, allen voran Johann Bley, ein Urgestein der ersten Parties in Goa, und TuneUp Soundcollective, die Live das Intro machen.

so, spread the word and come together...
see you on the dancefloor...
Location
Location
Kit Kat Club
Brückenstr. 1, Berlin Mitte
Entry fee
Entry fee
17,00 Euro, Garderobe inclusive
Organizer
Organizer
The Mystic Rose Team