Backend
1º Aniversario #UndergroundMusicSession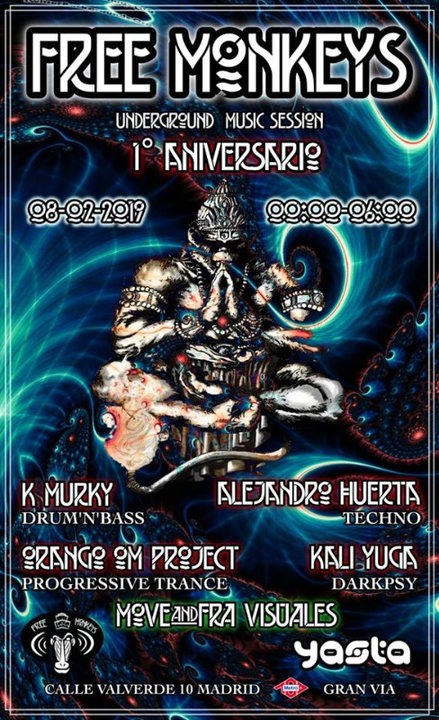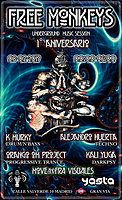 Line Up
Line Up
00:00 Alejandro Huerta(Techno)
01:30 K.Murky (Drum And Bass)
03:00 Orango Om Project (Progressive Trance)
04:30 Kali Yuga (Darkpsy)
Deco
Deco
Visuales: Move & Fra
Info
Hola Monkeyyysss!
Aún nos cuesta creerlo, pero sí, es la realidad: ya ha pasado un año desde que nos juntamos entre amigos y decidimos crear este colectivo; desde nuestra primera Underground Session; desde que empezamos de cero, pero con muchísimas ganas e infinita ilusión por este proyecto.
Cada uno de nosotrxs, desde el principio, ha aportado algo diferente a esta manada de Monkeys, algo suyo para poder crear un colectivo al que hoy nos hace especial ilusión llamar "nuestro", y que pueda reflejar un poquito lo que somos y nuestra visión de la cultura musical underground.
En estos meses han entrado nuevos miembros en el equipo con varios estilos y grandes ideas que nos han enriquecido mucho y nos han ayudado a crecer en el mundo de la música underground madrileño.
En un año han pasado muchísimas cosas, y nunca hubiéramos pensado poder llegar hasta aquí, pero al final lo estamos logrando y tenemos muchas ganas y entusiasmo por seguir con la misma fuerza y mismos principios que nos mueven, como son la libertad en nuestras sesiones o el amor por lo que hacemos, y nuestro único planteamiento es seguir así, creciendo y celebrando cada aniversario junto a vosotrxs!
Es por esto que no podemos esperar más para soltar la fecha de nuestro primer aniversario, que celebraremos en la Ya'sta Club el 8 de febrero, donde pinchará el equipo de nuestros djs/productores al completo, cada uno representando su género con un estilo marcadamente propio.
Empezamos la noche con fuerza, como nos gusta hacerlo, tirando de grooves bien definidos, magistrales juegos de batería y bombos amplios, secos y enérgicos, según se vaya terciando, al más puro estilo del buen Techno para ponernos bien a tono con cada corte meticulosamente seleccionado.
Seguimos en espiral ascendente con unos breaks partecuellos, pasando, sin contemplación alguna, al ritmo del Drum And Bass, como no, generosamente regado de gordas basslines, loops envolventes y bombos, cajas y hit hats que desatarán toda esa energía que llevas reprimiendo durante la semana en el dance floor.
Bajamos en intensidad de bpms a unos 145, pero no así en energía, pues es la velocidad perfecta para mantenernos saltando y saltando, mientras viajamos otra hora y media a golpe de Full On y Progressive Trance. Bombos directos que entran por los pies y atmósferas luminosas, pero profundas, hacen la unión perfecta para que tu alma vuele lejos con cada salto.
Terminamos en el otro extremo del Trance, el Darkpsy, sumergiéndonos en un abismo en que lo psicodélico, lo tácito y lo desconocido se dan cita para producir una katársis espiritual a través de la danza. Cadencias elevadas e infinitas, psicofonías de otros mundos, ambientes donde reina la penumbra... Observa tu oscuridad y baila con élla, hermanx.
Y, como no podía ser de otra forma, contaremos con un catalizador visual que nos guiará por las atmósferas de los distintos géneros durante toda la velada. Sonidos y texturas que irrumpen directamente por los ojos a tu conciencia y se apoderan de tu capacidad sensorial, mediante una cuidada selección de visuales verdaderamente alucinante.
Line up:
00:00 Alejandro Huerta(Techno)
01:30 K.Murky (Drum And Bass)
03:00 Orango Om Project (Progressive Trance)
04:30 Kali Yuga (Darkpsy)
Visuales: Move (Federico) & Fra (Francesca)
Te esperamos en la pista para ofrecerte una noche muy especial que, estamos convencidos, quedará grabada en tus tímpanos y retinas.
Para cualquier información sobre el evento no dudéis en contactar directamente con los Free Monkeys Collective (
[facebook.com]
o con Francesca (663.585873 /
[facebook.com]
.
...FREE MIND, FREE LIFE, FREE MONKEYS!!!
Location
Location
Ya'sta Club:
Calle Valverde, 10 (Metro Gran Vía)
Entry
Precios con lista:
-de 00:h a 1:30h:
12 € con 2 copas
9€ con dos refrescos/cervezas
-de 1:30 a 3h:
15 € con 2 copas
10€ con 1 copa
10€ con 2 refrescos/cervezas.
-de 3h a cierre:
12€ con 1 copa
12€ con 2 refrescos/cervezas.
Organizer
Organizer
Free Monkeys Collective