Backend
WAO FESTIVAL 2019 - 5th Edition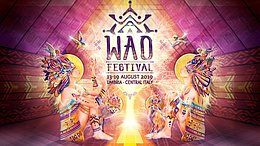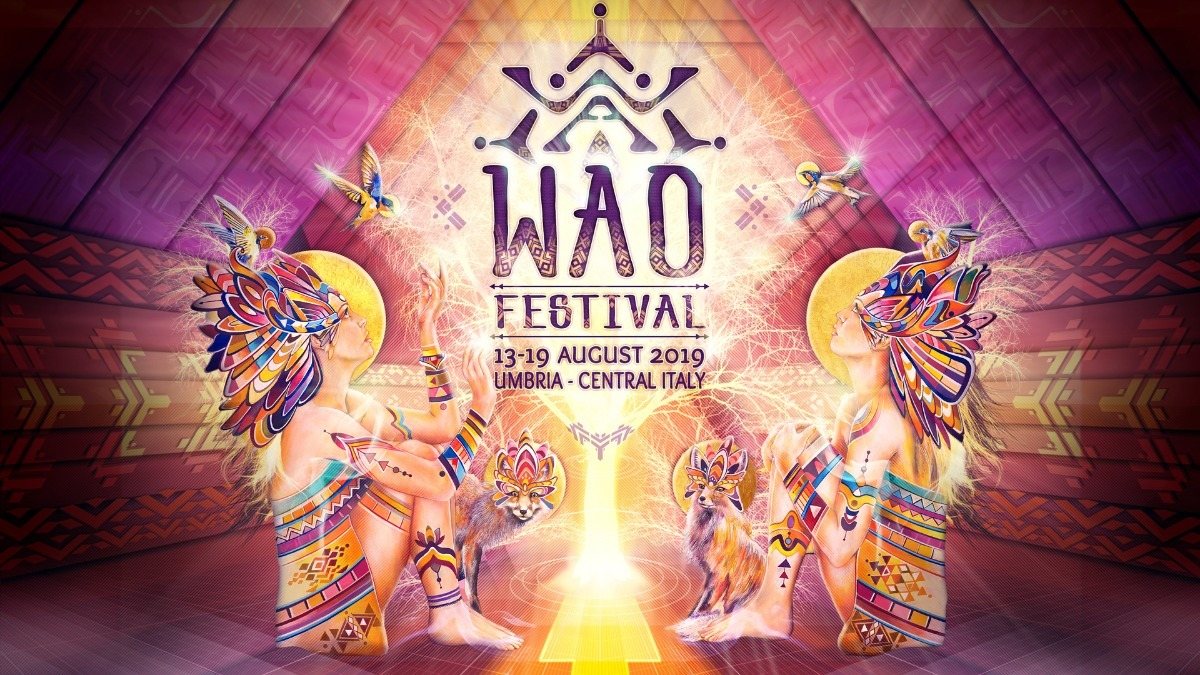 Line Up
🌷 WAO Festival 2019
5⃣ 5th Edition
📅 13-19 August 2019
📍 San Venanzo, Italy
🌐
[waofestival.org]
===========================
🎥 WAO 2018 Aftermovie
[bit.ly]
🎥 WAO 2017 Aftermovie
[bit.ly]
📷 WAO 2018 Official gallery
[bit.ly]
📷 WAO 2018 by Manuel Balbarani
[bit.ly]
📷 WAO 2018 by Andrew Cooper
[bit.ly]
📷 WAO 2018 by Johan Kvint
[bit.ly]
📷 WAO 2017 Official gallery
[bit.ly]
===========================
🎧 MUSIC STAGES 🎵
ॐ Dance Playground ॐ
ૐ●• ZION TRAIN
Universal Egg Records // UK ◆
[bit.ly]
[bit.ly]
[bit.ly]
ૐ●• CLOZEE
Gravitas Recordings // FR ◆
[bit.ly]
[bit.ly]
[bit.ly]
ૐ●• AES DANA
Ultimae Records // FR ◆
[bit.ly]
[bit.ly]
[bit.ly]
ૐ●• GREG HILIGHT
Kosmic Hoboes Records // FR ◆
[bit.ly]
[bit.ly]
[bit.ly]
ૐ●• EAT STATIC
Planet Dog Records // UK ◆
[bit.ly]
[bit.ly]
[bit.ly]
ૐ●• SENSIENT
Zenon Records // AU ◆
[bit.ly]
[bit.ly]
[bit.ly]
ૐ●• TERRANOISE
Global Army Music // ISR ◆
[bit.ly]
[bit.ly]
[bit.ly]
ૐ●• HYPOGEO
Zenon Records // IT ◆
[bit.ly]
[bit.ly]
[bit.ly]
ૐ●• LUCAS
Tip Records // UK ◆
[bit.ly]
[bit.ly]
[bit.ly]
ૐ●• REGAN
Nano Records // ZA ◆
[bit.ly]
[bit.ly]
[bit.ly]
ૐ●• MANDALA
Nano Records // UK ◆
[bit.ly]
[bit.ly]
[bit.ly]
ૐ●• DUST
Looney Moon Records // IT ◆
[j.mp]
[j.mp]
[j.mp]
ૐ●• LIFTSHIFT
Zero1 Music // NL ◆
[bit.ly]
[j.mp]
[bit.ly]
ૐ●• PHOBOS
Looney Moon Records // IT ◆
[j.mp]
[j.mp]
[j.mp]
ૐ●• SPECTRA SONICS
Grasshopper Records // JP ◆
[j.mp]
[j.mp]
[bit.ly]
ૐ●• LSDIRTY
Anubis Records // IT ◆
[bit.ly]
[bit.ly]
[bit.ly]
ૐ●• MENTAL BROADCAST
24/7 Records // BRA ◆
[bit.ly]
[bit.ly]
[bit.ly]
ૐ●• PARASECT
Bom Shanka Music // IT ◆
[bit.ly]
[bit.ly]
[bit.ly]
ૐ●• DELIRIUM TREMENS
Dream Project Records // IT ◆
[bit.ly]
[bit.ly]
[bit.ly]
ૐ●• GOA JONAS
Tip Records // ◆
[j.mp]
[j.mp]
[bit.ly]
ૐ●• PEACE-KA
Mind Funk Records // IT ◆
[bit.ly]
[bit.ly]
[bit.ly]
ૐ●• LOONACY
Looney Moon Records // ITA-NL ◆
[bit.ly]
[j.mp]
ૐ●• RADIKAL MOODZ
Looney Moon Records // FR ◆
[bit.ly]
[bit.ly]
[j.mp]
ૐ●• ZZBING
Woodog Recordings // UK ◆
[bit.ly]
[j.mp]
[bit.ly]
ૐ●• CRITTER
Woodog Recordings // MEX ◆
[bit.ly]
[bit.ly]
[bit.ly]
ૐ●• WILL'O'WISP
Dark Prisma Records // ARG ◆
[bit.ly]
[bit.ly]
[bit.ly]
ૐ●• BOLON YOKTE
Popol Vuh Records // MEX ◆
[bit.ly]
[bit.ly]
[bit.ly]
ૐ●• SUBVERSO
Digital Nature Records // BRA ◆
[bit.ly]
[bit.ly]
[bit.ly]
ૐ●• HASHASHIN
World People Prod. // BE ◆
[bit.ly]
[bit.ly]
[bit.ly]
ૐ●• SHOVE
Alchemy Records // MEX ◆
[bit.ly]
[bit.ly]
ૐ●• HATTA
Grasshopper Records // JP ◆
[bit.ly]
[j.mp]
[bit.ly]
ૐ●• PSYGROO
Own Spirit Festival // ES ◆
[bit.ly]
[bit.ly]
[bit.ly]
ૐ●• AVENGERS
X7M Records // IT ◆
[bit.ly]
[bit.ly]
[bit.ly]
ૐ●• MR TRIP
Artrance Records // IT ◆
[bit.ly]
[bit.ly]
[bit.ly]
ૐ●• OFFLABEL
Blacklite Records // IT ◆
[bit.ly]
[bit.ly]
[bit.ly]
ૐ●• GOOD FELLAS
Mainstage Records // IT ◆
[bit.ly]
[bit.ly]
[bit.ly]
ૐ●• KOKMOK
Hadra Records // FR ◆
[bit.ly]
[bit.ly]
[bit.ly]
ૐ●• RIKAM
Techsafari Records // CAN ◆
[bit.ly]
[bit.ly]
[bit.ly]
ૐ●• TSUBI
Ozora Festival // HUN ◆
[bit.ly]
[bit.ly]
[bit.ly]
ૐ●• DR SPACE
Forestdelic Records // HUN ◆
[bit.ly]
[bit.ly]
[bit.ly]
ૐ●• FOG
Looney Moon Records // IT ◆
[bit.ly]
[bit.ly]
[j.mp]
ૐ●• CHILD_OS
WAO Festival / World People Prod. // IT ◆
[j.mp]
[j.mp]
[bit.ly]
ૐ●• BENTLEY
Free Spirit Records // IT ◆
[bit.ly]
[j.mp]
[bit.ly]
ૐ●• DOOMS
Digital Shamans Records // FR ◆
[bit.ly]
[bit.ly]
[bit.ly]
ૐ●• DIGOA
Zero1 Music // BRA ◆
[bit.ly]
[bit.ly]
[bit.ly]
ૐ●• PHILOSO
Kamino Recs / Freak Recs // NL ◆
[bit.ly]
[bit.ly]
ૐ●• FULLIP
24/7 Records // AU ◆
[bit.ly]
[bit.ly]
[bit.ly]
ૐ●• DIGITAL HIPPIE
Zero1 Music // USA ◆
[bit.ly]
[bit.ly]
[bit.ly]
ૐ●• ACID MIND
Paramystical Records // IT ◆
[j.mp]
[j.mp]
[bit.ly]
ૐ●• AIO
Lycantrop Records // CAN ◆
[bit.ly]
[bit.ly]
[bit.ly]
ૐ●• ANAKIS
Vantara Vichitra Records // FR ◆
[bit.ly]
[bit.ly]
[bit.ly]
ૐ●• TOTO
(World People Production) // FR ◆
[bit.ly]
[bit.ly]
[bit.ly]
ૐ●• MARA
Uroboros Records // CH ◆
[bit.ly]
[bit.ly]
ૐ●• POLLYFONIKA
Blacklite Records // MEX ◆
[bit.ly]
[bit.ly]
[bit.ly]
ૐ●• BACK TO MARS
(Occulta Records) // NL ◆
[bit.ly]
[bit.ly]
[bit.ly]
ૐ●• GOVINDA
Believe Lab // IT ◆
[bit.ly]
[bit.ly]
[bit.ly]
ૐ●• NAVARRO
Maharetta Records // FR ◆
[bit.ly]
[bit.ly]
[bit.ly]
ૐ●• MIK3L
Parvati Records // IT ◆
[bit.ly]
[bit.ly]
[j.mp]
ૐ●• WOOS
Protoned Music // DK ◆
[bit.ly]
[bit.ly]
[bit.ly]
ૐ●• RAVEHEART
Evil Corp // IT ◆
[bit.ly]
[bit.ly]
[bit.ly]
ૐ●• AMNESIA
Evil Corp // IT ◆
[bit.ly]
[bit.ly]
[bit.ly]
ૐ●• MAREK
Looney Moon Experiment // IT ◆
[bit.ly]
[bit.ly]
[bit.ly]
ૐ●• POSSEBILITY
Sun Department Records // GER
[bit.ly]
[bit.ly]
[bit.ly]
ૐ●• PERKINS
(PHI Records) // GER ◆
[bit.ly]
[bit.ly]
[bit.ly]
ૐ●• WINNY
(Voidoscope rec.) // IT ◆
[bit.ly]
[bit.ly]
[bit.ly]
ૐ●• TRACKONE
(WAO Festival) // IT ◆
[j.mp]
[bit.ly]
[j.mp]
ૐ●• MAX GANDALF
Free Spirit Foundation // IT ◆
[bit.ly]
[bit.ly]
[bit.ly]
ૐ●• HADRON
Free Spirit Foundation // IT ◆
[bit.ly]
[j.mp]
[bit.ly]
ૐ●• PURIO
Merkaba Crew // IT ◆
[bit.ly]
[bit.ly]
ૐ●• ABC
Blue Tunes Records // IT ◆
[bit.ly]
[bit.ly]
[bit.ly]
ૐ●• SUPERNATURAL
Veleno Music // IT ◆
[bit.ly]
[bit.ly]
[bit.ly]
ૐ●• KRONOS
D Noir Records// IT ◆
[bit.ly]
[bit.ly]
ૐ●• KENON
Indaco Tribe // IT ◆
Green Tree Records // IT ◆
[bit.ly]
[bit.ly]
[bit.ly]
ૐ●• DODO 3D
Quarion Tribe // IT ◆
[j.mp]
[j.mp]
[bit.ly]
ૐ●• PEDROINE
WAO Festival // IT ◆
[j.mp]
[j.mp]
[j.mp]
ૐ●• KYNETHIK
24/7 Records // IT ◆
[bit.ly]
[j.mp]
[bit.ly]
ૐ●• DOUBLESHOCK
(Monkeysexplosion) // IT ◆
[bit.ly]
[bit.ly]
[bit.ly]
===========================
ॐ ReTribe Circle ॐ
ૐ●• EAT STATIC
(Planet Dog Records) // UK ◆
[bit.ly]
[bit.ly]
[bit.ly]
ૐ●• CLOZEE
Gravitas Recordings // FR ◆
[bit.ly]
[bit.ly]
[bit.ly]
ૐ●• AES DANA
Ultimae Records // FR ◆
[bit.ly]
[bit.ly]
[bit.ly]
ૐ●• NEIL PERCH (ZION TRAIN)
Universal Egg Records // UK ◆
[bit.ly]
[bit.ly]
[bit.ly]
ૐ●• SPANIOL
Sonido Tropico // BR ◆
[bit.ly]
[bit.ly]
[bit.ly]
ૐ●• MASTER MARGHERITA
Blue Hour Sounds // UK ◆
[bit.ly]
[bit.ly]
[j.mp]
ૐ●• DANDARA
LOKD Records // CH ◆
[bit.ly]
[bit.ly]
[bit.ly]
ૐ●• RAFAEL ARAGON
Global Hybrid Records // FR ◆
[bit.ly]
[bit.ly]
[bit.ly]
ૐ●• INTICHE
Big In Japan // AR ◆
[bit.ly]
[bit.ly]
ૐ●• AIWAA
Lump Records / Leveldva // CO ◆
[bit.ly]
[bit.ly]
ૐ●• YEAHMAN
Frente Bolivarista // FR ◆
[bit.ly]
[bit.ly]
ૐ●• ØKAPI
Illegal Art // IT ◆
[bit.ly]
[j.mp]
ૐ●• TREEBOGA
Merkaba Music // IL ◆
[bit.ly]
[bit.ly]
ૐ●• AYAMOON
The Sanctuary Eco Retreat // IT ◆
[bit.ly]
[bit.ly]
[bit.ly]
ૐ●• AL-JIVE MESTIZO
Noite Mestiza // IT ◆
[bit.ly]
[bit.ly]
ૐ●• GLAUCO DI MAMBRO
The Sanctuary Eco Retreat // IT ◆
[bit.ly]
[bit.ly]
[bit.ly]
ૐ●• PEDRO BALOON
ReTribe Collective // IT ◆
[j.mp]
[j.mp]
[bit.ly]
ૐ●• PEDROINE
WAO Festival // IT ◆
[j.mp]
[j.mp]
ૐ●• LUNE
ReTribe Collective // IT ◆
[bit.ly]
[bit.ly]
[bit.ly]
ૐ●• NAAN
Shanti Planti // IT ◆
[bit.ly]
[j.mp]
ૐ●• MARA
Uroboros Records // CH ◆
[bit.ly]
[bit.ly]
ૐ●• MAREK
Looney Moon Experiment ◆ IT
[bit.ly]
[bit.ly]
ૐ●• FOG
Looney Moon Experiment ◆ IT
[bit.ly]
[bit.ly]
ૐ●• BRØDO
Quadra Bookings ◆ IT
[bit.ly]
ૐ●• COOL RUNNINGS SOUND
Independent // IT ◆
[bit.ly]
[bit.ly]
ૐ●• ITAL NOIZ DUB SYSTEM
Universal Egg // IT ◆
[bit.ly]
[bit.ly]
ૐ●• ADRIAN EFFE
The Beat Pushers Crew // IT ◆
[bit.ly]
[bit.ly]
[bit.ly]
ૐ●• TSUBI
Ozora Festival // HUN ◆
[bit.ly]
[bit.ly]
[bit.ly]
ૐ●• CONCIENCIA ANCESTRAL
Tribal Ethnic // MEX/IT ◆
[bit.ly]
[bit.ly]
ૐ●• IPNOTEKA
Fusion Instrumental Concert // IT ◆
[bit.ly]
ૐ●• SUN ANGA
Electrik Dream Records // IT ◆
[bit.ly]
[bit.ly]
ૐ●• NAMI
Blue Hour Sounds // IT ◆
[bit.ly]
[bit.ly]
[click here]
ૐ●• FOREST FLOWER
PsyChill Duo // IT ◆
[bit.ly]
[bit.ly]
ૐૐ●• BABODEN
TechYes // IT ◆
[bit.ly]
[bit.ly]
[bit.ly]
ૐ●• SKÏZOFRED
Instrumental Live Concert ◆ FR
[bit.ly]
[bit.ly]
ૐ●• PULAO
Alternating Beats / Merkaba Crew // IT ◆
[bit.ly]
[bit.ly]
ૐ●• IOON
Melusine Records // IT ◆
[bit.ly]
[j.mp]
[bit.ly]
ૐ●• KYO
Alternating Beats / WoodMood // IT ◆
[bit.ly]
[bit.ly]
[bit.ly]
ૐ●• FABIO OTTAVIANI
Ma Cumbia // IT ◆
[bit.ly]
[bit.ly]
ૐ●• DR SPACE
Forestdelic Rec // HUN ◆
[bit.ly]
[bit.ly]
[bit.ly]
ૐ●• DOUTDES
Independent // IT ◆
[bit.ly]
[bit.ly]
ૐ●• HASHASHIN
World People Prod. // BE ◆
[bit.ly]
[bit.ly]
[bit.ly]
ૐ●• INCREDIBLE TIDE
Peak Records // IT ◆
[j.mp]
[bit.ly]
ૐ●• FELI PE CARRERA
Independent // IT ◆
[bit.ly]
[bit.ly]
ૐ●• KALEKO
Independent // IT ◆
[bit.ly]
ૐ●• PIX
Alternating Beats // IT ◆
[j.mp]
[j.mp]
[bit.ly]
ૐ●• KLAUKO
Free Spirit Foundation // IT ◆
[bit.ly]
[bit.ly]
[bit.ly]
ૐ●• SUPERMAN
Berlin Invasion // IT ◆
[bit.ly]
[j.mp]
ૐ●• THE INTERSTELLAR OVERDRIVE
Free Spirit Foundation // IT ◆
[j.mp]
[bit.ly]
ૐ●• FRANK DP
:::::::::::::::::::::::::
📚 CULTURAL AREA 📚
The Cultural Area at WAO Festival is part our permanent laboratory for environmental sustainability and a multi-disciplinary space dedicated to the development and promotion of initiatives in the fields of sustainable techniques and lifestyles.
Our cultural activities are focused on examples of the application of the permacultural principles in our everyday's life, such as ancient farming and building techniques, modern organic farming, responsible tourism and open source business solutions.
We apply the principles of sustainability to the organization of WAO as much as we can. Throughout the years, we have built new structures using organic materials, as well as the sale of local organic food and products during the festival. As our project grows with our all-year-round initiatives on the land of the festival, we aim to make WAO completely off-the-grid with the support of our participants and the modern technologies,
WAO Festival encourages the growth of each individual's mindfulness of being part of one multitude. Through the exchange of experiences and information, we will suggest each other possible directions to fulfill our full potential, reaching for co-creating a positive future for the current generations and for the ones to come.
🇮🇹
L'Area Culturale di WAO Festival è un laboratorio per la sostenibilità ambientale e uno spazio multidisciplinare dedicato allo sviluppo e promozioni di iniziative nel campo dell'eco-architettura e della permacultura.
Le nostre attività culturali sono incentrate sui possibili modi di proiettare la permacultura in tutti gli aspetti della nostra vita, fornendo esempi di agricoltura sostenibile, tecniche di coltivazione e costruzione dell'antichità, turismo responsabile e soluzioni open source per la sostenibilità.
Applichiamo i principi della sostenibilità all'organizzazione di WAO Festival al massimo delle nostre possibilità. Dalla prima edizione abbiamo aumentato l'utilizzo di strutture costruite con materiali sostenibili, così come abbiamo incentivato la vendita di alimenti biologici e a km0 all'interno del festival. Crescendo, speriamo di raggiungere il nostro obiettivo è rendere WAO Festival un evento completamente off-the-grid grazie al vostro supporto e allo sviluppo delle nuove tecnologie.
WAO Festival vuole essere uno strumento per accrescere la consapevolezza di ognuno di noi di essere parte di una moltitudine organica. Ci guideremo l'un l'altro attraverso la condivisione delle nostre esperienze e informazioni, creando insieme un futuro positivo per questa generazione e per quelle a venire.
🌳☀️🇮🇹💞🎶
===========================
#psytrance #psytrancefestival #psyfestival #festival #psyculture #psyfamily #fullon #darkpsytrance #progressive #psychedelic
Info
🌳●• AMAZING NATURAL LOCATION
⛺️●• FREE SHADED CAMPING
🚐●• CARAVAN AREA
🏡●• COMFORTABLE ACCOMMODATIONS
🚿●• SHOWERS AND CAMPING FACILITIES
🎧●• DANCE PLAYGROUND / PSYTRANCE STAGE
🎪●• RETRIBE CIRCLE / ALTERNATIVE STAGE
📝●• CULTURAL WORKSHOPS & SEMINARS
🙏●• HOLISTIC & HEALING WORKSHOPS
🎨●• VISIONARY ARTS AND EXHIBITIONS
🎭●• ARTISTIC PERFORMANCES
🎁●• CRAFT MARKET
🍝●• ORGANIC LOCAL FOOD STALLS
===========================
🙏 OUR MISSION 🙏
WAO Festival is a multi-faceted gathering that blends sustainable culture, holistic wellness, visionary arts and cutting-edge electronic music into a unique transformational experience.
Our project started in 2014 aiming to spread environmental awareness through the organization of a psychedelic gathering with a special focus on sustainability and green culture.
We strive to inspire our participants to live their life enjoying the goods of planet Earth, while respecting its balance and the other creatures. That's what "We Are One" means to us deeply.
The land that hosts us sits on the magnificent Monte Peglia, in the region of Umbria (Central Italy), offering its breathtaking landscape and environment as a wonderful setting for our festival and its purposes. In 2018, the area was included in the UNESCO listing of biosphere reserves. (
[bit.ly]
We are over the moon for the achievements we have gained in the growth of every side of our project, and we can't wait to welcome you at the fifth edition of WAO Festival next summer!
🇮🇹
WAO Festival è un festival poliedrico, volto a fondere cultura sostenibile, benessere olistico, arti visionarie e musica elettronica d'avanguardia in un'unica esperienza trasformazionale.
Il nostro progetto nacque nel 2014 con l'intento di diffondere consapevolezza ambientale attraverso l'organizzazione di un festival di genere psichedelico con un marcato focus sui temi della sostenibilità e della green culture.
Vogliamo ispirare i nostri partecipanti ad abbracciare uno stile di vita consapevole, imparando a gioire dei frutti del nostro pianeta nel rispetto del suo equilibrio e delle creature che lo abitano. Questo è, per noi, il significato più profondo delle parole "We Are One".
Lo spazio che ci ospita si trova in Umbria sul magnifico Monte Peglia, il quale ci offre il suo panorama mozzafiato e la natura incontaminata del suo ambiente come cornice perfetta per il nostro festival e per i nostri propositi. Nel 2018, l'area è stata inclusa nella lista delle riserve della biosfera UNESCO. (
[bit.ly]
Siamo felicissimi dei risultati che abbiamo ottenuto con la crescita di ogni aspetto del nostro progetto, e non vediamo l'ora di darvi il benvenuto alla quinta edizione di WAO Festival la prossima Estate!
===========================
🚌 WAO BUS 🚌
The WAO Bus service connects the two Roman airports and WAO Festival 2019
⏳ THE PLACES ARE LIMITED ⏳
Get yours on
[bit.ly]
===========================
🏡 WAO GLAMPING ⛺️
For the first time, WAO 2019 will have its gorgeous Glamping area - Consisting of three types of accommodation (Bell tents, Teepees and Glamping houses) for our guests, their friends and families who would like to have a more comfortable experience at WAO without carrying their own camping gear 🏕
Check out the Glamping options and book yours on
[bit.ly]
===========================
💪 GET INVOLVED! 💪
Take part in WAO 2019 by filling out one of the application forms below.
🙏 HEALING AREA
➡️
[bit.ly]
📚 CULTURAL AREA
➡️
[bit.ly]
🎨 ATTRACTIONS and DECORATIONS
➡️
[bit.ly]
🎭 PERFORMANCES
➡️
[bit.ly]
🍝 FOOD STALLS
➡️
[bit.ly]
🎁 SHOPS
➡️
[bit.ly]
Location
🌎 FESTIVAL LOCATION 🌍
Parco dei Settefrati
Strada Statale 317
05010 San Venanzo TR
lat: 42.807500, lon: 12.210370
Google maps:
[goo.gl]
CAR DIRECTIONS ➡️
[bit.ly]
WARNING! Google Maps directions are misleading and will take you to a wrong destination. Please follow the directions to Colonnetta di Prodo then, once there, you should turn left following the signs to MARSCIANO/SAN VENANZO. Do NOT follow the Google Maps directions!
ATTENZIONE! Il calcolo del percorso di Google Maps vi porta su strade sterrate e pericolose. Arrivati a Colonnetta di Prodo girate a sinistra in direzione MARSCIANO/SAN VENANZO. Non seguite assolutamente la navigazione di Google Maps!
Added

3y 11m

· Update

3y 7m

·

/ 2