Waldfrieden Wonderland 2017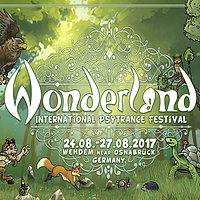 ·
Flyer comments...
This year in august the gates to Wonderland will open again at a clearing at the Stemwede mountain. For the 21st time we are digging this rabbit hole. Every summer in the middle of the woods in-between trees and mushrooms, caterpillars and centipedes the valley transforms into a fairytale forest where everything is possible. Countless DJs and yogis, artists and shamans will gather to enchant the forest with you. On four dancefloors all genres of psychedelic music are played and our open spaces invite for camping on meadows and fields.

__________________________________________

• Waldfrieden Psy Club
• Main Floor: Outdoor Psychedelic / Progressive Floor
• Backyard Floor: Outdoor Alternative-Electro / Techno Floor
• Dark Floor: Outdoor Forest / Hitech-Floor!
• Healing Area
• Chill and Chai by Napeia Arts
• Market Area
• Organic Food Area
• Fire Space
• Performer Stage
• Camping Areas

• Psy Care / psychedelic ambulance
• PsyClean / recycling team
• Workshops
• Dread Service & Body Painting
• And a lot more!


Travel:
• Free bus shuttle from train stations Lemförde and Rahden
• Bus shuttle from big germany cities

To minimize the car traffic on the festival grounds we have to take 5 € road toll for every vehicle driving over the area.
Location
Waldfrieden Events
Bergstrasse 32
32351 Stemwede
Organizer
Waldfrieden Events
24H Summer Special Juni
17 - 18 Jun '17 · Indoor
Stemwede ·
Germany
Line Up:

► Hatikwa ❂ Xonica Records · ► Rudegirl ❂ DINGer Berlin · ► DJoanna ❂ Waldfrieden · ► Raoul ❂ Blue Hour Sounds ❂ Wald...


Info:

`*• ❖ 24 Stunden Summer Special Juni ❖ •*´ 24 Stunden drinnen und draussen tanzen, feiern und das Leben genießen. mit Op...


Loc:

Waldfrieden Events Bergstrasse 32351 Stemwede

Added by Waldfrieden Events · Update

12d 8h

·

1,420

· Starts in

22d 15h
Sa, 17 Jun '17 ·
Stemwede
24H Summer Special Juli
15 - 16 Jul '17 · In- & Outdoor
stemwede ·
Germany
Line Up:

Line Up kommt ganz bald!


Info:

`*• ❖ 24 Stunden Summer Special Juli ❖ •*´ 24 Stunden drinnen und draussen tanzen, feiern und das Leben genießen. mit Op...


Loc:

Waldfrieden Events Bergstrasse 32351 Stemwede

Added by Waldfrieden Events · Update

16d 8h

·

1,188

· Starts in

1m 20d
Sa, 15 Jul '17 ·
stemwede
24 H Summer Special September
23 - 24 Sep '17 · In- & Outdoor
Wehdem ·
Germany
Line Up:

Line Up kommt ganz bald!


Info:

`*• ❖ 24 Stunden Summer Special September ❖ •*´ 24 Stunden drinnen und draussen tanzen, feiern und das Leben genießen. m...


Loc:

Waldfrieden Events Bergstraße 31 32351 Wehdem

Added by Waldfrieden Events · Update

16d 8h

·

107

· Starts in

4m 16h
Sa, 23 Sep '17 ·
Wehdem