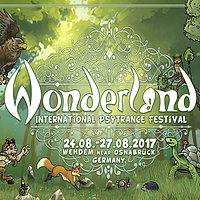 Deco
ॐ Deko, Visuals & Performer ॐ

► Mimesis - Psychedelic Art

► Para Optix Bühnenbilder

► Optic Noise Deko

► Hypnoisia Decoration

► Neil Gibson Creations

► Circus Lumineszenz

► The Light Brother's

► Discotron

► Liquid Sky

► Provisuell

► Mystic Circles
Location
Location
Waldfrieden Events
Bergstrasse 32
32351 Stemwede
Entry fee
The presale for Waldfrieden Wonderland has ended.

There are still tickets available for 105€ + 5€ trash deposit at the gates.

Day tickets for 55€ can also be purchased on Friday and Saturday and are valid from 10 am that day until 10 am the following day.

On Saturday from 10 am on the regular weeekend ticket will cost 85€ + 5€ trash deposit

On Sunday from 10 am 40€

On Sunday from 4 pm 20€

It is theoretically possible that we are sold out and can not let anyone in at some point. This has not happend in the past but and if it looks like we are reaching our capacity we will let you know here!

Free admission for everyone over 60 years.
Organizer
Organizer
Waldfrieden Events
More events from
Sa, 23 Jun '18 ·
Wehdem
Sa, 21 Jul '18 ·
Wehdem
Th, 23 Aug '18 ·
Wehdem