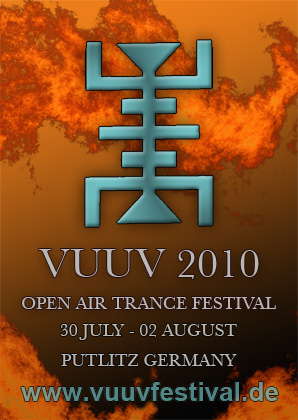 Info
we have launched the new VuuV home page, please refresh your bookmarks!
you can also find us on facebook:
[facebook.com]
Thousands of people, one message: happiness!
Experience the magic, be in the now,
flow with the music, everyone together,
that's the VuuV vibe!
Four days, three nights, three floors one vibe! See you on the dance floor! Let's VuuV!
Enjoy the anticipation for VuuV Festival 2010!
let's vuuv on!
Entry fee
Entry fee
Vorverkauf ab Mai 2010, Advance sale starts May 2010

VVK 50.-€ plus 5,-€ Müllpfand, Abendkasse 65,-€ plus 5,-€ Müllpfand
Advance sale 50.-€ plus 5,-€ garbage deposit, at the gates 65,-€ plus 5,-€ garbage deposi
Added

11y 10m

· Update

10y 10m

· 42 Parties ·

/ 689