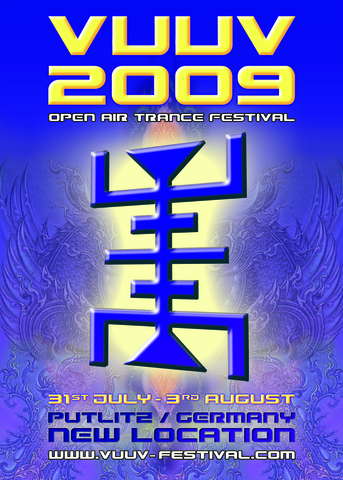 Live
Line Up
as usual you can expect simply the best
DJs
Scotty and a well chosen crew of highly motivated DJ friends from all over the world
Chill
a cosy area to relax and indulge
Deco
Deco
dreams will come true
The Frogz aus U.K./ Spanien,
Afadrenalin aus Macedonien,
Schwarzlichtmiljöö by Sundaychaizelt aus Österreich,
Puy aus Ko Phangan/ Thailand,
Paradise No9,
Asrai-PM,
Amrisha
Info
Das VuuV Festival 2009 wird in der Nähe von Putlitz auf einer wunderschönen, neuen Location stattfinden. Die Dancefloors und das gesamte Festival Gelände sind von lauschigen Wäldern und einem zauberhaften Fluss umgeben.
Wie gewohnt ist Hauptfokus der Veranstaltung die erstklassige Auswahl and internationalen top DJs und Live Acts der Genres Psy Trance, Full On, Goa Trance, Dark Psy, Progressive, Electro und Ambient. Das musikalische Konzept des Festivals steht bereits, wir arbeiten noch etwas am Feinschliff um euch das Beste zu bieten...
Wobei wir uns dieses Jahr auf unsere liebgewonnene Tradition des >geheimen line ups< besonnen haben, die wir schon seit 18 Jahren pflegen- mit der einzigen Ausnahme im letzten Jahr. Der Hintergedanke des >geheimen line ups< ist, dass wir möchten, dass ihr nicht wegen irgendwelcher Hypes und grosser DJ Namen zum Festival kommt, sondern offen seit und euch überraschen lasst. Das VuuV Festival ist weltweit das einzige Trance Festival dieser Grössenordnung das diese Überraschung bietet und so konsequent für ausgesuchte PsyTrance Musik und nicht für DJ Hype steht. Wer dennoch eine Idee bekommen möchte, in welche Richtung der Sound geht, möge sich die >hall of fame< auf unserer Website ansehen, dort sind alle Künstler der vergangenen 17 Jahre gelistet ;-)
Die PAs der drei Dance Floors sind qualitativ kaum zu überbieten. Auf dem Main Floor wird von der Firma PAM events aus Berlin in Zusammenarbeit mit der Sound Design Firma Rahe-Kraft ebenfalls aus Berlin ein einmaliges PA Konzept umgesetzt: dieses Jahr zum ersten Mal weltweit kommen die neuen 21"-Bässe von Föön zum Einsatz. Feel the bass...
Der Open Mind Floor wird durch eine Föön Pa von Klangkraft beschallt werden. Mulle, selbst passionierter DJ und Producer hat ein ausgeklügeltes Konzept erarbeitet, dass es ermöglicht den Sound in all seinen Facetten in allerbester Qualität zu präsentieren.
Der dritte Floor: Electro Body Music Floor wird dieses mal wandlungfähig wie nie zuvor sein: tagsüber Chill und Ambient Floor für Liebhaber der ruhigeren Klänge- wird der Floor nachts zum tanzbaren Proggy und Electro Floor umfunktioniert werden. Somit bieten wir euch eine gute Alternative zu den beiden Hauptfloors, falls die mal nicht euren Musikgeschmack treffen sollten.
Samstag Nacht wird auf dem Main Floor wird eine völlig neue Form von Unterhaltung inszeniert: das erfolgreiche Konzept von Psynema (audiovisuelle Shows seit 2004) wird auf eine ganze Nacht ausgedehnt: Sound, Visuals, Performances, Feuerwerk, Decorationen, Licht und Laser werden in einer großen Choreographie verschmolzen. Buzz-T und El- Geko die Macher des unvergesslichen BooM Festival Videos konzipieren seit Monaten eine phantastische Show, die in dieser Form einmalig sein wird. Ein Genuss für alle Sinne!
Das gesamte Festivalgelände wird von The Frogz aus U.K./ Spanien, Afadrenalin aus Macedonien, Schwarzlichtmiljöö by Sundaychaizelt aus Österreich, Puy aus Ko Phan Ghan - Thailand, Paradise No9, Asrai-PM und Amrisha aus Deutschland mit Bildern, 3d Objekten und Großplastiken in ein farbenfrohes Gesamtkunstwerk verwandelt.
Internationale Feuerperformer, Stelzenläufer und Kostümperformances werden währed des gesamten Festival Wochenendes für Überraschungen und visuelle Highlights sorgen.
Die Maharani Marktarea wird für euer leibliches Wohl sorgen- mit Ständen die ein großes Repertoire an hochwertigen internationalen vegetarischen Köstlichkeiten anbieten. Zudem findet ihr hier wunderschönes Kunsthandwerk aus aller Welt und die neueste Party Fashion der aktuell angesagten Design Studios. Dieser liebevoll gestaltete Markt lädt zum Verweilen und Plaudern ein und ist nicht nur Shoppingmeile, sondern Treffpunkt für Traveller aus aller Welt.
Eine weiteres Secial ist die >Body, Mind & Soul< Area in der Chi Gong, Tai Chi und Ashtanga Workshops angeboten werden. Zudem bieten erfahrene Body Worker verschiedene Massagen an: Ayurvedic Yoga Massage, Intuitive Massage, Marma Chikitsa – Heilung durch Energiepunkte, Shizen Ryoudo Natural Body Therapy , Traditional Thai Massage und mehr.
Mehr Info, Musik Downloads und Photos:
[vuuv-festival.com]
Let's vuuv on, move on, dream on!
Location
Location
Putlitz
From Hamburg A 24 exit Nr 16 Suckow, direction Putlitz.
From Berlin and Rostock A 24 exit Nr 17 Putlitz.
In Putlitz drive in the direction to Karstädt. You reach the locations after 2 km on the left side.
By train go until Pritzwalk, from there take the Shuttlebus directly to the VuuV Festival area.

Same town, new location!
Entry
Entry
Tickets an der Abenkasse (nicht limitiert): € 60,- plus € 5,- Müllpfand.
Der Ticketpreis beinhaltet alle Camping- und Parkgebühren.
Kinder unter 16 Jahre, in Begleitung von Erziehungsberechtigten haben freien Eintritt.

Tickets price at the gates (tickets are not limited): € 60,- plus € 5,- garbage deposit.
The ticket price includes all camping and parking fees.
Admission for accompanied children under 16 years is free.
Organizer
Organizer
Scotty and the VuuV Team