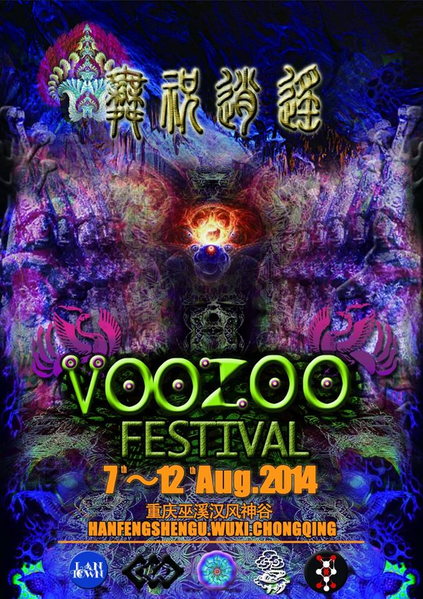 Line Up
DJs:

from China:
FuiGui / Bigfeud / ZenYan
NEZHA / PSY101/ BLUE /
YUAN/RS2 /MENG /JOHN WOOO/
PGM
JIANGZHI /
ChanYuan/

PERTA (RU)
VONE (HK) / GURU (HK)

more dj info will coming soon...
welcome more djs have contact with us n join " VooZoo "!
Deco
Deco
DECO:
SUAN /
NEZHA /
YUANQIU /
WOW PSY /
Info
Info
XIAOYAO 逍遥派对is a team of psy-trance-lovers and parties organizers from China. The members of our team come from different places and have been always dedicated to the diffusion of the new started psy-trance culture in China.
From the "Bamboo Jungle Festival" to XIAOYAO 逍遥派对team's parties, we always hope to bring the real psy-trance music and environment to everyone.
We hope that our parties may give you the fantastic truth of super body and super mind and unity to the One to become the LIGHT…hope to give you a chance to explore and enjoy the Chinese touch of Psy-Trance!
Come to join us and enjoy Mother Nature's vibrations in China!
Welcome all Psy-Trance artists, lovers and spirits of the Universe!
Hope to see you in China, share our common experience and grow up together!
Location
Location
HANFENGSHENGU.WUXI.CHONGQING.
CONTACT WITH US BY E-MAIL(xiaoyao-china@hotmail.com) OR EMERGENCY NUMBER( 0086-15923308916 )
Hotline
0086-13271906226 13880707994