Backend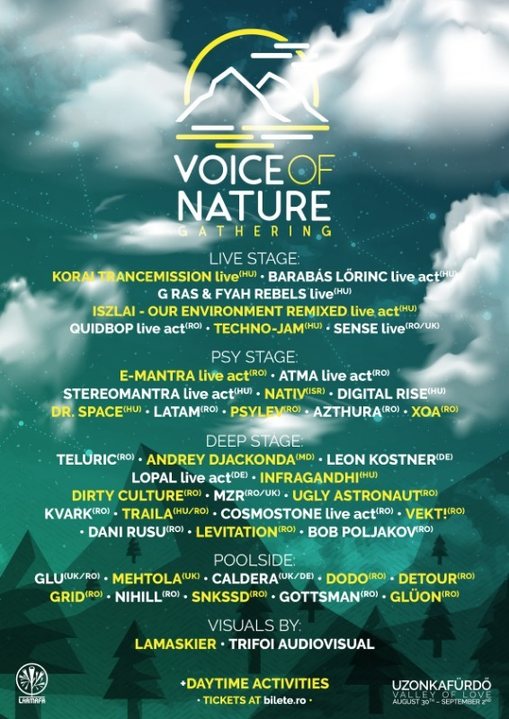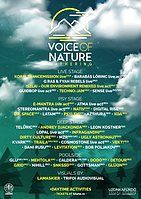 Deco
▶ Visuals ◀


Lamaskier "On The Wall" (RO)


TriFoi Audiovisual (RO)
Info
Another year, another gathering at the same place like last year at "The valley of Love". As we were described like "eco-hedonist" people, we would like to connect nature and human beings to bring our souls and minds closer to ourselves, to each other and to nature. We want to keep the memorable feelings with good music and great daytime activities to keep our mind open to the new things. This year we made this gathering a little bit different but also familiar for everybody. Tasty foods and drinks, swimmingpool, additional stages with different vibes, installations, magical artists and many more.
Our aim is to create a special atmosphere where everyone loves Mother Nature because we are the Voice of Nature.
☀️ DAYTIME ACTIVITIES are coming soon! ☀️
*please*: ☮
♻ bring your own plate, cups and cutlery; we're in love with nature and we wish to reduce the redundant toxic waste and garbage. we provide the facilities to wash your dishes!
♻ collect and manage your rubbish in the designated recycle bin area!
♻ do not store any food in your tent, being in the animals attention can risk your health and safety!
♻ place your tent consciously!
♻ use the toilets as you use it at home, do not leave a mess for others!
♻ don't bring any food and drink to the camping except water! the event is catered, and we do not wish to attract animals to the campsite.
**bring your tent and camping equipment, warm clothes and don't forget your swimming suit!**
**Kid friendly**
▪️ you can find the location by searching "Camping The Valley Ozunca Bai" on Google Maps
or:
[goo.gl]
▪️
▪️ more info soon... ✔
Stay tuned!
Cheers!
Location
Camping the Valley, Ozunca Bai, Covasna, Romania
Organizer
Organizer
Voice of Nature
Added

4y 1m

· Update

4y 1m

· 1