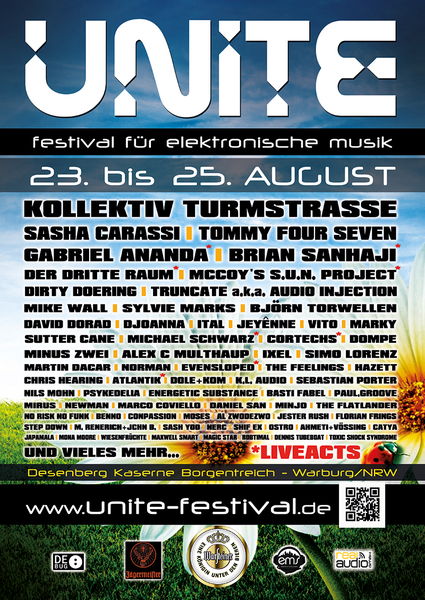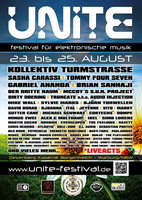 Live
Line Up
McCoy`s S.U.N. Project (Live), Der Dritte Raum (Live), Brian Sanhaji (Live), Gabriel Ananda (Live), Der Dritte Raum (Live), Cortechs (Live), Evensloped (Live)
DJs
Kollektiv Turmstraße, DJoanna, Psykedelia, Tommy Four Seven, Neo Shamanic a.k.a. Shif Ex, Sasha Carassi, Japamala, Dirty Doering, Wiesenfruechte, Truncate a.k.a. Audio Injection, Mike Wall, Bjoern Torwellen, David Dorad, Sylvie Marks, Sutter Cane, Jeyęnne, ViTo, Marky, Mirus, Minus Zwei, Alex C Multhaup, Simo Lorenz, Chris Hearing, Step Down, Dole & Kom, K.L. Audio, Sebastian Porter, Martin Dacar, Norman, The Feelings, Hazett, Energetic Substance, Basti Fabel, Paul.Groove, Dompe, Newman, Marco Coviello, Minjo, The Flatlander, No Risk No Funk, ConPassion, Moses, Al ZwoDeZwo, Florian Frings, Daniel San, Sash YOo, Nerc, Ahmeti & Voessing, osTro, Mona Moore, Maxwell Smart, Catya, Meik Nolte, Flonow...
Deco
Deco
Projektwerkstatt Holodeck
Info
Info
Das Rahmenprogramm reicht von Kurzfilmvorführungen (Kurz und Kölsch) über eine Zaubershow (Illusionist Gerrit Weise) bis zu kostenlosen Schnupper Workshops der EMS - Electronic Music School Köln/Berlin.
Auf dem Festivalgelände haben wir genug Platz für Chill-Out Areas, Verköstigungs -und Marktstände etc.
Alleine fürs Camping stehen über 11.000 m² zur Verfügung.
Es wird einen Shuttleservice von und zum Bahnhof Warburg geben.
Außerdem gibt es organisierte Bustouren aus mehren Städten, mehr dazu findet Ihr auf unserer
Homepage (www.unite-festival.de).
Location
Location
In der Desenberg Kaserne Borgentreich (Am Maihof 1, 34434 Borgentreich) haben wir einen Veranstaltungsort gefunden, der einen ganz eigenen Charme versprüht und der selbst in der vielfältigen Festivallandschaft Deutschlands noch beeindruckt. Alle fünf Spielorte imponieren mit ihrem eigenen Charakter.
Den Hintergrund bespielen Lichtkünstler mit Lichtinstallationen und eigens für das Festival gebauten Dekorationen.
Das Gelände bietet eine hervorragende Infrastruktur für ein Festival dieser Art und Größe.
Entry
Entry
VVK 49,- €, Abendkasse 57,- €
Organizer
Organizer
Börde Line GmbH & Co. KG
Egelsberg 21
34434 Borgentreich
Added

8y 4m

· Update

8y 4m

· 1