TRIMURTI Festival 2010
The Golden Ring of Russia ·
Russia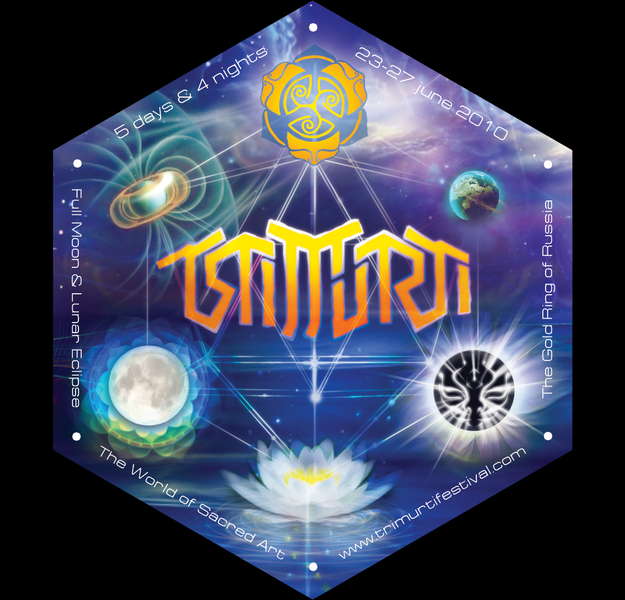 Deco
• SACRED DANCE FLOOR DECORATION •
PLASTICMAN / Russia
3DELICA / Russia
CENTAURUS / Russia

• SACRED DANCE FLOOR LIVE VISUAL ART •
ARTIMA / Russia
STUDIO 25 / Russia
COLENO / Russia
TOSH / Russia
Info
Trimurti – is the open-air festival that reveals three sacred forms of being – Creation of Brahma, Maintenance of Vishnu and Destruction of Shiva, develops those forms into music and all sacred art.

We live at times when communications between people on the Planet is transforming tremendously, when the music has become the way to explore the inner worlds of consciousness, when kids are speaking languages of other civilizations. Trimurti has become the place that attracts open-minded people from all over the world to unite in dancing, to let their sensitive souls to feel the joy and pulse of life.

For the fourth time Trimurti is ruled by the Full Moon drawing us into universal whirlpool of cosmic energies, celebrating happiness and integrity. We are getting together to create the space where self-realization, love and harmony, likeness and mutual understanding are the rule. .

Trance is the music essence of Trimurti. Trance of all kinds has the soft power and exploding energy, mighty rhythm and hypnotizing melody that open minds of people giving them code of access to the true freedom of body and soul. Trance evokes the magic energy that synchronizes vibrations of Earth and every single dancing soul connecting them to the great Soul of Dance.

There will be more sunsets and dawns of Trimurti. This year we will have four days and four nights to enjoy meeting old friends, dive into creative fantasies of talented musicians artists..

In harmony with natural rhythms of Universe, the movement of Sun, Full Moon and Moon Eclipse we flow, in concordance with the Rule of Sacred Geometry that correlate all beings and occurrences. The sacred knowledge opens the door to The World of Sacred Art.

Five days of Trimurti is the unforgettable trip through five Elements. You will have the Earth of dance floor and forest paths, the live Water of rivers and brooks, the Fire that will keep you warm at night, and Ether of joyful emotions that vibrates in each moment of the festival.

Trimurti is the impulse of tipple power that reveals the Spirit of Absolute Freedom..


The Trimurti (sanskrit: 'three forms') is a concept in Hinduism "in which the cosmic functions of creation, maintenance, and destruction are personified by the forms of Brahmā the creator, Vishnu the maintainer or preserver, and Shiva the destroyer or transformer". These three deities have been called the "Great Trinity".
Entry fee
• TICKET •
Every year Trimurti festival attracts more and more open- minded people from all over. In 2010 we decided to limit number of tickets up to 5000 pieces. We hope that this can help to keep nature more safe and clean and your visit more comfortable.
Tickets will be sold in three phases, like in past editions. You'll be able to buy your ticket online using electronic systems of payments YANDEX MONEY or at our coordinators . Coordinators are special people, shops or organizations spread around Russia and near countries.
E - TICKET :
17 APRIL — 14 MAY • 700 RUB. / 20 EURO
15 MAY — 28 MAY • 1000 RUB. / 25 EURO
29 MAY — 18 JUNE • 1300 RUB. / 35 EURO
19 JUNE – 27 JUNE • 1500 RUB. / 40 EURO
To purchase an electronic ticket, you need to pay it in the electronic payment system or the Internet
YANDEX MONEY • №41001234004811 (RUB.)
[YANDEX.RU]
In column «Details of payment» please add [trimurtifestival2010]
After payment is done you need to send an e-mail to
ticket@trimurtifestival.com
with the following details:
1. Name Surname
2. Number of payment transaction
3. Date & time of payment
4. Account number from which payment was done
5. Date when your bus is leaving
You will receive confirmation email with the number of your e-ticket
Bus boarding will be made according your name and number of your ticket in the list.
If you have any questions regarding electronic payment , please write to the following e-mail
ticket@trimurtifestival.com
LIVE - TICKET:
1st phase -15 MAY – 28 MAY • 1000 RUB. / 25 EURO
2nd phase 29 MAY — 18 JUNE • 1300 RUB. / 35 EURO
3d phase -19 JUNE – 27 JUNE • 1500 RUB. / 40 EURO
• MOSCOW •
«GANESHA ROOM OF GOA»
[com.ru]
«ETNO - SHOP»
[ethnoshop.ru]
«BOOGIE SHOP»
[boogie-shop.ru]
This year we make the special price of entry ticket, for all who lives behind the Ural Mountains. To get your ticket you need to show passport and ticket for the train or the plane from your city
• 1000 RUB / 25 EURO
We strongly recommend to by Tickets only in specified presale places. We do not hold responsibility for the tickets sold in other places.
GENERAL TERMS AND CONDITIONS
• Children till 13 years do not pay for the ticket
• Children after 13 years must pay for the ticket
• Children till 18 years are only allowed if accompanied by parents
• Tickets are limited to 5000 pieces
• Tickets for TRIMURTI BUS are on sale only with the ticket for festival
•Tickets for the festival and TRIMURTI BUS are not refundable
• Persons being at the festival territory without tickets or bracelets, will be get out of the place by our security service
• Festival will open the doors June, 22nd, at summer solstice
TICKET@TRIMURTIFESTIVAL.COM
PEACE & LIGHT
Organizer
Organizer
White Jaguar Tribe
Added

10y 2d

· Update

9y 8m

· 9 Parties ·

/ 1