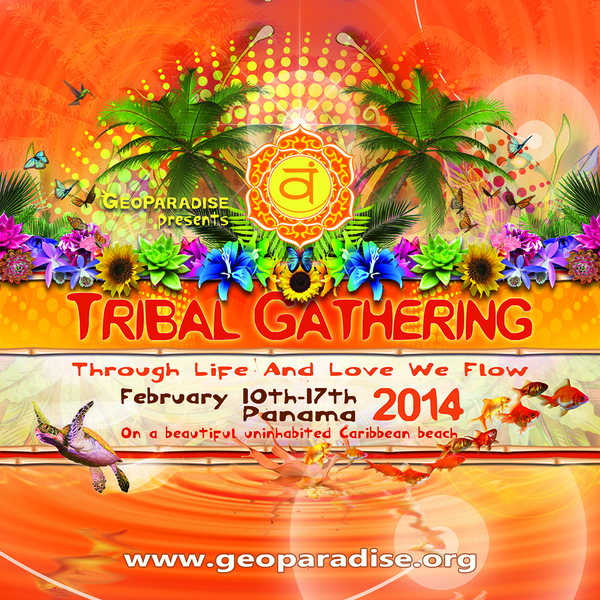 Line Up
Ott
Perfect Stranger
Symbolic
LOUD
Entheogenic
Rising Appalachia
The Human Experience
Klopfgeister
E-Clip
Tron
James Monro
Greg Hilight Tribe
Dirty Saffi
Kalya Scintilla
Kaminanda
Merkaba
Soul Visions
Dan Covan
Living Light
R2
and more to come...
Osho
Arturo Maia
Brian Sensient
Dan Massive
DJ Shahar
Mat Mushroom
Hilight Tribe DJ set
DJ Nuky
DJ Rikam
Zen
Simon Baring
Ipcress
MI5
Robin Triskele
Michal Scheffler
Naasko
Djane Gaby
Charles Bell
Ely
Tiffd
Jahiro Alfaro
Jamez23
Marcodelix
Ras
Pulum Lee
Lyndon
and more to come...
Info
Info
A truly psychedelic transformational festival for tribes of the world.

Adding to an amazing international lineup, possibly the worlds most beautiful location on the Caribbean sea, with artists from around the world and structures built by indigenous tribes using traditional techniques, there are meeting houses, stages, an art gallery, craft rooms, tipi's, a sweat Lodge, market, restaurants and bars.

Tribal communities with representatives from Guna, Embera, Maya, Ngobe, Boruca and more will live with us for the duration of the gathering, sharing their ideas and culture through ceremonies, workshops, talks, theatre, art, food and drink.

There really is no other festival like this on earth.

Money raised by the event goes to sponsor projects with the tribes in attendance throughout the following year.
Location
Location
Uninhabited Caribbean beach in Panama

There will be a shuttle service from Tocumen International Airport (PTY) to and from the gathering.
More events from
Sa, 29 Feb '20 ·
London