Tree of Life Festival - "Enter the Portal"- 5 Year Anniversary!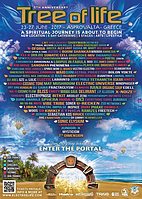 Deco
Deco
Atmosphere decor - South Africa
Info
Tree of Life Festival -" Enter the Portal" - 5 Year anniversary.
23-27 June 2017 - Asprovalta - Greece.
✯✯✯✯✯
(Remember the legendary Aurora Festival??? - we are located there.)
▀██▀▀█▄ ♬♬♬♬♬♬♬♬♬♬♬♬♬♬ .█
──██▄▄█▀.█▀.█▀█.█─█.▀█▀.█.█▀.█─█.█─
──██▀▀█▄.█▀.█▀█.█▄█.─█─.█.█▀.█▄█.█▄
─▄██▄▄█▀ ஜ ஜ ஜ ஜ ஜஜ ஜ ஜ ஜ ஜ ஜ ஜ ஜஜ ஜ ஜ ஜ ஜ ஜ ஜஜ
New location, new beginnings and with the same unique vision that formed so many unforgettable memories and lifelong friendships.
Tree of Life Festival is the perfect mix of people, music, arts and lifestyle which all balance in blissful harmony together.
Full festival details are being announced weekly @
[electreelife.com]
We strongly recommend you to sign up to our news letters.
For any sort of application (Music/stalls/stage arts/Workshops)
please check the link below and choose your preferred application.
[electreelife.com]
Festival applications open from October onwards.
♬ Music -
[electreelife.com]
► Arts -
[electreelife.com]
✯ Lifestyle -
[electreelife.com]
☯ Location -
[electreelife.com]
ஜ About -
[electreelife.com]
More info about our Program & Concept:
We would like to take you further towards the portal
and reveal our new festival format:
On this special edition we will run 3 stages during the festival.
♬Sun Stage (Day Stage):
The Main Stage will operate as a day stage and will play music from 9:00 am till 11:30 pm. Each evening the main stage will end with a live performance from one of our alternative music headliners together with dancers and fire shows - nice.
After the final set of the Sun Stage is completed the stage will go on a break and music will continue on the Moon Stage (night stage).
♬Shiva Moon Stage (Night Stage):
Our major concern is potential sound complaints from the surrounding neighbours. we want to work together with the Asprovalta community to ensure neighbours aren't disrupted so we've managed to solve this issue by planning a sound proof stage, smaller in size but fully sufficient and specially designed for the night .this stage will go till high noon with Psy and Goa music.
♬Liquid Stage - Chill on the beach:
Our third stage will be located on the beach shoreline and will be active from 10:00 am till midnight.
From midnight till sunrise daily the chillout stage will transform into a Night cinema featuring all your favorite classics across a vast range of film genres from the ages.
☯Lifestyle Area:
One of the big improvements we are looking to make in our 5th edition is to evolve the entire lifestyle area into a feature packed area to spend your time away from the madness of the music stages to learn, exercise, heal and encourage positive impacts of health & wellbeing.
☯The Lifestyle area will be consist of full day programs for all kinds of workshops featuring speakers, practitioners, artists, healers to enrich our minds bodies and spirits.
ஜChildren Area:
Lets not forget our children. in the Lifestyle Area we will dedicating a family friendly zone for children activities and workshops so that your children can be looked after while you take your yoga session, meditation or belly dance sessions.
✯Sacred Fire:
A sacred fire will burn from the moment we start till the end of the festival. We can already visualize many of you sitting there beside it during the nights while main stage is off meeting new friends for life - this is really is what festivals are all about.
Now with all that in mind,
...leave everything behind and...
Enter the Portal !
Much Love,
Tree of Life.
Location
Tree of Life festival will be held in Camping EOT Asprovalta ,northern Greece.The Largest and most facilitated Camping Site in THE ENTIRE BALKAN COUNTRIES..
For flight arrivals the nearest Airport is Thessaloniki International Airport "Makedonia". (SKG)
Asprovalta is 97km from the Airport . About an Hour Drive.
You can find fully detailed information about Driving Routs ,Taxies , Busses, Car Rentals offers etc Here:
[rome2rio.com]
Cheak out Tree of life Location/Tent rental/Bus shuttles./ Caravan parking info here:
[electreelife.com]
Safe Travels!
Entry fee
For full ticket info please visit here:
[electreelife.com]
Rates & Dates:
95€ – Third Phase From December 15.12.16 Till March 15.3.17
110€ – Last Phase From March 15.3.17 Till June 1.6.17
Full festival price at the gate – 130 euro
Weekend / Day Tickets info:
Weekend & day tickets can only be purchased at the gate !
For Guests who wants to come only for the weekend- we offer Few Options:
24 Hour Tickets: 60€ From Friday 23.6 Till Saturday 24.6.
48 Hour Tickets: 85€ From Friday 23.6 Till Sunday 25.6.
Click here for full terms & conditions regarding day/weekend tickets
In addition:
We would like to also offer a friendly price for countries with less fortunate economic realities.
Russia/Macedonia/Italy/Portugal/Spain/Romania/Serbia/and of course Greece.
Special entrance fee rate: 85€
Discount tickets will be available shortly with the ambassadors in your area.
There will be no discounts at the door.- Make sure you get your ticket in advance .
Ticket Ambassadors:
Online list TBA Shortly.
Guest Country :
✯✯✯✯✯✯✯✯✯✯✯✯✯
The guest country for Tree of Life Festival 2017 is: Turkey.
Turkish Citizens may apply for free tickets here:
[electreelife.com]
this is just small token of gratitude to the people who gave us such warm hospitality over the years.
Cheak out Tree of life Location/Tent rental/Bus shuttles./ Caravan parking info here:
[electreelife.com]
Questions?– simply email us:
t.o.l.festival@gmail.com
(Subject-Tickets)
Organizer
Organizer
Tree of life - Social network Ltd. Vat 514603703
Added

3y 1m

· Update

2y 9m

· 6 Parties ·

/ 25