Backend
Transylvania Calling - Gathering of the Tribes / 10th Edition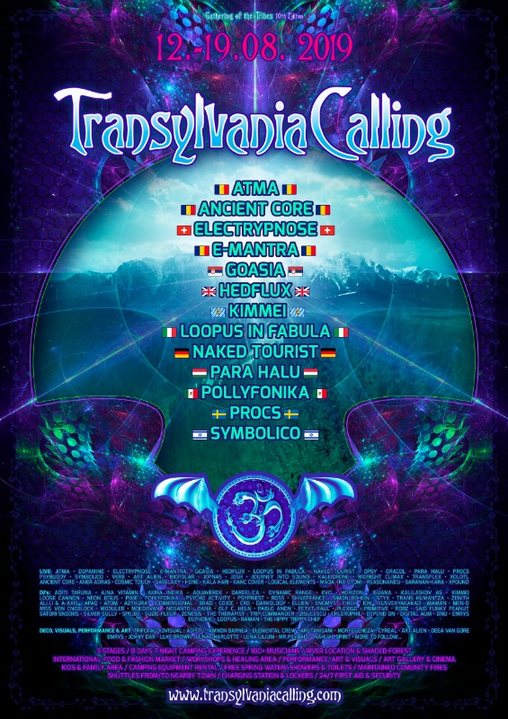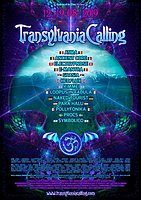 Info
Transylvania Calling is one of Romania´s first multi-day outdoor alternative lifestyle, electronic music and arts festivals. It promotes a strong ethos of unity, connecting people from all walks of life and ages. Transylvania Calling gathers people from all over the Universe to the Wonderland of the Transylvanian mountains. We come together to re-connect with nature, celebrate life, rejoice in music and dance, to experience and share.
7 days 7 night camping experience
3 stages
150+ Artists
River location & Shaded forest
International-food & Fashion market
Workshops & Healing area
Performance, Art & Visuals
Art gallery & Cinema
Kids & Family area
Camping equipment rental
Free spring water
Toilets & Hot Showers
Maintained community fires
Shuttles from/to nearby town
Charging station & Lockers
24/7 First aid & Security
Beer @ 10 RON / 2 EUR
~~~~~~~~~~~~~~~~~~~~~~~~~~~~~~~~~~~~~~~~~~~~~~~~~~
We have teamed up with Utopia Camping to offer you tent and camping equipment services at Transylvania Calling - Gathering of the Tribes / 10th Edition
Rent your tent, chair, or sleeping bag online & get it ready for you on festival site.
[transylvaniacalling.com]
Easy & bequem: Zelte, Schlafsäcke und Campingstühle online mieten und alles auf dem Festival abholen ⛺️ besucht unsere NEUE Webseite für mehr Informationen!
~~~~~~~~~~~~~~~~~~~~~~~~~~~~~~~~~~~~~~~~~~~~~~~~~~~~~~~~~
Transylvania Calling is a Platform where everyone is welcome to express themselves and their individuality. Please send us your proposals/ideas and become a co-creator of the magic Wonderland
[transylvaniacalling.com]
~~~~~~~~~~~~~~~~~~~~~~~~~~~~~~~~~~~~~~~~~~~~~~~~~~~~~~~~~~~~~~~~~~~~~~~~~~~~~~~~~~~~~~~~~~~~~~~~
Join the Transylvania Calling family in the Discord server and network with us
[discord.gg]
~~~~~~~~~~~~~~~~~~~~~~~~~~~~~~~~~~~~~~~~~~~~~~~~~~~~~
Subscribe to our newsletter for updates!
[transylvaniacalling.com]
Location
Festival Location:
The Location for TC 2019 is a magical hideout with a nice waterway/creek running through in the Mountains in Brasov County (Kronstadt Bezirk in Siebenbuergen) of Romania somewhere between the cities of Sibiu and Brasov. The access road is very good and easy for any vehicle, it has only 2 km of dirt road.

The exact location, GPS, closest train & bus stations and free shuttle service info will be kept a secret and will be sent together with the Arrival and Survival Guide as usual via Email to all Ticket Holders latest 1 month before the event.
Entry
Presale Prices: +Booking Fee
• Round 1: 90 EUR (SOLD OUT)
• Round 2: 120 EUR (GOING FAST) expiring 15 June
• Round 3: 140 EUR
• *Premium Package 420 EUR
• *Low Economy Countries 90 EUR
• Weekend Pass (4 day FR-MO) 80 EUR
• *20% TC Friends & Family Discount
• Australians FREE ENTRANCE 2019 use this code in our ticket-shop "Australia-WZUP7DEQ"
• *50% Bitcoin Discount
When you are purchasing the ticket in our ticket-shop, you will be offered the following add-ons:
• T-shirt (25 EUR)
• Donation to EcoWarriors
• Free Ticket for Children under 14
• Car Camping 30 EUR + Booking FEE
• Caravan/RV Camp 50 EUR + Booking FEE
• Secured Parking at Gate 15 EUR + Booking FEE
Gate Prices:
• Full Festival Pass (7 days MO 11AM - MO 11AM - 790 RON or 170 EUR)
• Low Economy Pass (7 days MO 11AM - MO 11AM 590 RON or 125 EUR)
• Weekend Pass (3 days FR 11AM - MO 11AM 475 RON or 100 EUR)
• Secured Parking at Gate 95 Lei or 20 EUR
• Caravan/RV Camp 285 RON or 60 EUR
• Car Camping 190 RON or 40 EUR
• T-shirt (119 RON 25 EUR)
FREE unsecured Parking outside the Gate possible (800m from Camping)
Buy tickets here:
Tickets in EUR:
[transylvaniacalling.com]
Tickets in RON:
[livetickets.ro]
*50% Bitcoin Discount only on Regular Tickets (120+140)!
As we are all pirates and believe in life without borders, control, and stand for freedom and peer-to-peer transactions without middle men, we offer you the possibility to pay for the Transylvania Calling festival tickets with Bitcoin, the global decentralized currency. ❗Please drop us an email📧 if you want to use this option or have questions.
*20% discount is available for Friends and Family:
Since the first edition of Transylvania Calling in 2004 we have become friends and family with many of you. As the 2019 edition is an anniversary one, we would sincerely love to see YOU ALL and remember those crazy times when we were young and restless :)
If you have not received the promo code via e-mail yet, please write to us
info@transylvaniacalling.com
, attaching the earlier Transylvania Calling festival ticket payment confirmation and we will share the promotion code with you!
*90 EUR is applicable for low income countries:
Only Valid with Passport issued by these countries: Albania, Armenia, Azerbaijan, Belarus, Bosnia, Bulgaria, Croatia, Estonia, Georgia, Greece, Hungary, Kazakhstan, Kyrgyzstan, Kosovo, Latvia, Lithuania, Macedonia / FYROM, Montenegro, Poland, Republic of Moldova, Romania, Russia, Serbia, Slovakia, Tajikistan, Turkey, Turkmenistan, Ukraine, Uzbekistan. South & Central America, Africa, India etc. email us if not sure
IMPORTANT: Valid ID / Passport proving the national residency will be required at the check-in, otherwise 'at the gate' price will be applicable!
*420 EUR Premium Package includes:
8 days festival pass; Car/ RV camping pass; Ready to settle-in tent for 8 days of the festival; Donation to Ecowarriors to support the eco events in the local commune; Transylvania Calling t-shirt; 80 EUR drink ticket (for drinks available at the bar); Green room access
You can earn a FREE TICKET if you:
* Follow us on Facebook and Instagram and win a ticket in our contests
* Create content for Transylvania Calling, for example: music, text content, visual art, painting, graphics, video, etc.
* Hold a workshop -> apply at
[transylvaniacalling.com]
* Become a volunteer -> apply at
[transylvaniacalling.com]
* Become a group organizer: bring 10 friends and get 1 ticket free
* You Name It: be creative! Share your proposal with us
* Are a Festival organizer. Be our guests (2 guests per festival)
Please email us to request your free tickets and ask questions
Organizer
Organizer
Asociatia Artlabs