Transylvania Calling 2012 special edition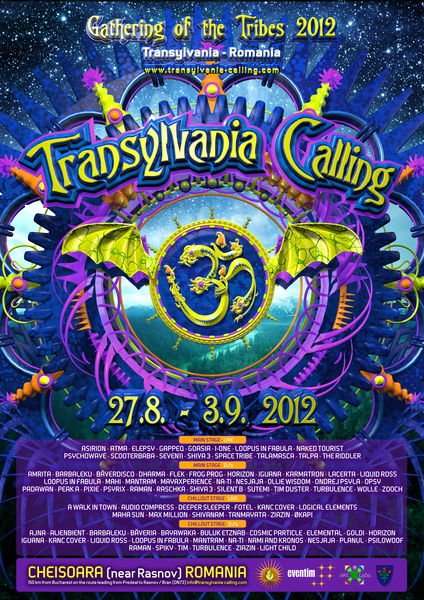 Deco
DECO:
Shankaralab (Ukraine)
Tripsicle Tents (UK)
Elemental Landart (RO)
Dekotronix (AT)

Visuals:
Viijay Sikanda (AT)
VJ Tipichi (BR)
Vvvlad (RO/UK)
Imix jaguar (MX)
Info
Info
Get Involved and Apply Online:
On our website in the Menu Apply You can find specific application forms for Volunteers, Jobs, Musicians, VJ /Multimedia, Performers, Workshops, Decor Installation, Market Stall Non Food, Food Stalls, Healing Space, Media Pass. We are looking forward working with you in this epic long awaited Year 2012 . Let's make the 6th edition of Transylvania Calling – Gathering of the Tribes to become the best edition in TC History so far and to be indeed a special one to be lived and remembered.
[transylvania-calling.com]
[facebook.com]
[facebook.com]
[facebook.com]
[facebook.com]
[twitter.com]
Location
[goo.gl]
GPS 45.561506 25.517104
Cheisoara near Rasnov at 800 m Altitude
little stream running trough all of location
Location Info:
[transylvania-calling.com]
Surroundings:
[transylvania-calling.com]
Shuttle Service:
Never has it been this easy to reach Transylvania Calling. You can find your way to Brasov by train or bus and then to Rasnov by train. From there you have the option to take the train shuttle directly to the camping or the regular shuttle that runs almost daily from the nearby town centre. This gives you the opportunity to visit Rasnov town and surroundings or simply do some basic shopping. The train and shuttle service is brought to you by Asociatia Rosenau Turism
[rosenauromania.eu]
the same organization offers guided trips to Dracula Castle, Rasnov Citadelle and many more special places around the area worth to see.
*for more information and timetables on shuttles check:
[transylvania-calling.com]
Google Routes:
TC to Rasnov Castle Gesamt: 10,0 km - ca. 15 Minuten
[g.co]
TC to Dracula Castle Gesamt: 18,0 km - ca. 20 Minuten
[g.co]
TC to Brasov Gesamt: 24,4 km - ca. 31 Minuten
[g.co]
TC to Sibiu Center Gesamt: 155 km - ca. 2 Stunden, 10 Minuten
[g.co]
TC to Bucharest Gesamt: 159 km - ca. 2 Stunden, 11 Minuten
[g.co]
Tirgu Mures to TC Gesamt: 190 km - ca. 2 Stunden, 47 Minuten
[g.co]
Cluj Napoca to TC Gesamt: 281 km - ca. 4 Stunden, 12 Minuten
[g.co]
Arad to TC 2012 Gesamt: 431 km - ca. 6 Stunden, 2 Minuten
[g.co]
Bacau to TC 2012 Gesamt: 209 km - ca. 3 Stunden, 13 Minuten
[g.co]
Timisoara to TC Gesamt: 434 km - ca. 6 Stunden, 3 Minuten
[g.co]
Oradea to TC Gesamt: 427 km - ca. 5 Stunden, 57 Minuten
[g.co]
Sofia to TC Gesamt: 558 km - ca. 7 Stunden, 47 Minuten
[g.co]
Budapesta to TC Gesamt: 725 km - ca. 9 Stunden, 17 Minuten
[g.co]
Vienna to TC Gesamt: 969 km - ca. 11 Stunden, 27 Minuten
[g.co]
Munich to TC Gesamt: 1.410 km - ca. 15 Stunden, 22 Min
[g.co]
Organizer
Organizer
Dreamtime & Artlabs
Hotline
Mobile Romania: +40785867955 Office Romania: +40 31 221 0966