TRANSITION Festival 2019 ::: Full Moon Open Air Trance Experience
Pinar Jurado / Almonte ·
Spain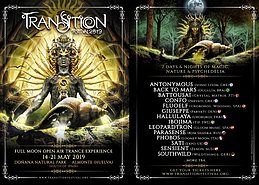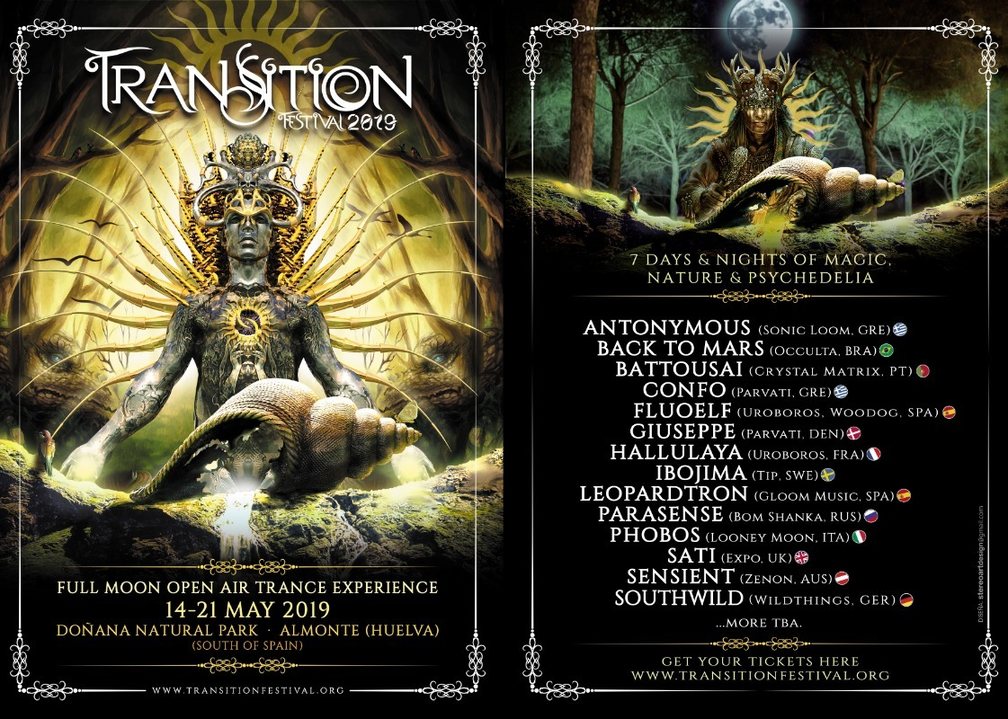 Line Up
ANTONYMOUS (Sonic Loom, GR)
soundcloud
BACK TO MARS (Occulta, BRA)
soundcloud
CONFO (Parvati, GR)
soundcloud
GIUSEPPE (Parvati, IT)
soundcloud
HALLULAYA (Uroboros, FRA)
soundcloud
IBOJIMA (TIP Rec, SWE)
soundcloud
KROMAGON (Zenon Rec, USA)
soundcloud
LEOPARDTRON (Gloom, SPA)
soundcloud
PARASENSE (Bom Shanka, RUS)
soundcloud
PHOBOS (Looney Moon, ITA)
soundcloud
SATI (Expo, UK)
soundcloud
SENSIENT (Zenon Records, AUS)
soundcloud
SOUTHWILD (Wildthings, GER)
soundcloud
and many more...
Info
Transition Festival 2019 is a powerfull shamanic experience during 7 days and 7 nights in a magical location under the full moon after the Spring Ecquinox. It is an initiation into the dance trance and a new door into another dimension with a constructive intuitive intention: to expand human consciousness and the relation between the soul, the body, and its center of power. Transition comes from latin <transitio> ("tránsito"): change of position, estate, or concept to another.
7 days and 7 nights Parking & Camping
2 floors (Main / Alternative)
Organic Showers
Flea Market
Workshop Area
Ecologic Toilets
Chai Shops
Vegan Food
"Steinofen" Pizza
Resting Areas
Minimarket
Merchandising
Presale opens 21st June 2018
[transitionfestival.org]
Camping opens on Tuesday, May 14, 9:00 am
Camping closes Tuesday, May 21, 5:00 pm
Alternative Floor Opening: Tuesday, May 14, 11:59 pm
Main Floor Opening: Wednesday, May 15, 10:22 pm
Main Floor Closing: Monday, May 20, 6:00 am
Alternative Floor Closing: Tuesday, May 21, 6:00 am
Location
Transition Festival is a full moon open air trance experience located 4 kms far from Almonte (Cabezudos road), next to the protected Doñana National Park. Check the website for more information
[transitionfestival.org]
Entry fee
Transition Festival is one of the best kept secrets of the psytrance scene; a magic family festival limited to 1500 dancers. You are welcome to participate by purchasing your tickets, notice the sooner you get them, the cheaper they are. Thank you!
PRESALE OPEN 21st JUNE 2018
[transitionfestival.org]
Early Bird Tickets: 55 € 21.06.18
Phase I Tickets: 75 € 09.09.18
Phase II Tickets: 85 € 09.10.18
Phase III Tickets: 90 € 07.11.18
Phase IV Tickets: 95 € 07.12.18
Phase V Tickets: 105 € 06.01.19
Phase VI Tickets: 110 € 04.02.19
Phase VII Tickets: 115 € 06.03.19
Phase VIII Tickets: 120 € 05.04.19
Weekend Ticket: 70 € valid from 17.05.19 - 12:00 am
Gate Ticket: 140 € / 70 € from 18.05.19 - 12:00 am
+ 5 € GARBAGE DEPOSIT:
The Garbage Deposit is not included in the price of the ticket and must be handed over at your arrival. You will be given a token, and an empty rubbish bag. From Sunday morning you can exchange your token and the full rubbish bag, and get the 5 € deposit back.
AMBASSADORS:
FESTICKET Payment Plan:
[goo.gl]
Organizer
Organizer
Transition Crew
Added

4y 10m

· Update

4y 1m

·

/ 5