TRANSITION 2017 ::: Open Air Trance Festival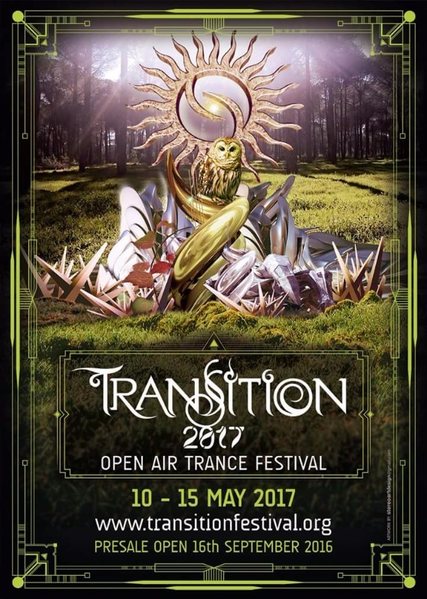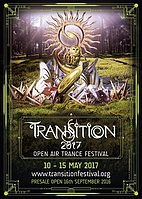 Line Up
ANTARO (Spirit Zone, Ger)
AWWEN (Gloom Music, Sp)
BATTOUSAI (Magnitud, Pt)
BLAU (Transition, Sp)
CIMI (Furthur Progressions, Uk)
DIFFUS (Occulta, Swe)
EKANTA (FMM Booking, Bra)
ILLEGAL MACHINES (Bom Shanka, Fra)
JUSTIN CHAOS (Zero One, Bra)
LIFTSHIFT (Tec Safari, Nh)
LEOPARDTRON (Gloom, Sp) (4h special set)
M-THEORY (BMSS, Uk)
MOLE (Looney Moon, Ita)
OBLIVIANT (Looney Moon, Nh)
PARASENSE (Bom Shanka, Rus)
PHOBOS (Looney Moon, Ita)
SPIRITUZ (Transition, Swe)
SURIA (Magnitud, Pt)
... and more!!!
Info
TRANSITION is 6 days and nights of powerful shamanic experience in a magical location under the second full moon of the Spring. It is an initiation into the dance trance and a new door into another dimension with a constructive intuitive intention: to expand human consciousness and the relation between the soul, the body, and its center of power. Transition comes from latin <transitio> ("tránsito"): change of position, estate, or concept to another.

The Transition experience takes a whole week in the forest, guided by the Spirits of Nature with love and passion. Camp in a priviledge area in the Andalusian forest with your friends and save some amazing days full of magic, love, and tribal celebration. The MAIN FLOOR pushes to all participants (even the crew) to an ego disolution, helping to discover the proper place where each of us is blocked in our lives. It is open to all kind of public, but specially to people really interested in their spiritual growth and human development. Transition Festival is an actual underground rave coming from a free party in 2007 under a total full moon eclipse. The result is a "temporary autonomous zone" (TAZ) in the middle of the forest. Due to its nature, Transition líne up will be a mistery until the festival is really close, nevertheless some names will be given for you to have an idea of the musical direction, first confirmations coming soon. The complete timetable will be officially announced during the first full moon under the Spring Ecquinox, the 11th April.

LOVE is the topic for next edition in 2017, completing the cycle of 4 years (Peace, Love, Unity, and Respect). Together we dance to change our behaviour, it is time for the rebirth of love: compassion. The transformational psychedelic experience is what we call TRANSITION. We must detach from our conditioned reality to guide our actions towards the paradise we are constructing for ourselves. Nothing is wasted, there are no judgements... hard moments will bring us to touch heaven, so fear must be given away to give space for the Spirit, and Love. The connection with the shammans is all we need to keep learning and growing together. Make Your Transition !!!

Parking & Camping Area (all in one)
Main Floor
Alternative Floor
Market Area
Zen Garden
Ecologic Toilets
Organic Showers
Restaurants
Workshops
Andalusian Food
Vegetarian Food
Resting Area
And more...

MARKET PROMOTION 2017
Book your parcel completely FREE. There are only 40 vacancies. Last edition was full so we recomend to book yours as soon as posible. The price is 50 € / person during the whole season. Vacancies open 21st September 2016.


Presale open and new website online 16th September 2016 !!!
Get your early bird tickets at the crazy price of 40 € !!!

Make Your Transition !!!
Location
Location
Located near the town of Almonte and surrounded by the stunning beauty of the Natural Park of Doñana and the Atlantic Coast, TRANSITION is more ready than ever. The location is magic by itself, and the new dates given will asure sunlight and warm temperatures. Make your transition to the next level!
Once in Almonte, drive along 4 kms along Cabezudos Road, take the first right in the roundabout. Transition Festival will appear in front of you.
[donana-nature.com]
for more information about the National Park of Doñana
Entry fee
ONLINE PRESALE:
Early Bird Tickets: 40 € (SOLD OUT)
Phase 1: 50 € (SOLD OUT)
Phase 2: 60 € (SOLD OUT)
Phase 3: 70 € (SOLD OUT)
Phase 4: 80 € (before 07.05.17)

GATE: 90€ (if available)

GARBAGE DEPOSIT 5€ (INCLUDED)
You will be given an empty rubish bag which must be droped full in the container at your departure. Then you will get the 5€ deposit back. This system has been imposed again to make sure you drop your rubbish in the containers and not on the ground, with the risk that animals break the bags and spread it throught the location.

CAMPING opens 9th May 2017 9:00 am
MAIN FLOOR opening: Wednesday 10th May, 22:22

RELEVANT INFORMATION:
Transition Crew manages all licences to to run this party in the middle of the forest. This takes a lot of effort and responsability every year, so you cannot access the festival nor stay in the private land where the camping area is located without purchasing a ticket. Transition Festival is spiritually alligned with Spirits of Nature so all the income from the entrance is driven to cover the costs of the event. If you dont have a wristband you will be scorted out the festival lands automatically.

Thank you, and welcome.
Organizer
Organizer
Transition Crew