TRANSITION 2013 OA Trance Festival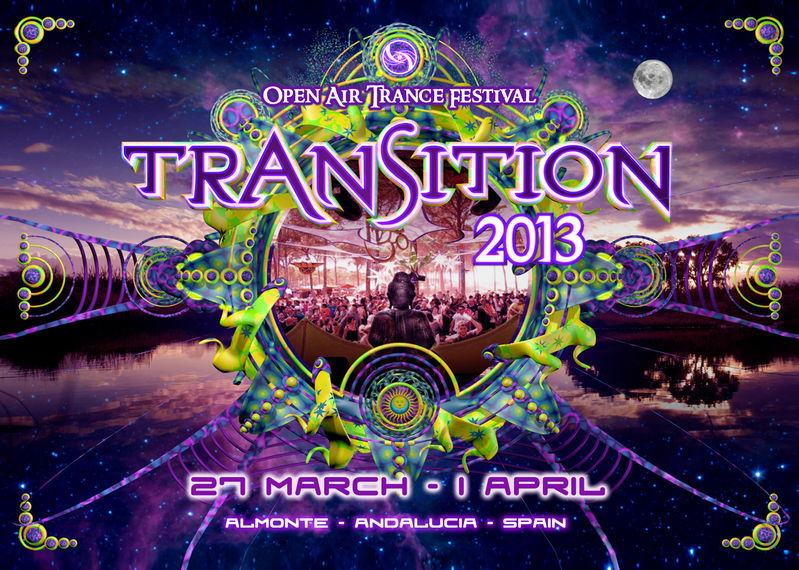 Line Up
AVALON (Nano Records_UK)
ELEGY (Panzar Records_GER)
FILTERIA (Suntrip Records_SWE)
FUTURE ENERGY (Zero Gravity Records_SP)
HYPNOCOUSTICS (BMSS Records_UK)
KEEMIYO (AIAM Project_SP)
LUPIN (Ovnimoon Records/Yellow Sunshine Explosion_SP)
MECCANO (Crystal Matrix_PT)
MIDA (BMSS Records_GER)
PHASE PHOUR (BMSS Records_GER)
SEPHIRA (BMSS Records_GER)
SONIC SPECIES (Alchemy Records_UK)
SOUL KONTAKT (BMSS Records_MA)
SUDUAYA (Altar Records_FR)
QUANTICA (Flying Spores_SP)
THE DARK FACE (Zero Gravity Records_SP)
ZARAUS (One Foot Groove Records_PT)
ALEXSOPH (BMSS Records_GER)
ANAM FIO (BMSS Records_GER)
ARABIANS (Red Dust_SP)
AROA (Red Dust_SP)
AZAR (BMSS_GER)
BASSLION (Zero Gravity Records/Sumeria_SP)
BIOFA (Sindar Productions_SP)
BOOM SHANKAR (BMSS Records_GER)
CORTHES (Red Dust_SP)
DAKSINAMURTI (Sangoma Records_GER)
DARK EL KANTE (Random Records/6-Dimension Sound_SP)
DUNLE GOALEIDOSCOPIC (UAF Records_SP)
FERRI I CÉSAR (SP)
FLUOELF (Transition_SP)
FRAGGLE (BMSS_GER)
FRANDJ (S.U.R._SP)
FREESOUL (Transition_GER)
HELL BLAU (Transition/BMSS Records_SP)
JANA (Transition_SP)
JXTORSION (Dropland Records/Skizodelic Mind_SP)
LORD FLAMES (Red Dust/Transition_SP)
LUCAS (Tip Records_UK)
MAXIMUS (BMSS Records_GER)
MICROBEAT (Ganesha Space Garden_ARG)
MOONTRIP (Transition_SP)
OBIT (Red Dust/Zero Gravity_SP)
OLD MACHINE (Buddha Mantra Records/Free Flow_PT)
PSIBINDI (Aphid Records_UK)
PSYD-B (Psylocibe_SP)
PSYRAMER (Red Dust_SP)
RASCO (Old-School Goa Trance Set_SP)
SPIRITUAL FINGERS (Safe Nature Project_PT)
TRIPNOIZ (Biomechanical Records_SP)
YAN GECKO (BMSS Records_GER)
Chill
The Chill Out will present a revolutionary concept which is dating back to its origins as an alternative area for resting such as in 2009 edition.

From the year 2010 to 2012, its purpose was to provide a second floor for alternative music, but in 2013 its essence returns and thus its original purpose: a space for love, magic, union, and respect, a comfortable place for resting, eating, and connecting the spirits. It will be the perfect place for body, mind, and soul.
Deco
Deco
GANESHA SPACE GARDEN (ARG)
JAMAS (GER)

Lightening by VISUAL EXTREME
VIsuals by JULADI
Info
TRANSITION 2013 is a 5 day experience to connect your-Self with the Spirits of Nature.
This shamanic adventure provides all the necessary elements to make your transition into a new state of mind, manifesting the authentic ancient ritual of the trance dance experience. A whole sacred ground is created with true love and passion in this magical place, with facilities like Main Floor, Chill Out, Etica Workshops, Camping Area, showers, and ecologic toilets. Also have a nice walk along the Transition Market, where you may find a nice selection of high quality food, home-made hamburgers, vegetarian food, italian pasta, and forest-made pizzas!!!
This celebration is so authentic thanks to a magical gathering under a total lunar eclipse in 2007. This cosmic connection made a sustainable and conscious project possible, finding the perfect equilibrium between machines, humans, and Mother Nature. This is the energy of the New Era, and Transition is here to be part of it!
.:: Opening Ceremony ::.
23:23h. 27th March 2013
See you in the Dancefloor!
ALL THE INFO IN THE NEW WEBSITE !!!
[transitioncrew.org]
BOOM !!!
Location
Location
TRANSITION 2013 is happening in the beautiful surroundings of the National Park of Doñana. Have the priviledge of partying and camping in these lands, a huge area full of smells, tastes, and colours provided by the Party Spirit.
[donana-nature.com]
for more information about the National Park of Doñana
Entry fee
PRESALE OPEN !!!
PHASE 1 @ 40 € SOLD OUT!!!
PHASE 2 @ 45 € SOLD OUT!!!
PHASE 3 EXTENDED @ 50 €
[transitioncrew.org]
until 10th March !!
TICKETS @ GATE: 60 €
Hurry up to get your ticket!!!
There are just 2.000 wristbands available. Get your presale ticket as soon as posible to ensure your Transition experience.
Organizer
Organizer
Transition Crew