The Techno and Psychedelic Freakshow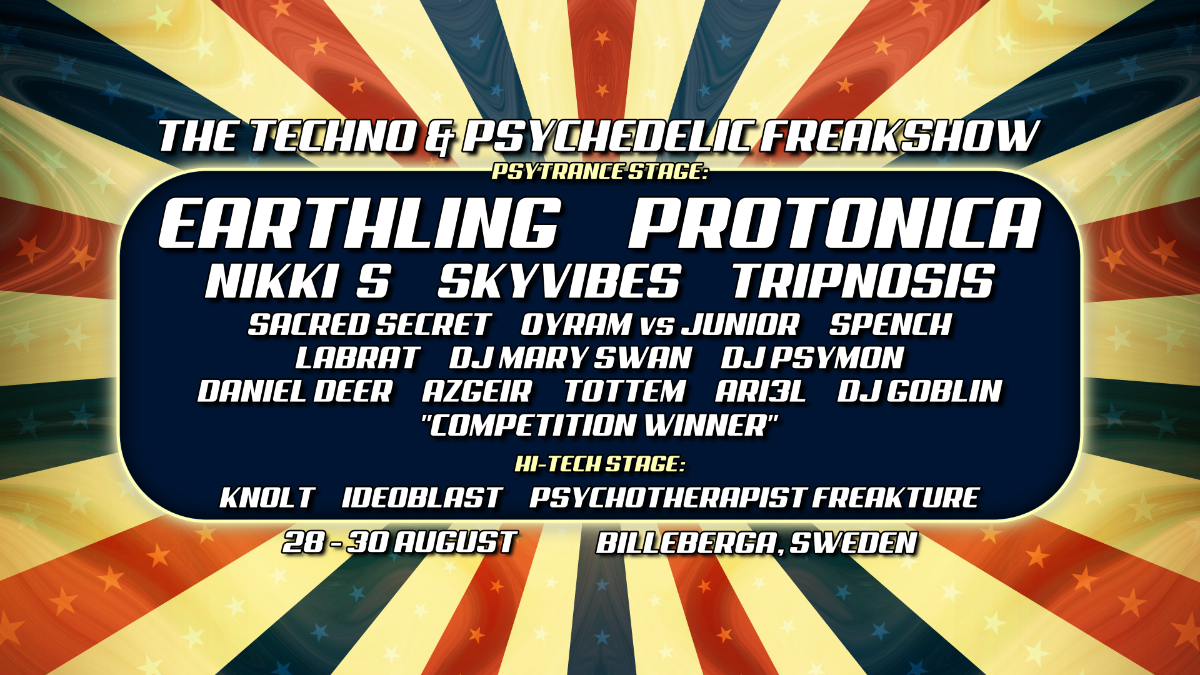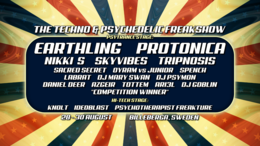 Info
🤡💞🎪 The Techno/Acid and Psychedelic Freakshow 🎪💞🤡
After last years superb success we decided to double the size and add in an additional tent to bring you a real festival grade line up with more options than before.
Come and join us for our biggest adventure yet!
This is the party of the year in Southern Sweden!
🔊🔊 PSYTRANCE LINE UP 🔊🔊
Protonica
soundcloud
Earthling
soundcloud
Nikki S
soundcloud
SkyVibes
soundcloud
Tripnosis
soundcloud
Sacred Secret Trance
soundcloud
DJ Mary Swan
soundcloud
Oyram B2B Junior 2.5 hour exclusive set
soundcloud
soundcloud
Spench
soundcloud
LabRat
soundcloud
DJ Psy-Mon
soundcloud
Azgeir
soundcloud
DJ Daniel Deer
soundcloud
Tottem
soundcloud
DJ ari3l
soundcloud
DJ Goblin
Techno and hi-tech artists to be announced soon!
2 Large circus tents in the Swedish countryside for a 2 day festival feel party.
Large area to play on, 2 x loud PA systems bringing you quality sound what No Name Groupe is well known for.
Come dance to one of the biggest and craziest outdoor parties of the year in Southern Sweden.
Bar, gas and food available.
Chill-out area, shop and vegan food provided by Tuss :)
[facebook.com]
[facebook.com]
[facebook.com]
Pickup available from Billeberga station in the rave traktor 🚌
Camping available ⛺⛺
CIRKUSARTISTERNA
🎪👹🎈✨🎭🍻🤡♥️🤡🍻🎭✨🎈👹🎪
🔊🔊MAIN STAGE 28 🔊🔊
21:00 - 06:00
🔊🔊MAIN STAGE 29 🔊🔊
14:00 - 07:00
🔊🔊HI - TECH STAGE 29 🔊🔊
14:00 - 21:00
🔊🔊TECKNO STAGE 28 🔊🔊
21:00 - 06:00
🔊🔊TECKNO STAGE 29 🔊🔊
21:00 - 06:00
Limited early bird tickets available so please grab them now.
Please note all ticket holders must be a member of No Name Groupe.
Camping prices includes showers.
200sek per person.
300sek per camper van then 100sek per occupant.
Camping passes available on ticket site and must be purchased in advance to gain access to camping area.
Free Membership is available at
[cardskipper.se]
Location
Location
Billeberga, Southern Sweden. Train available to Billeberga station then the rave tracktor will pick up every hour.
Organizer
Organizer
No Name Groupe Members
Look for the above on Facebook.