The Meadow Festival
between Hamburg and Hannover ·
Germany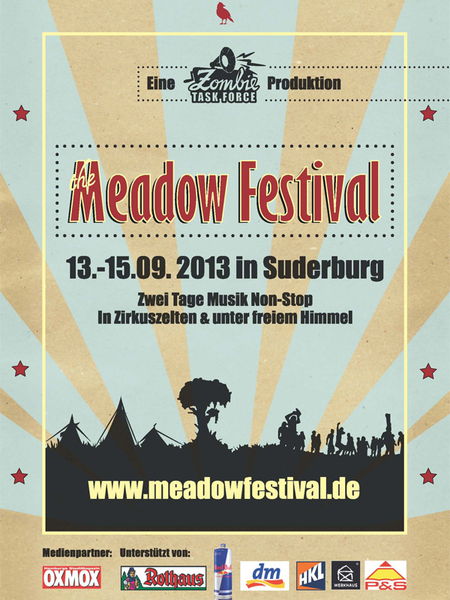 Line Up
ॐ --- GOA --- ॐ
***McCOY`s S.U.N. PROJECT***
(S.U.N. PROJECT RECORDS)
soundcloud
*** - Z - (ALPHA & ANTAGON) feat. Drummer Mc`Coy***
(SANGOMA RECORDS)
soundcloud
**********SIRION**********
(MILLENNIUM RECORDS)
soundcloud
***************NYAMA****************
(CATAWAMPUS / FREE RADICAL / DAMARU)
soundcloud
*********HEDERA HELIX LIVE*********
(PSYTROPIC RECORDS & SUMERIA REC. IBIZA)
soundcloud
****DER SANDMANN****
(TATEWARI RECORDS MEXICO)
soundcloud
*******OBELYSK*******
(TATEWARI RECORDS MEXICO)
soundcloud
****ELEKTRO-PUNK****
(CLOCK FORM-RECORDS)
mixcloud
ॐ --- TECH/ HOUSE --- ॐ
*******MICHAEL OTTEN*******
(TASCH-KENNT RECORDS)
soundcloud
********PUNKTPUNKT********
(LIKEBIRDZ RECORDS)
soundcloud
*************SASCHA RIOT**************
(INTACTO RECORDS - NULECTRIC RECORDS)
soundcloud
*******NIKLAS KREUTZBERG*******
(NIMMERLAND HANNOVER)
soundcloud
ॐ --- LIVE BANDS --- ॐ
******Rico Loop******
from Berlin (Ger)
[ricoloop.com]
*******Testsieger*******
from Braunschweig (Ger)
[testsieger-nr1.de]
********Skalinka********
from Oldenburg (Ger)
[skalinka.de]
****Peacock Butterfly****
from Lüneburg (Ger)
[peacock-butterfly.com]
***Fire in Fairyland***
from Celle (Ger)
[fireinfairyland.com]
******Trainee Bitches******
from Dresden (Ger)
[jimdo.com]
**********Roy-E**********
from Suderburg (Ger)
[facebook.com]
*******Afroleuxx*******
from Suderburg (Ger)
soundcloud
********Der Manu**********
from Hamburg (Ger)
youtube
--- ॐ ॐ --- --- ॐ ॐ ---
ॐ --- GOA --- ॐ
*****ABRAKAMELINGRAD*****
(MEADOW FESTIVAL CREW)
soundcloud
********SURREAL********
(MEADOW FESTIVAL CREW)
soundcloud
************HAZAK**************
(MEADOW FESTIVAL CREW)
soundcloud
********DAKSINAMURTI********
(TIMECODE-SANGOMA/ PEAK RECORDS)
soundcloud
******DSOMPA******
(PEAK RECORDS)
soundcloud
*******ALPHA*******
(INTERZONE.PA)
[facebook.com]
**********sG4rY**********
(MIND FUNK MUSIC)
soundcloud
**********RUDEGIRL**********
(OPTIC NOISE MUSIC / DINGer BREMEN)
soundcloud
****SÖÖN ONYM****
(OPTIC NOISE MUSIC)
soundcloud
*******KASIMIR*******
(OPTIC NOISE MUSIC)
soundcloud
*******PARA-PAN*******
(OPTIC NOISE MUSIC)
soundcloud
***NAJANA SHE***
(PSR MUSIC)
soundcloud
*****MIRUS*****
(PSR MUSIC)
soundcloud
******ASTRAGALUS*****
(VISION OF NEXUS)
soundcloud
*********CHRIZZLIX*********
(SUN DEPARTMENT REC.)
soundcloud
ॐ --- TECH/ HOUSE --- ॐ
*****NICOLE HOHMANN*****
(DOUBLETWIN RECORDS)
*******SIR ROGER*******
(DOUBLETWIN RECORDS)
youtube
*****MX-PROJECT*****
(DOUBLETWIN RECORDS)
soundcloud
**********DER MO**********
(MO´ST WANTED / WAAGENBAU)
soundcloud
*****MATTHIAS MANN*****
(RAW / WAAGENBAU)
soundcloud
******DRUNTER&DRÜBER******
(UNDERGROUND CLUB HANNOVER)
soundcloud
*******ROCKETHEAD*******
(RED ROBOT RECORDS)
soundcloud
*****BENET RIX & JOHANNES RAUM*****
(GLÜCK / MINIMAL ANDERS)
soundcloud
*********SASCHA.B*********
mixcloud
********SPOCHT*******
(WAAGENBAU / K52)
soundcloud
********DJ - ELJOT*******
mixcloud
*******TBEE*******
mixcloud
**********DI-NOHM**********
(HOERKULTUR HANNOVER)
soundcloud
******DIMITRIOS_V*******
soundcloud
****SHERLOCK DOPE****
(DJ-SESSION UELZEN)
soundcloud
********TREVOR THIN********
(GOOD 4OUR HANNOVER)
soundcloud
--- ॐ ॐ --- --- ॐ ॐ ---
Chill
Wonderful chillout in collaboration of meadow-festival team and the dubstation crew (well known from fusion).

Es wird einen wundervollen Chillout Bereich geben, der in Zusammenarbeit des Meadow Festival Teams und der Dubstation Crew (bekannt von der Fusion) entsteht!
Deco
The deco teams "Free Oprtic" and "Optic Noise" will decorate the different floors lovingly, you can look forward to an complex, creative decor! There will also be video mapping by VJ Resorb.
Die Deko Teams Free Optice und OpticNoise werden die verschiedenen Floors liebevoll dekorieren, ihr könnt gespannt sein auf eine vielschichtige, kreative Deko! VJ Resorb beglückt uns darüber hinaus mit Video Mapping auf den Floors und im Außenbereich.
*****FREE OPTICS*****
[facebook.com]
****OPTIC NOISE****
[facebook.com]
--- ॐ ॐ --- --- ॐ ॐ ---
Info
Hey You! Out there…
Can you here us?

You are not alone!

The Zombie-Task-Force Suderburg has found a save refuge for his fellow campaigner. Far from any metropolis, which already became a prey of apocalypse, we build up a tented city: The Meadow-Festival!
We offer two days and two nights of music, entertainment, love and happiness for you, your friends and your hole family. Escape from civilization which contradicts itself.
Come to us and dance whilst you still can!

The world is changed! People are into themselves only looking for their personal, near-term advantages. Watch out! This disease is contagious. Become part of a group of humans who will be the last survivors in a world populated by zombies!
Zombies are humanoid creatures who walk among us apathetically and without any conscious for themselves and the environment. Symptoms are: to gorge, to watch television, to go daft!
Attention: Your neighbor might be a zombie!
Get rid of the multimedia loneliness, don't be a passive consumer, better actively create !
Rescue your friends, your family and yourself! Come to us, as long as you can!

Live- Area: Live-Music (Psycobilly, Punk, Ska, Reggea)
Goa- Floor: Psytrance, Twilight, Psychedelic, Dark Fullon
Tech/ House Floor:. Elektro, Techno, House, Electroswing
Workshops: yoga, juggling, water conditioning, survival
Kids- Space: a fairy unkle, childeren make up, puppentheater
Lobby: market for usefull stuff

___________________________________________________


Du da draußen - Wenn Du uns hören kannst...
Du bist nicht allein!

Die Zombie-Task-Force Suderburg hat für sich und seine Mitstreiter eine sichere Zuflucht gefunden. Fern der Metropolen, die der Apokalyse bereits zum Opfer gefallen sind, errichten wir eine Zelt-Stadt: The Meadow-Festival
Wir bieten Dir, Deinen Freunden und Deiner ganzen Familie zwei Tage und Nächte Musik, Spiel, Unterhaltung und Abwechslung. Entfliehe der Zivilisation, die sich selbst nicht zu genügen scheint.

Befreie Deinen Geist von allem Bösen.
Tanz, als gäbe es kein morgen.
Komm zu uns, so lange Du noch kannst.

Werde Teil der Gruppe von Menschen, die als letzte Überlebende in einer Welt bestehen muss, die von Zombies bevölkert wird.
Zombies sind menschenähnliche Wesen, die teilnahmslos und ohne Bewußtsein für sich und ihre Umwelt mitten unter uns leben. Dein Nachbar könnte einer sein!
Befreie Dich aus der multimedialen Einsamkeit. Sei nicht passiver Konsument, sondern gestalte aktiv. So natürlich, entspannt und kommerzfrei wie möglich.

Das Meadow Festival ist eine große Werkstatt, in der jeder ein Produzent des kollektiven Festival-Erlebnisses werden kann. Das geht nur mit Vielen! Bist Du dabei?
Schon mit dem Beginn der Aufbauarbeiten beginnt für alle die Lust und Zeit haben ein lebendiges Workcamp. In einem kreativen Umfeld entsteht ein Ambiente, das zur Interaktion mit Raum und Individuen einlädt.
Wer ein Projekt leiten, oder anderen Helfen möchte, wer während des Festivals anderen etwas zeigen, oder von anderen etwas lernen möchte, ist bei uns an der richtigen Adresse!

Live-Bühne: Rotzige Live-Musik (u.a. Punk, Ska, Reggae)
Goa- Floor: Psytrance, Twilight, Psychedelic, Dark Fullon
Tech/ House Floor:. Elektro, Techno, House, Electroswing
Workshops: Jonglage, Yoga, Trinkwasser-Aufbereitung, HullaHoops
Kinder- Space: Märchenonkel, Schminken, Puppentheater, Kinderparadies
Lobby: Markt für Sinnvolles
Entry fee
Entry fee
The Pre-Sale starts 22/12/12 ! Only 2.000 Tickets available! 500 Early- Birds!

15 € pre-sale (Early Bird)
20 € pre-sale till 15/08/2013
25 € pre-sale till 01/09/2013
30 € at the gates
Organizer
Organizer
Suderburger Verein für Kultur und Soziales e.V.