The Experience Festival 2013-2014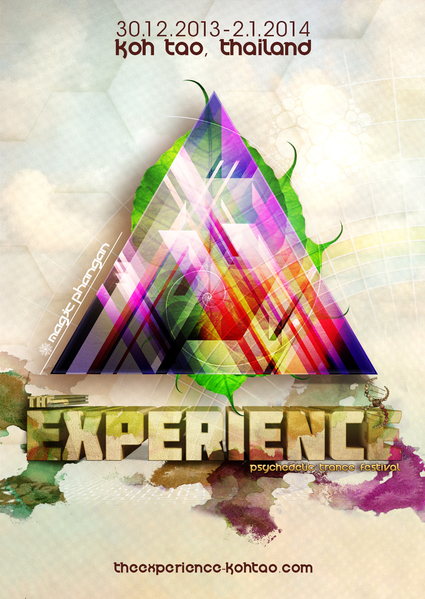 Line Up
Atriohm (Parvati Rec) Macedonia
Born Sleepy (Hommega Rec) Israel
Hypnoise (Antu/Maharetta Rec) Spain
K.i.M. (Zero1 Music/Grasshopper Rec) Sweden
Malice In Wonderland (2 to 6 Rec) Austria
Parasense (Bom Shanka Music) Russia
Sideform (Tesseract Studio) Serbia
Spectra Sonics (Antu/Grasshopper Rec) Japan
Suduaya (Altar Rec) France
Tantrix (Blue Hour Sounds) England
Apnea (Magic Phangan/Maharetta Rec) Belgium
Boom Shankar (BMSS Rec) Germany
By The Rain (Epic Tribe/Trimurti Rec) Turkey
Derby (Banbarena.mic) Japan
Jo Moontribe (Magic Phangan/Antu Rec) Malta
Jonnie (Ban Sabaii) England
Jorg (Bluemoon) Thailand
K-Isuma (Landmark Rec) Germany
Kikx (Purple Hexagon Rec) Italy
Koi (Ban Sabaii) Thailand
Lars Lee (Digital Frequenz Rec) Germany
Leung (Magic Phangan Rec) Thailand
Microdot (Twenty4Seven Rec) Austria
Naima (Sangoma Rec) Austria
Nishan (Digital Om Prod) Nepal
Norion (Dacru/GanjaTree Rec/B2B) Belgium
Note (Frakasound Rec) Thailand
Oracle (Bay Lounge) S.Korea
Pakman (Twenty4Seven Rec) Australia
Progkot (Ban Sabaii) Russia
Psyko Jun (Bay Lounge) S.Korea
Psymbiosis (Maharetta Rec) Italy
Raoul (Maharetta Rec) Germany
Riff Ruff (Twenty4Seven Rec) Austria
Sabaii Sabaii (Spirit Zone Rec) Thailand
Scotty (VuuV Festival) Germany
Sebidelica (Mutagen Rec/Unio Mystica) Belgium
Shivadelic (Digital Om Prod) India
Strophoria (Unio Mystica) Belgium
Tetrachromacy (Ravelations) India
Trailoka vs Fraktal Sequence (Hypnotique/Omveda Rec) Dubai/India
Tripical (Halfmoon Fest/All Rec) Thailand
Wung (Zoom Bar) Thailand
Ygriega (Sourcecode Rec) Canada
Yuya (Antu Rec) Japan
LIVE:
By the Rain (Spiritech Rec, Turkey)
Nauresaïd (Oréades Prod, France)
Suduaya (Altar Rec, France)

DJ's:
By the Rain (Spiritech Rec) Turkey
Kikx & Marge (Purple Hexagon Rec.) Italy
Koi (Ban Sabaii) Thailand
Sandesh (Maharetta Rec) Italy
Sebidelica (Mutagen Rec/Unio Mystica) Belgium
Ssongg (Ban Sabaii) South Korea
Tommy Rocker (Thailand)
Tranquilogen (Merkaba Music/2to6 Rec) Iran
Wacamolo (France)
Deco
Deco
Carin Dickson (South Africa),
Magic Phangan Team (Thailand),
Kosta Tattoo (Russia).
Info
Info
Magic Phangan Productions is pleased to invite you to the
Sixth Chapter of The Experience Festival
on Koh Tao (Turtle Island) in the Gulf of Thailand.

Join us on this Tropical Paradise Island
from December 30th to January 2nd
for more than 70 hours of Non-Stop Psytrance Sounds
brought to you by more than 50 International Artists.
Location
Location
Chalok Ban Kao, Koh Tao, Thailand
Entry fee
FESTIVAL TICKETS:
At the Door from 28th December @ 2500 THB
PHASE ONE TICKET PRE-SALES:
[facebook.com]
PHASE TWO PRE-SALES:
[facebook.com]
*Tickets are valid for the whole four days duration of the Festival.