The Cosmic Portal - Cosmic Convergence Festival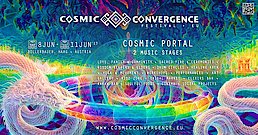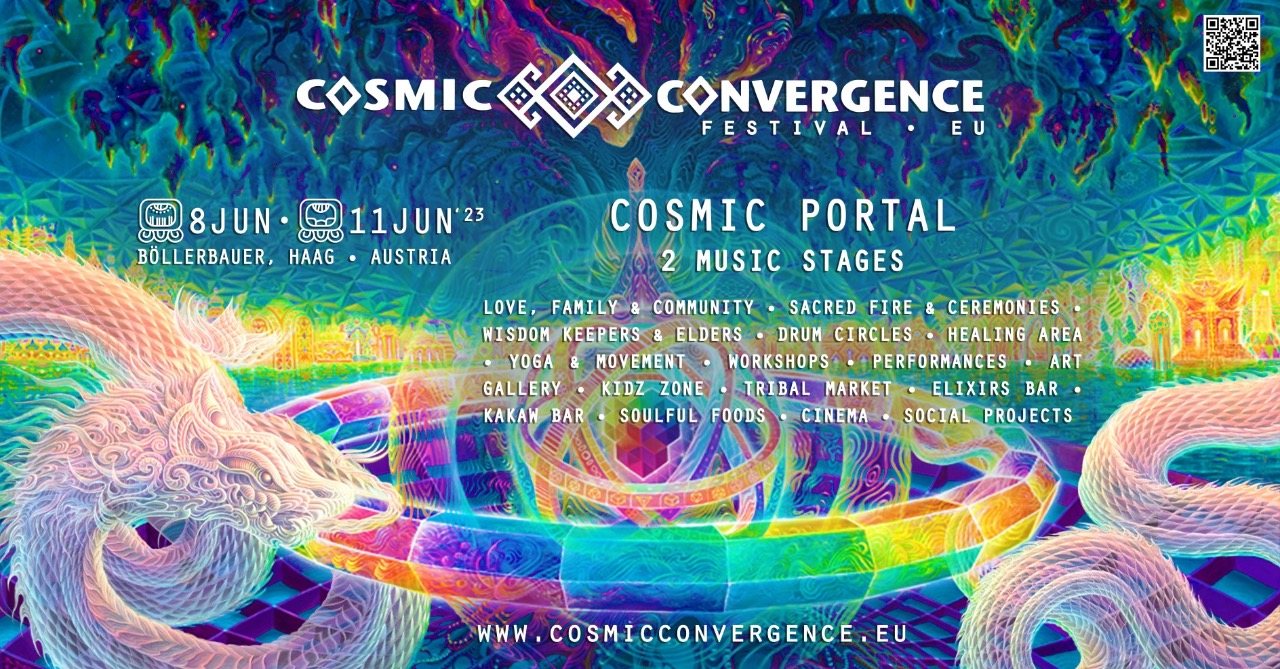 Line Up
- Greg Hilight (Hilight Tribe)
After having created 8 albums with Hilight Tribe and performing Headlining live acts around the globe, Greg created a solo project called "Greg Hilight":
An interaction between natural instruments and digital trance.
Through this project he shares his vision of music for the 21st century dance floor, a magic potion of ethnic grooves, electronic sounds and instruments from all over the world.
Riding from 145 to 150bpm, Greg Hilight's live set is designed as an uplifting experience using live percussion and digitally tweaked sounds (to always raise the vibe higher). Everytime he performs, Greg triggers a transcendent energy and togetherness in some of the best parties worldwide.
You're invited on a journey to an uncharted supernatural world, manifested through the sound of the ancestors and innovative vision of the future.
- Pangani
Pangani is the brainchild of Sebastian Frisch, an electronic music producer and multi-media artist based in Austria.
His detailed soundscapes and love for cinematic storytelling take listeners on a sonic adventure through unique rhythms, deep basslines and colorful melodies.
Inspired by the mesmerising beauty of nature and the energy of the world around us, Pangani's music evokes a comforting, bright, grounding, and warm feeling that makes you want to dance with wind and water.
The project gained worldwide recognition thanks to the successful crowdfunding campaigns for its two albums, 'In The Moment' (2016) and 'Superdeep' (2019), which ultimately led to Pangani being invited to perform at numerous international festivals such as Boom, Ozora, Psy-fi, and Sziget.
His musical journey guided him through reggae bands, street-music in Kenyan hoods, sound-art installations and various electronic music explorations all around the world. During his Art/Science master studies, he started to develop his performance setup. In Pangani's live shows, sound-designed puzzle-pieces meet the "foleyboard", a self-built percussive synthesizer. It contains a sound reactive wooden surface, on which all kind of objects are used to shape sonic landscapes. This setup enables him to improvise and let his audience experience electronic live music in a one-man-band setup.
The kisuaheli word 'Pangani' describes a place of spirits, where energy can be felt and vibrations make you move.
[pangani.at]
soundcloud
- HaZe (Chagga Records / Sundose)
Psychedelic Trance Music DJ/Producer & Organizer from Graz/Austria.
Founder of the Sundose Crew who are known for their legendary partys called "The Sundose Experience".
Since the project HaZe was founded back in 2014 he quickly found his space in the scene and performed @ lots of several festivals and partys in Austria, Slovenia, Czech Republic, Switzerland and Turkey.
After playing many Dj Set's in the slovenian scene, he finally found his family and became a member of Chagga Records which is the Label running behind Drops Festival in Slovenia.
With his passion of deep/dark storytelling psychedelic music he is always trying to get in touch with the crowd and delivers driving pumping vibe on the dancefloor with his sets.
In 2020 another project started to bloom called " DoWn ThE RaBBiT HaZe" that should serve the lower bpm Music.
HaZe is a music collector & lover since very young age, he covers a very wide spectrum with his music collection, so his Dj Set's can be very variable in style's & bpm's.
under the motto: "the right sound for the right time"!!!!!
Lately he started to work on his own productions, the first releases should pop up in near future, so stay tuned!!!
soundcloud
mixcloud
[facebook.com]
[facebook.com]
[instagram.com]
- Space Ape
Space Ape from Sweden is nothing more and nothing less than an Ape flying through space on a rock. He will play a liveset, carefully presented with synthesizers and 100% authentic music. He played widely worldwide alongside great artists in international Festivals, and is responsible for psychedelic gatherings in Spain and Mexico by Fractal Baby of which he is a co-founder.
Expect the set to take you on a deep psychedelic trip through the primitive mind.
[linktr.ee]
Fractal Baby Records
Fractal Baby was forged between a few heavily intoxicated minds in a grey but very colourful basement in east of Berlin 2019. After some releases they connected with more like-minded people in Europe and a psychedelic collective started to emerge. With this connection and equal passion for the psychedelic music scene they knew directly that this was only the beginning of something beautiful and unique.
Their first events were held on a mountain outside of Barcelona, Spain in 2021, where high quality music, unity and respect were in the atmosphere. By the end of 2021 Fractal Baby continued to expand their collectivity by going to Latin America, starting in Mexico, travelling around to present their music.
During this time they managed to tie new connections and like that, in December 2022 they started organizing psychedelic gatherings around in Mexico.
Fractal Baby is focused on high quality and authentic sounds without definitions of genre or style. The vision is to present and share their passion in one the most lovely form of art there is - Music.
The minds behind the collective are Robin "Space Ape" Levin (SWE), Sebastian "Loocifer" Loo (SWE) and Luciano "Lučko" Ursache (ITA)
- Zinke Heinz "son of mother earth"
My journey began 50 Years ago, when I realized that our Society and Culture is not meeting my needs and can't answer my Questions. For over 30 Years I have been working as a Trainer, Mentor, Transformation Coach and Facilitator of Educations for new ways of Working with Clients. I support my World Wanderers to live a self sustained, healthy and happy Life!
In my Quest of finding the answers I needed, I came in contact with various Indigenous Cultures and their Wisdom, Elders and Medicine. I also finished many Educations on different Fields. But still I couldn't find the answers I was looking for.
In my Vision finding ceremonies in the Alps of Austria, the spirits of the mountains shared their ancient stories with me that reach beyond the beginnings of humankind.
Whilst telling those stories, many people with diverse cultural backgrounds shared with me that this wisdom is very similar to the records of their traditions and ancestors.
So what I received is transcultural and is from the same origin as the ones from the indigenous traditions.
At the Cosmic Portal Festival I will share my medicine and some of those stories.
Welcome to the "European Earth People Movement"
Info
Info
Beyond excitement, we proudly announce that we are building a conscious bridge between continents and with the spirit and magic of a long established festival that specially curates transformational journeys and experiences full of high quality international musicians and Djs, elders and wisdomkeepers, renowned workshop leaders, performances among many others.At Böllerbauer in Haag, Lower Austria we are hosting the "Cosmic Portal", a 4 days international festival that brings together tribes from all directions, with the same spirit. With an extraordinary sound, light and decoration concept, high quality and nourishing soul food, a supervised children area and a Healing & Sacred Fire Area with international Indigenous Elders/Wisdomkeepers it is more than just a festival but a gathering of tribes, to dive in a deeper and higher level into your own personal journey!
Location
Böllerbauer
Salaberg 32
3350 Haag
Organizer
Organizer
Verein Metatrons Portal
Added

1m 2d

· Update

1m 2d

· 1