Backend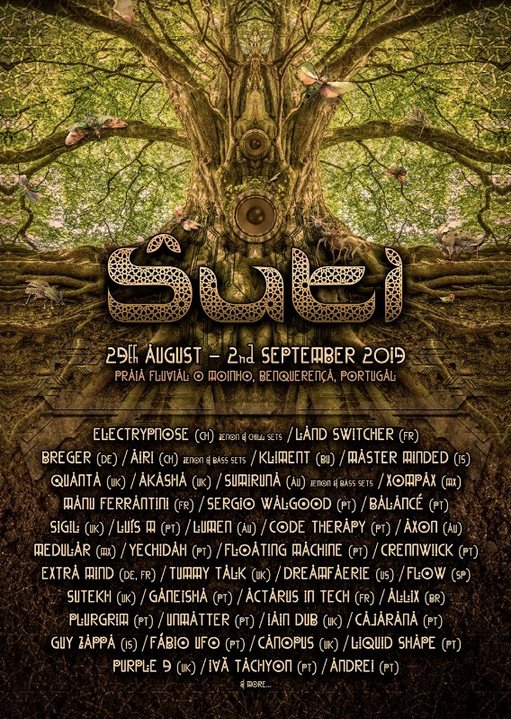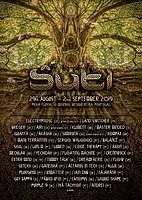 Line Up
Electrypnose (CH) - zenon and chill sets
Land Switcher (FR)
Breger (DE)
Airi (CH) - zenon and bass sets
Kliment (BU)
Master Minded (IS)
Quanta (UK)
Akasha (UK)
Sumiruna (AU) - zenon and bass sets
Xompax (MX)
Manu Ferrantini (FR)
Sergio Walgood (PT)
Balance (PT)
Medular (MX)
Sigil (UK)
Code Therapy (PT)
Luis M (PT)
Lumen (AU)
Axon (AU)
Yechidah (PT)
Floating Machine (PT) - techno and chillout sets
Crennwiick (PT)
Extra Mind (DE, FR)
Tummy Talk (UK)
Dreamfaerie (US)
Sutekh (UK)
Ganeisha (PT) - techno set
Grobi (DE)
Actarus in Tech (FR)
Allix (BR)
Plurgrim (PT)
Unmatter (PT)
Iain Dub (UK)
Cajarana (PT)
Flow (SP)
Guy Zappa (IS)
Fabio UFO (PT)
Liquid Shape (PT)
Iva Tachyon (PT)
Andrei (PT)
Trala Lama (NL)
Purple 9 (UK)
Canopus (UK)
Schnoo (UK)
Akira Arasawa (JP)
Loki Galactic (UK)
Pandallanis (PT)
Yuxibi (PT)
Metacognition (UK)
Asia (PL)
& more tbc
Info
Two stages of music and workshops
Marketplace
Large kids/family area
Massage/healing area
Free camping (mostly shaded)
River swimming
Shaded dancefloors
Suti focus 2019: Intimacy
For human beings intimate connection is the greatest pleasure and deepest joy. Connection with friends and family, connection with one's community and the world-at-large, connection with nature and its rhythms and, most fundamentally, connection with one's truest self. True intimacy naturally arises when connection is close, authentic and honest.
We live in a separated world, with most of us inhabiting a closed-off and separated sense of self. The result is a pain and feeling of deep loss that many people respond to in different ways.
Many try to ignore it, pushing it down into the darker reaches of mind where it rests, gnawing away at our inner peace outside of the view of consciousness. We use substances, physical goods or perception-management of a social image to avoid the realisation that real meaning is absent.
Many confuse intimacy with its sexual manifestation and obsessively pursue each other as sexual objects or conquests, unaware that the intimacy they really long for is denied by the nature of the approach.
In the end we have sex that has been stripped of its depth of connection. We have friendships in which we withhold view of our vulnerability. We maintain relationships predicated on avoiding our truest expressions of self. We eat food stripped of its nourishment. We work at jobs which have no real relevance to ourselves and which has lost their satisfaction. We live lives stripped of their meaning.
At its best festival culture provides a vehicle for healing. We co-create safe spaces in which we can open ourselves and form meaningful connection with others. We find inspiration and knowledge useful for pursuing life-paths that feel more authentic to us and more connected to who we really are. We catch glimpses of what human culture could become as we reclaim our collective heart.
We unify in bubbles of positive energy and heal rifts, both inner and outer, through the age old vehicle of celebration. We sense a lineage back to our most distant ancestors, kicking up dust in the moonlight, celebrating their humanity and place within the cosmos.
But real intimacy requires connection formed on more than just celebration. The intimacy within a healthy tribe comes from sharing loss as well as celebration.
Sharing our vulnerability, our grief, our shame, our disappointment with those who will experience co-feeling transmutes suffering into bliss, as the pain of separation becomes the very vehicle for re-connection.
Suti was always intended to be an intimate gathering, and we wish to deepen the intimacy that we can enjoy together by creating safe spaces for expression of aspects of self that may seem less than celebratory.
If you have ideas or suggestions for how to integrate these aspects into a festival setting or would like to get involved in helping us do so please email
sutifestival@gmail.com
- we would love to have your input.
Location
Praia Fluvial O Moinho, Benquerenca, Penamacor
Entry
Entry
Phase one (200 tickets - till 28 February) - 40 euros
Phase two (300 tickets - till 31 May) - 55 euros
Phase three (until 20 August) - 70 euros
At the gate 85 euros
Online at
[bit.ly]
or via Portuguese ambassadors (see Suti facebook page)
Added

3y 7m

· Update

3y 7m

· 1