SunSet trance session 2009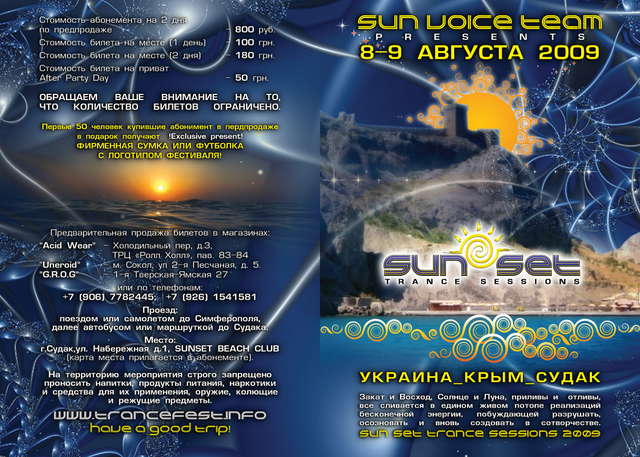 UCHU {Party People Moscow) - Live
[spaceradio.ru]
VREJ MELOYANOVICH (Party People Tuva) Live chadagan
ACIDO CITRICO (Party People) Dj Set
JOHN BODJAHOVICH (Party People Balkan's Connection's) DJ Set
[livejournal.com]
SAULI TENSUS (Party People)
SATIWA (Some people Moscow)
H2O (P.P. Moscow) DJ SET
Deco
Deco
design by Sun Voice Team & Party People (Moscow)
Visual art by Cinema Chill
Info
Info
On the picturesque coast of the Black Sea you can expect two days of carefree holiday with loads of your favorite music! Among the Crimean Mountains, the area under Genoese fortress is equipped with the latest technology ,where we will merge together all the colors of contemporary sounds, as well as the most vivid memories from the past! This year we looked forward to the selection of good quality and love of music from the line up. During two brilliant days and hot nights, we will diving inTrance - Fire light, sound, wind, and dance.
And with the sunrise, a comfortable boat transfer will take us at private after party day beach meet the new day in the progressive - refreshing - atmospheric rhythms Fresh morning breeze, crystal clear sky - beyond all conception - the synergy between the progression of sound and the awakening of a new day. After 6 o'clock in the morning - we will wait for the boat. The course is a boat - a private beach. Refreshing menu - pick the morning sounding and pleasant company – secured.
More info:
[trancefest.ru]
Location
Location
Ukraina, Black Sea

By train or plane to Simferopol, then by bus or taxi to
Sity SUDAK , Naberezhnaya 1, SunSet Club.
Entry
Entry
* Subscription for two days of festival 17 Euro.
* One day of festival 10 Euro.
* Everyday people gonna be transferred by boat to private beach , boat ticket price 5 Euro. (payable on-site fact)

YOU NO NEED VISA THERE ! JUST GET YOUR TICKET AND GO !
Organizer
Organizer
SUN VOICE TEAM
EMOTIONSPLASH.COM

Bookings and ART support by:
PARTY PEOPLE & BOMSHANKA MUSIC UK