SUN SHINE FULL -MOON PARTY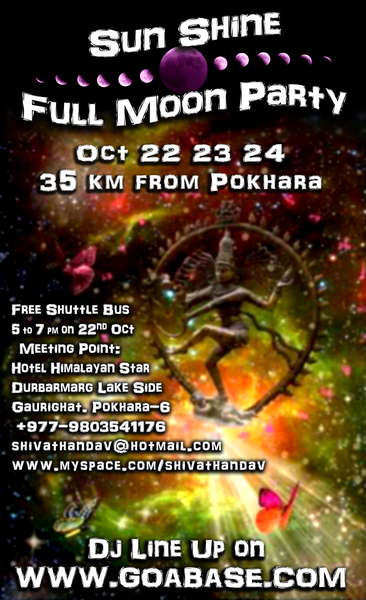 Dj Eenea vs Myk (Switzerland / Nepal)
Dj Sherebon (GagarinCafe, Goa/Rus)"
[sherebon.ru]
DJ Tobi Wan (Swedish Tecno)
[myspace.com]
D j Sun Shine ( U k )
DJ NATRAJ (KOREA)
soundcloud
[facebook.com]
Simon (psy-pix) Germany
[psy-pix.com]
DJ Blue Vision (INDIA)
DJ Shiva (INDIA)
DJ BaBa Bhang (INDIA)
DJ Toti (Nepal)
DJ Modernix (France)
[myspace.com]
DJ Yusuke (Japan)
DJ Melting Moon (INDIA)
MORE LINE -UP COMING SOON !!
Chill
D j Sun Shine ( U. K. )
Mugali (Nepal)
Deco
Deco
Sherebon (GagarinCafe, Goa/Rus)"
Deco ; Sun Shine ( U. k. )
Info
The Venue place is magic
Sun Shine full moon 3 day party is happening on isolated hilltop in the wilds of :
[ecotreks.org]
2 hours from pokhara from the remote festival peak small rural villages, open valleys and full panaramic views of the himalayas can be seen .
food and drinks are provided on site ,but this is on undeveloped ,natural place so bring your own sleeping bag/tents
Organization of Land and Environment Protection.
Global Vision- Local Mission Jyagdi Eco- Tourism was founded 2002 and is a registered organization. our work is to fight environmental pollution, plant and regenerate degraded forests. During the rainy season we need volunteers' support. we have other missions also such as children's education, water conservation, promoting awareness of the duties and right of the public,and many more.
We need your help, support and ideas.
We always welcome you at Jyagdi Eco- Trek .
Join hands with Eco- Trek to save our mother planet.
Welcome To Jyagdi Eco Trekking Syangja District Nepal
Jyagdi Eco Trekking is a new concept for trekkers who wish to walk away from the beaten paths. This social organization works to develop the local economy through an ecologically conscious tour for people who want to discover Nepal in a different way. The trek is an 8 day circuit around the peaceful hills and valleys of the Syangja district (30km south-east of Pokhara) that promises to transport you to an entirely different world. Come explore remote havens of Nepal in an environmentally and culturally friendly way.
eco-trekking supports the local economy without disrupting environment or culture.
Enjoy breathtaking views of the majestic Himalayas from the comfort of an easy valley trek
An Organic menu of locally grown produce is prepared on site, offering wholesome, traditional specialties
Friendly local guides and village host families welcome trekkers with their world-famous nepali hospitality.
Our village stays offer a unique opportunity to immerse yourself in local nepalese culture
The 8-day looped circuit helps trekkers remain aware of their position while feeling free to be transported to another world by our experienced guides.
Peacefully explore Nepal's pristine and distant jungles without leaving a footprint.
Location
Location
2 Hours From Pokhara
From The Dance Floor Full Panaramic Views Can Be Seen.
Entry fee
Entry fee
Tickets Rs 2000 Nepali .
Round trip Transportation is included in the party Ticket
Meeting Point for Ticket and Transportation
: Hotel Himalayan Star .
Durbarmarga, Lakeside, Gaurighat, Pokhara-6 Nepal
shivathandav@hotmail.com
+977 -9803541176
Clean & and best for Stay in Pokhara +977- 9804116540.
+977- 9846291941 +977-9856026456
Organizer
Organizer
Shiva Thanadv Baba
shiva power Group Nepal
Hotline
+977 - 9803541176