SUMMER NEVER ENDS FESTIVAL 2013, Swiss Alps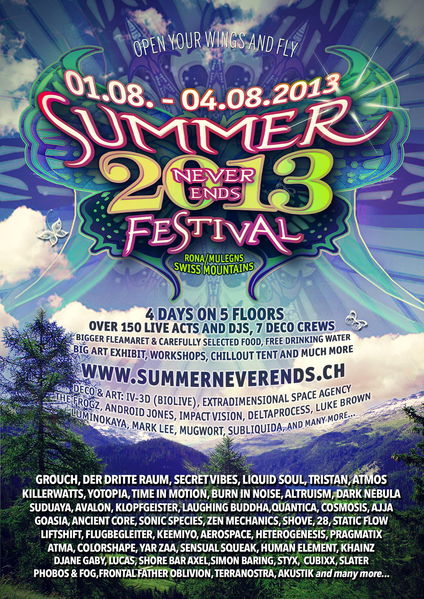 Line Up
more artists end of 1st july week Ƹ̵̡Ӝ̵̨̄Ʒ


LINEUP IS CLOSED !!!!

Ace Ventura
Talpa
Grouch
Der Dritte Raum
Liquid Soul
Tristan
Atmos
Time In Motion
Killerwatts
Burn In Noise
Altruism
Yotopia
Dark Nebula
Suduaya
Liftshift
Avalon
Ital
Big Bang (Ital & Labirinto)
Klopfgeister
Laughing Buddha
Quantica
Cosmosis
Ajja
Ajja & Cosmosis
Goasia
Static Flow
Ancient Core
Flugbegleiter
Sonic Species
Zen Mechanics
Shove
28
Aerospace
Keemiyo
Heterogenesis
Pragmatix
Cosmos Vibration
Helber Gun
Atma
Colorshape
Yar Zaa
Sidhartha
Sensual Squeak
Human Element
Andrej
NYAH
Maua
OrgonGroove
Shinouda
Mahi
Lachfalter
Prime
Elegy
Share
Old Dirty Shrooms
Casa Show Band
Adda
Giranda

Ƹ̵̡Ӝ̵̨̄Ʒ


LINEUP IS CLOSED !!!!


IMPORTANT FOR ARTISTS:

artists sending requests now are using the most unclever time to do that.
WHY?
we have no time left in the lineup and no time for to listen demos or promos now.
we listened to lots, we mean very lots, of promotional music has been sent to us.
and the artists are selected already. now they just have to confirm and its done.

WE'LL NOT LISTEN TO ANY ARTIST PROMOTION TILL NEXT SEPTEMBER.


thanxs a lot

vielen dank

ⓛⓞⓥⓔ♡
Djane Gaby
Miss Butterfly
Lucas
Dark Nebula
Shore Bar Axel
Anatta
Murus
Simon Baring
Sebastian Kos
Slater
Phobos & Fog
Relaxed High
Iaui
Styx
Pelzi
Cubixx
Thor
Frontal
Father Oblivion
Tim & Timo
Terranostra
Kuma
Marcosis
Heinz
Macru
Karmalaa
Antares
Dän Silverman
Painter
Tuned
Dani W.
Audiofisters
X-Cess
Mono Buxe
Smart Monkeys
Skybass
Dr. Magnus
Solaris
Windkind
Psyhigh
ABS
Mind Midget
Catweazle
Ajanix
Akustik
Delirium
Tribal Effect
Lust & Laune
Deep Emotion
Rock n Troll
Texola
Protone
Imox
Masterkaos
Cybird
INFX
Geert van der Wiet
Bender
Turnschuh
Porno
Secret Vibes Live
Ancient Core Live
Suduaya Live
Bigeneric aka Marco Repetto Live
Torma in Dub Live
Chillomanie Live

DJ's:
Outland
Keemiyo

and many more will be updated end of 1st july week
Info
DEUTSCH
Die siebte Ausgabe des Summer Never Ends Festivals rückt immer näher und bei uns ist die Aufregung gross! In den letzten Monaten haben wir viele Updates gemacht und wir freuen uns, dass wir den Träumen, die wir für das SNE 2013 hatten, ein riesiges Stück näher gekommen sind.
Die Musik von Künstlern wie Grouch, Der Dritte Raum, Atmos oder Ajja & Cosmosis soll dein Herz berühren und dir beim Tanzen Flügel wachsen lassen. Zudem werden die vier Tage auch visuell von Top Deko-Teams wie IV-3D (Timegate, Hadra), Extradimensional Space Agency (OZORA), The Frogz und Visual Artists wie Android Jones (Obscura Digital) begleitet.
Freue dich auf fünf floors... Drei psychedelic Floors, ein grosses Chillout Zelt in der Art & Workshop Area und ein Tech Floor! Kunst, Vorlesungen und Workshops werden sich vermischen und bilden die kreative Seele des Festivals, deren Schwingung uns alle durch Feuershows, Live Malerei und interaktive Installationen erfassen wird und die Reise zum Abenteuer in der nächsten Dimension macht.
Ausserdem erwarten Dich und maximal 9999 andere Gäste eine vergrösserte Shopstrasse mit allerlei aus der ganzen Welt und eine gedeckte Food Area mit abwechslungsreichem Angebot, sowie natürlich gratis Trinkwasser, Kaltwasserduschen, saubere Tois und und und..
Die mit dem Auto anreisenden müssen ihr Fahrzeug in den dafür vorgesehenen Parkflächen abstellen. Achtung, die Parkflächen für Autos sind neu in Tinizong! Augen auf nach Savognin! Shuttlebusse verkehren zwischen Parkplätzen und Festivalgelände. Mehr dazu auf unserer Homepage im Menu Location. Besucher, die mit den ÖV anreisen, können wie bisher bequem bis zum Gelände fahren. Es gibt neu 2 Camping Areas, bei den Tanzflächen mitten im Geschehen - oder in einigen hundert Metern Gehdistanz, wo auch die Parkflächen für Caravans sind.
Da wir dieses Festival aus Liebe zur Musik, den Menschen und der Natur veranstalten, ist es uns ein grosses Anliegen, dass unsere Besucher diese Liebe mit uns teilen. Wir können es leider nicht mehr tolerieren, dass Leute den Wald als Toilette missbrauchen und den fruchtbaren Boden durch Feuerstellen zerstören. Es wird dieses Jahr strengere Massnahmen geben gegen "Umweltsünder".
Bitte informiert euch im Infoblatt, welches am Eingang zum Festival verteilt wird und schaut am besten kurz vor der Abreise noch mal auf rein auf
[summerneverends.ch]
Wir freuen uns auf euch!!!!
OPEN YOUR WINGS AND FLY
ENGLISH:
The seventh edition of the Summer Never Ends Festival is coming nearer and we feel excited! In recent months, we have made many updates and we are happy that we are a big step closer to the vision we had for SNE 2013.
The music of artists like Grouch, Der Dritte Raum, Atmos and Ajja & Cosmosis should touch your heart and let you grow wings while dancing. In addition, the four days will be accompanied visually by top deco teams like IV 3D (TimeGate, Hadra), Extradimensional Space Agency (OZORA), The Frogz and visual artists such as Android Jones (Obscura Digital).
Rejoice in five floors... three psychedelic floors, a big chill tent in the Art & Workshop Area and a tech floor! Art, lectures and workshops will co-mingle and form the creative soul of the festival, whose vibration will capture us all by fire shows, live painting and interactive installations and make the journey into the next dimension an adventure.
We have an enlarged shopping street with clothes and all sorts of goods from around the world and a covered food area with a large variety of different cuisine available. And of course, free drinking water, cold water showers, clean toilets and more are available for you and up to 9,999 other guests.
Travelers arriving by car have to leave their vehicles in the designated parking areas. Please note that parking spaces for cars are in Tinizong (new!) (Open your eyes after Savognin!) Shuttle buses run between the parking lots and the festival grounds. You will find more information about this on our website under the menu "location". Visitors arriving by public transportation will be driven to the festival grounds as usual. This year there are two camping areas, one near the dance floors in the middle of the goings-on, or a few hundred meters walking distance, where there are parking spaces for caravans too.
Because we organize this festival as a celebration of our love of the music, people and nature, it is of great importance to us that our visitors respect this vision. Unfortunately we can no longer tolerate people using the forest as a toilet, littering and destroying the soil with fireplaces. So this year there will be stricter measures against the few "polluters".
Please inform yourselves with the info sheet, which will be distributed at the entrance to the festival. Or just before leaving have a look again on
[summerneverends.ch]
We look forward to seeing you!
OPEN YOUR WINGS AND FLY
Das Lineup ist closed. Wir warten nur noch auf Zusagen von bereits angefragten Künstlern. Die Künstler werden in den nächsten Monaten schrittweise bekanntgegeben. Bitte sendet uns keine weiteren anfragen fürs Lineup. Vielen Dank
Location
Location
[summerneverends.ch]
Geländeöffnung: Mittwoch, 31.07.13, 16:00
Geländeschliessung: Montag, 05.08.13, 11:00
Organizer
Organizer
Verein Klangwerk
From
Summer Never Ends Festival ·
43,477
Added

8y 5m

· Update

6y 10m

· 9 Parties ·

/ 119