Summer Gathering 2023 (Full Moon)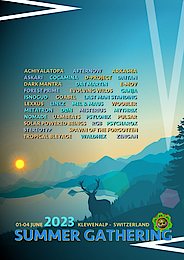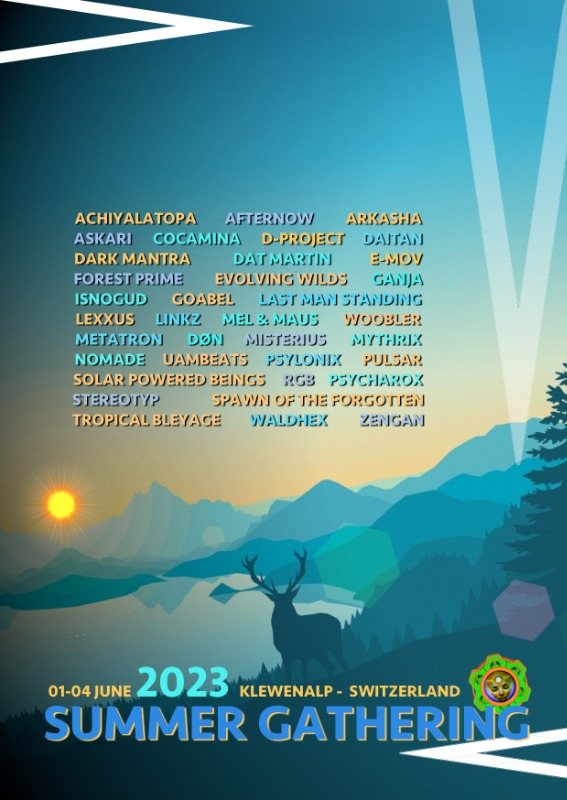 Line Up
◀ MUSIC ▶
✔ ACHIYALATOPA live🇨🇭
✔ AFTERNOW🇨🇭
✔ ARKASHA live🇨🇭
✔ ASKARI 🇧🇪
✔ COCAMINA🇨🇭
✔ D-PROJECT live🇨🇭
✔ DAITAN 🇮🇹
✔ DARK MANTRA live🇨🇭
✔ DAT MARTIN🇨🇭
✔ DØN🇨🇭
✔ E-MOV live🇨🇭
✔ EVOLVING WILDS live🇨🇭
✔ FOREST PRIME🇨🇭
✔ GANJA🇨🇭
✔ GOABEL live 🇩🇪
✔ ISNOGUD🇨🇭
✔ LAST MAN STANDING 🇧🇪
✔ LEXXUS live 🇩🇪
✔ LINKZ🇨🇭
✔ MEL & MAUS🇨🇭
✔ METATRON🇨🇭
✔ MISTERIUS 🇳🇱
✔ MYTHRIX🇨🇭
✔ NOMADE🇨🇭
✔ PSYCHAROX🇨🇭
✔ PSYLONIX🇨🇭
✔ PULSAR live 🇨🇱
✔ RGB 🇮🇹
✔ SOLAR POWERED BEINGS live 🇧🇪
✔ SPAWN OF THE FORGOTTEN live 🇧🇪
✔ STEREOTYP🇨🇭
✔ TROPICAL BLEYAGE live 🇷🇸
✔ UAMBEATS live 🇨🇱
✔ WALDHEX🇨🇭
✔ WOOBLER live🇨🇭
✔ ZENGAN🇨🇭

◀ DECO ▶
✔ COSMIC TOOLS Tm 🇮🇹
✔ VISIONS OF PARADISE & FRIENDS🇨🇭
Info
Time to get together again ❤
72 Hours, Full Power, High In the Swiss Alps!
◀ INFO ▶
✔ Free Camping
✔ Restaurant & Bar
✔ Massive Soundsystem
✔ Toilets and showers
✔ Free water
✔ campfire
◀ LOCATION ▶
✔ SILBI TIPI STUBE,
KLEWENALP SWITZERLAND
[tipi-dorf.ch]
✔ Only acces with cablecar...
[klewenalp.ch]
and 1 hour walk to the location!
✔ There is NO access possible with car's, van's or campers!
◀ ENTRY ▶
✔ Intrance = 60 CHF
(Klewenalp Cablecar tickets are not included!)
✔ Cablecar = 24 CHF
(Valid for 1 Ride up and back down during the festival)
✔ Cablecar operates from 08.00-18.00
With one additional ride at 20.00
✔ Reaching our event during the night is not possible! See less
Entry fee
Entry fee
The price for the festival is 60 CHF this does not include the cablecar ticket to get on the mountain. This is 24CHF and you can use it to come up and go down once during the weekend!
Organizer
Organizer
Visions Of Paradise