Spirit Tribe V: Ascension 灵族 五:进化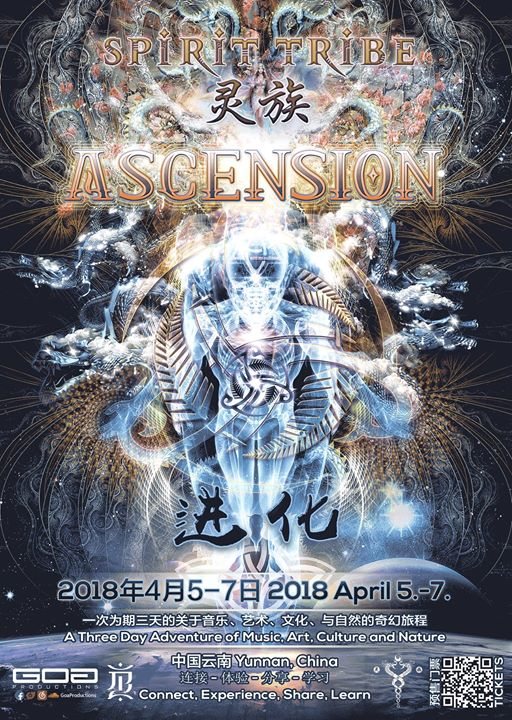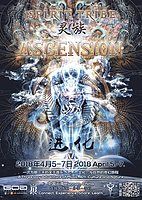 Line Up
Dance Meadow 高岸牧场
ॐ━━━━✼ ✼ ━━━━ ॐ
Acid Echoes
Antaro
Atoned Splendor
Armin Boom Shankar
Burak
Devon Sūn
DC
DK
Earthworm
Evo
Fu Gui
Hatta
John Lee - Purple Hexagon
DJ Kodama
Menog
Octave
OddWave
Paul Taylor/Section 8
Pieman
Pzychobiz
Satori Snooks
Sci-Flyers
Sixears
Skyfall
Spaceslut
Space Ghost
Dj Suddha - Tom
SUN
Viandoks
XenoGressive
Yuya
Yi

Raver's Ravine 锐舞山沟
ॐ━━━━✼ ✼ ━━━━ ॐ

Angie Zou
ChengCheng
Devon Sun
DJ DSK
Don Muang
Evil G
Fane
Gecko Hone
JIA
Leevo
Lost&Found
Mandrake
Quest
Radio Revolution (Doogie Hwang)
Rafa Paella
Rainbow High
Simon Pieman
Smooth Criminal
Su
Summer
Sunyoung
Dj Tayta
Tribes
Thomas Futoso
The KING
Tiger9stein
DJ Trinity
Voko X
Yang Bing
ZHI

Aural Oasis 听觉绿洲
Abo
Aku Punk Tur
By The Rain
ChanYuan (邓婵媛)
Coyote
Devon Sun
Evo
jjiill
DJ Kodama
Kundalini
Liquid Farmer vs Blue Bird
Maka
Oolong Gas
Pandakimono
The Drumhedz
Viandoks
Deco
Deco
Infinite Bizarre
Crystal Cortex
Futurarcade
Info
2018's Ascension is the fifth edition of Spirit Tribe's electronic music and arts festival in Yunnan, China. An unprecedented international line up on three stages – three days and nights of Psytrance on the Dance Meadow, an eclectic range of electronic music including House, Nu Disco, Techno, Minimal and Bass at Raver's Ravine and the Aural Oasis, a dedicated stage for Chill Out and Acoustic music.
Every year the Spirit Tribe valley is turned into one prodigious living and breathing art space.
The theme each year revolves around the festivals name - for 2018 that is "Ascension". The act or process of ascending, rising or increasing to higher levels, values, or degrees
After our Re:Birth in 2017 the 2018 edition of Spirit Tribe sees everyone involved striving to improve and attain the highest possible level of production we can throughout every aspect of the festival. From the artists, DJs, performers involved, right through to the decor, sound systems, food, drinks, camping areas, recycling and much much more.
To embody this mammoth undertaking we have chosen two symbols that we have joined together to express the unique international exchange that takes place during the festival between Chinese eastern culture and the rest of the world.
To symbolize and project our intention of Ascension through a global cultural framework we have chosen to use the triskelion. The triskelion has been used by a great number of cultures all over the world including Maltese, Greek, Mycenaean, Sicilian, Japanese, and Korean. However it is probably most widely associated with Celtic culture. Having been used in a multitude of cultures and over such a long period time, a symbol such as the triskelion will undoubtedly have numerous and diverse meanings. As with any symbol, it's the intention of the user which really has the power to define it and in turn then use it to manifest that will. For Spirit Tribe V: Ascension we are empowering this symbol with one of the Celtic interpretations that is: personal growth, human development and spiritual expansion.
It is only until we combine our western cultural reference with our Chinese symbolic embodiment that the full intention of Ascension can really be brought to fruition. Probably the most well-known cultural symbol of China, the Dragon can symbolize, greatness, blessing, goodness, power, excellence, perseverance, heroism, boldness, divinity, nobility, optimism, energy, and intelligence. For the purposes of achieving our ascension the dragon will be focusing our energy, optimism and perseverance into allowing us to achieve excellence in growth, development and expansion of Spirit Tribe.
Join us and share your energy along with your intention to help us, the festival and the scene in China to manifest the qualities of these symbols into reality. Embark on a 3 day living and breathing artistic magick spell.
Click the link to get presale tickets today!
[yoopay.cn]
Connect – Experience – Share – Learn!
2018年的"进化",是灵族在中国云南举办的第五次有关电子音乐和艺术的盛会。本次的特别之处在于其前所未有的国际艺人阵容,现场总共分为三个舞台 - 高岸牧场三天两夜不间断的Psytrance音乐;锐舞山沟包括House, Nu Disco, Techno, Minimal and Bass等其他风格的电子音乐;还有在听觉绿洲的休闲放松。独一无二的装饰、视觉艺术、工作坊、流动表演、装置艺术和更多的美食,将汇集在云南迷人的山谷中等着你。
每年的灵族山谷都会变成一个惊人的、可以让艺术呼吸与生长的地方。
每年我们都会围绕一个主题开展这个节日 - 2018年将是"进化"。 这标志着行动或过程的升华、价值或程度的提升。
在经历了我们2017年的重生后,每一位2018年灵族的参与者都在努力改进每一个方面,从艺术家、DJ、表演者、装饰、音响系统、食品、饮料、露营区域、回收利用系统等等,使此次灵族达到更高的水平。
为了体现出这个巨大的承诺,我们选择了两个符号,可以同时表达中国东方文化与世界其他地区文化之间独特的国际交流。
为了通过全球文化框架来象征和展示我们的进化意图,我们选择了使用"三曲腿图"。世界各地的人类,马耳他人、希腊人、迈锡尼人、西西里人、日本人和韩国人,都已经在他们的文明中使用过这种"三曲腿图"符号。这个符号最早可能与凯尔特文化关联更大,但已经在很多不同的文化中使用很长时间的"三曲腿图"这个象征,无疑代表了许多不同的意义。使用者常常用符号来表示、定义他们的意图和展示他们的意志。对于"灵族SpiritTribe :进化",我们选择更贴近于凯尔特人原本赋予这个象征的意义:个人成长、人类发展和意识扩展。
只有把西方的文化参照和我们中国象征意义的体现结合起来,才能真正实现"进化"的完整意义。中国龙,中国的象征,伟大、祝福、善良、力量、卓越、毅力、英雄、勇敢、神性、贵族、乐观、能量和智慧,所有最著名的文化象征。为了实现我们的进化,龙图腾将把我们的精神、毅力和乐观专注于让我们对灵族的成长、发展和扩展方面实现卓越进化。
加入我们,分享你的能量,帮助我们,创建中国的节日现场氛围,将这些图腾的品质在现实中实践。踏上为期3天的生活与艺术共同呼吸魔法之旅。
点击链接购买门票!
[yoopay.cn]
连接 - 体验 - 分享 - 学习!
Location
Location
Spirit Tribe
Guanglang Xiaocun
Taiping