..:: SONICA 2006 ITALIAN ELECTRONIC MUSIC FESTIVAL::..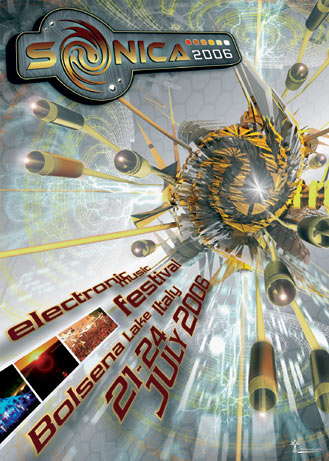 Line Up
OZRIC TENTACLES IN CONCERT! (first time performing in a psychedelic trance festival)

Allaby
Altom
Atmos
Bamboo Forest
Beckers
Dino Psaras
Etnica
Even 11
Freq
Frequency Surfer
Hallucinogen
Jaia
Joti
Orion
Panick
Polaris
Prometheus
Protoculture
PTX
Shanti
Silicon Sound
Space Cat
Space Tribe
Ticon
Tikal
Tristan
Wizzy Noise
Wrecked machines
Yage
Zen Mechanics

...forse qualcuno in più

...maybe some more
Ans
Dimitri
D-nox
Edoardo
Gino
Josko
Kaio
Kristian
M45
Mack
Marco
Marchello
Meko
Peter Didjital
Peyo
Psychotrop
Shane Gobi
Simo
Tommy
VOR
XP Voodoo

...forse qualcuno in più

...maybe some more
YOUNGER BROTHER UK
EAT STATIC UK
OTT UK
GAUDI I-UK
CELL FRA
MAUXUAM ITA-UK
TRIPSWITCH UK
AES DANA FRA
SOLAR FIELDS SWE
HUVA NETWORK FRA-SWE
CARBON BASED LIFEFORMS SWE
SYNC 24 SWE
GREG HUNTER UK
TROTTER BRA
MOOD DELUXE\NAGUAL SOUND EXPERIMENT UK
PHUTURE PRIMITIVE USA
CHILLED C'QUENCE POR
ANTONIO TESTA ITA
SCENE ITA
LA SITUAZIONE ITA
NICK INTERCHILL UK
NATHALIE INTERCHILL UK
NOVA ITA-UK
VINCENT VILLUIS AESDANA FRA
MAHIANE ULTIMAE FRA
TAJMAHAL FRA
JOSKO ITA-UK
JUSTIN CHAOS ARG-UK
DJ SONECA BRA
LIQUID JAMES UK
PAOLO POLCARI ITA
ALIJI UK
SIMON BARING UK
DUBUDDHA VS MADALENA POR
ZIZOU ITA
NAKED NICK UK
JAY-OM ITA
DJ ROB ITA
KING DAVID WARRIORS ITA
BILL UK

+ more to be confirmed
Deco
Deco
Trance Karma (PT)
Nano (decotechnology, Sonica laserteam) (PT)
Visuals by Psynema (A/DE)
Location
Location
Capodimonte, same as last year!

A Capodimonte, stessa location dello scorso anno!
Entry fee
Entry fee
I primi 1000 biglietti saranno in vendita a 55 eur non oltre il 20 aprile, la seconda fascia di prevendita prevede 3000 biglietti e sarà chiusa il 20 giugno. Il prezzo alla porta sarà 100 eur, per cui affrettatevi. Le prevendite partiranno nella settimana dal 20 al 25 marzo

The first 1000 tickets will be on sale at a price of 55 eur and they will be available until April 20th. The second presale price will be 80 Eur, we will only have 3000 tickets out at this price and they will be available until june 20. The price at the door will be 100 Eur, so hurry up to catch your cheap ticket! Presales will start during the week going from march 20 to march 25!
Organizer
Organizer
Sonica, Neurobiotic Records
From
edoardo@neurobiotic ·
23,083
Added

14y 4m

· Update

13y 10m

· 4 Parties ·

/ 50